Teresa Morgan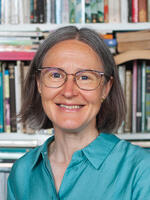 McDonald Agape Professor in New Testament and Early Christianity
Education
BA., M.A., Ph.D. Cambridge, B.A., M.A. Oxford, LRAM, Dip.RAM
Teresa Morgan studied classics at Cambridge University, theology at Oxford, and violin and viola in London and Cologne. She joined YDS in 2022, having taught Greek and Roman history at Oxford since 1998. Her research lies in the history of ideas and mentality, and the social and cultural practices and institutions which shape and are shaped by them. She is especially interested in the way groups of people think: particularly groups 'below' the level of the socio-intellectual elites who provide so much of our evidence for the ancient Mediterranean and Near Eastern worlds. One idea which underlies all her work is that mentality is as powerful a societal force as, for instance, politics or economics. 
Professor Morgan writes across Greek and Roman history, the New Testament, and early Christianity, especially on Greek, Roman, and early Christian ethics (e.g. Popular Morality in the Early Roman Empire, 2007), Greek and Roman education (Literate Education in the Hellenistic and Roman Worlds, 1998), and Paul (Being 'in Christ' in the Letters of Paul: Saved Through Christ and In His Hands, 2020). She is currently coming to the end of a four-volume investigation of the historical evolution, early religious meaning, and contemporary significance of ancient Mediterranean and early Christian trust and faith (Roman Faith and Christian Faith, 2015, The New Testament and the Theology of Trust, 2022, Trust in Atonement (in press), and The Invention of Faith (forthcoming). When this is finished, she plans to return to ethics with a study of the evolution of Christian ethics in the first four centuries CE.
Among major grants Professor Morgan received a 3-year Major Research Fellowship from the Leverhulme Trust in 2018, and was co-PI of the Templeton research project 'The philosophy, theology, and psychology of Christian trust in God' 2019-22. She serves on the editorial boards of of New Testament Studies, Early Christianity, the Mohr Siebeck series 'Culture, Religion, and Politics in the Graeco-Roman world', the Oxford Classical Texts, and the SBL 'Writings from the Graeco-Roman Worlds' series. She has acted as an advisor to the British Council and Lapham's Quarterly, writes for the Times Literary Supplement and The Tablet, and appears regularly on BBC television, radio, and podcasts. She is a Member of the American Academy of Arts and Sciences, and an Anglican priest and published poet.