By Emily Judd '18 M.A.R.
A new era of theological education has begun at Yale Divinity School with the arrival of Andover Newton, the oldest seminary in the nation.
Following the July signing of the two schools' affiliation agreement, Andover Newton now moves ahead with the next steps in its transition to YDS from its longtime home near Boston. "We firmly believe our new affiliation is in the best interest of both institutions and their missions, as well as the future of theological education for the church and the world," YDS Dean Greg Sterling and Andover Newton President Martin Copenhaver '80 M.Div. said in a joint statement released on the day of the signing, July 20.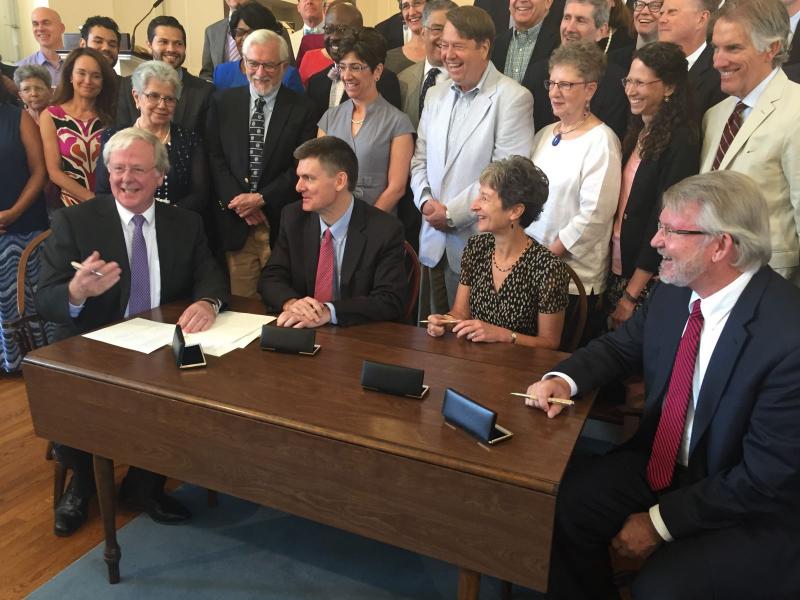 The new partnership was cultivated during the 2016-17 academic year, when Andover Newton created a successful visiting presence at YDS. Four congregational ministry-focused courses with Andover Newton professors—including Scientific Thought and Christian Theology, and United Church of Christ Polity & the Practice of Congregational Leadership—generated combined enrollment of 120. More than 100 different students attended the weekly Andover Newton worship and dinner, known as Emmaus, with a core group of 25 participating regularly.
Encouraged by the results of the visiting year and continued progress in negotiations, leaders from both schools took the final steps toward affiliation over the spring and early summer. The Andover Newton Board of Trustees and the Yale Corporation approved the affiliation, and the sale of Andover Newton's campus was finalized.
Signing ceremony
Then, at a special ceremony on July 20, officials from the two schools signed the final agreement. The official signatories were Copenhaver and Sterling as well as Stephen Murphy, Yale University's Vice President of Finance and Chief Financial Officer, and Linda Campanella, Chair of Andover Newton's Board of Trustees. Adding to the sense of occasion, all attendees—each representing the schools' various constituencies—formed a "cloud of witnesses" around the signers and added their own signatures. (Scheduled on short notice, the signing ceremony was not intended as the all-inclusive celebration of the affiliation. Such an event will take place during YDS Convocation and Reunions in October.)
The signing ceremony took place at First Church of Christ in Glastonbury, Conn., chosen for its symbolic resonance. The church's congregational character is reflective of Andover Newton's area of focus in ministerial training and the expertise it brings to YDS. Also, pastors David Taylor and Kate VanDerzee-Glidden are graduates of YDS and Andover Newton, respectively, Taylor receiving his M.Div. from YDS in 1979 and VanDerzee-Glidden earning her M.Div. from Andover Newton in 2009.
"Kate and I are both peace-, justice-, and mission-oriented, commitments that link our alma maters," Taylor told the audience. VanDerzee-Glidden referenced all three themes when she led the 75 attendees in opening prayer at the signing ceremony.
The July signing ceremony was the culmination of an affiliation process that began four years ago—first, in passing mention in a conversation between Sterling and Copenhaver and, beginning in 2015, in serious talks and negotiations involving multiple parties from both schools and Yale University.
"What has brought us together is a common vision of preparing people to transform the world through communities of faith," Sterling said.
Added Copenhaver: "We both value a learned clergy, theoretical and practical teaching, and the combination of faith and intellect."
A replicable solution
Creating the impetus for the talks were enrollment and monetary pressures on Andover Newton, combined with mutual recognition of the two schools' shared histories and values and the changing landscape in theological education.
This union of resources represents a potentially potent and replicable solution to the obstacles facing theological schools. Enrollment at U.S. seminaries has declined five percent since 2009, according to the Association of Theological Schools. One of the benefits of the Andover Newton-YDS affiliation, Sterling and Copenhaver note, is the schools' enhanced ability to meet student financial need. YDS is working to raise enough scholarship money to offer free tuition to students with demonstrated need by 2022, the 200th anniversary of YDS—a goal whose accomplishment is aided by the addition of Andover Newton's financial resources.
The arrival of Andover Newton also broadens the range of courses and programming on the Quad. "Andover Newton has what one might call a history of innovation, ironic as that might sound," says Sarah Drummond, Andover Newton's Dean of the Faculty and Vice President for Academic Affairs. "The curriculum created at Andover to educate clergy in head and heart was a pioneering advancement in professional education that was replicated across the country and around the world."
Shared histories, common values
In addition to shared values, Andover Newton and Yale Divinity School have overlapping histories: Congregationalist minister Timothy Dwight IV (the grandson of Jonathan Edwards) was the eighth president of Yale College. He helped found Andover Theological Seminary in 1807, actively encouraging members of the faculty of Harvard to break away and create a free-standing seminary. Yale Divinity School, established five years after Dwight's death in 1817, grew out of the same theological movement as Andover Seminary. Nearly two centuries later the schools are embarking on a joint era, unified under Dwight's common vision of Christian theological education that unifies knowing God through the mind and sensing the will of the Holy Spirit.
This coming fall, Andover Newton—now to be known as Andover Newton Seminary at Yale Divinity School—will pursue a slate of pilot initiatives while shaping the academic program it will offer at YDS beginning in the fall of 2018. Meanwhile, the school will continue operating in Massachusetts for one more year so current students can complete their degrees. Prospective students interested in Andover Newton's program will continue to apply to YDS while noting their interest in Andover Newton.
At the opening of Andover in 1808, Dwight said the seminary promised "a system of theological instruction more extended and complete than has been heretofore presented." Copenhaver noted how remarkably well that vow applies to the new joining of Andover Newton and Yale Divinity School.
Never before has theological education on the Quad seemed so traditional yet forward-looking.
"This is a new chapter in the histories of two venerable schools," Sterling said, "that opens with the firm conviction that we can do more for the world together than we could have apart."
Emily Judd is a rising second-year M.A.R. student who has reported for the Associated Press and other news organizations. She plans to pursue a career in religion journalism upon graduation.