May 23, 2022
In his annual Commencement address, Yale Divinity School Dean Greg Sterling today urged graduates to stand as moral compasses in a world where moral influence has waned and injustice has grown.
"That is what you know how to do," the Dean told the 135 graduates at the Divinity School's 196th Commencement, held under bright blue skies on the School's outdoor quadrangle. "Raise your voice to remind our society that we must have a moral consciousness to guide our decisions."
Seventy students received the Master of Arts in Religion (M.A.R.) degree at the ceremony. Fifty-nine received the Master of Divinity (M.Div.) degree and six the Master of Sacred Theology (S.T.M.) degree.
The graduates ranged in age from 17—our "Wunderkind," as Sterling put it—to 65. Thirty of the graduates were part of under-represented groups and 15 from far-flung locations including South Korea, Hong Kong, Australia, Germany, Ghana, and Zimbabwe. "We celebrate each of you for your unique gifts," Sterling said.
Meet these grads: Read about some of the members of the Class of 2022 
The first regular, in-person Commencement since Covid-19, the ceremony was attended by roughly 1,000 people and had a joyful air that belied the struggles of a class that faced numerous pandemic-related challenges. "You have not only earned a Yale degree," Sterling told the graduates, "but you have earned it under incredibly trying circumstances."
The YDS grads, many with makeshift halos affixed to their mortarboards, began the day by following an African drum corps in a mile-long march to Yale's main campus for a university-wide ceremony. The Divinity School enjoyed an extra moment in the spotlight during the awarding of Yale's honorary degrees. On stage among the honorees was radio and podcast host Krista Tippett '94 M.Div., who received an honorary Doctor of Divinity degree.
Yale awards honorary degrees to 10 leaders who embody excellence: Read more.
Reassembled on the Quad for the Divinity-specific afternoon ceremony, the YDS graduates, along with hundreds of their family members and friends, heard the Dean evoke a series of somber national and global injustices.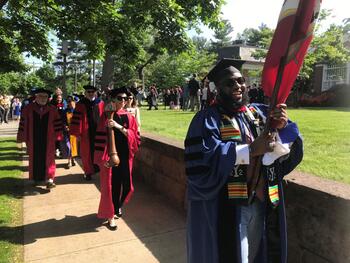 Russia's war in Ukraine, he said, "is not only a geopolitical calamity; it is a moral atrocity." Racial and economic disparities, he said, are moral problems as well as social and economic issues. "How is it that CEOs of the 300 leading U.S. companies," he asked, "make 351 times what the average worker in those companies makes?"
Commencement 2022: Watch the video
Climate crisis, lying by elected officials, propagation of racist, violence-inducing "replacement theory"—all "provoke visceral responses in each one of us," Sterling said. "Heaven forbid we not be upset." But he called on the graduates to go farther than personal emotional responses. "We have to raise moral consciousness among all people in finding ways for society to address (injustices)."
Closing his remarks, the Dean noted the recognition and opportunity that come with a Yale degree. "But as you get this degree," he said, "we are charging you to realize that it comes with a moral charge, a charge to build greater moral consciousness in society."
Commencement photos: Gallery One / Gallery Two