By Kimberly Winston
Closed campuses, canceled seminars, delayed guest lectures, and postponed special events—the pandemic has scuttled higher education plans by the thousands. But sometimes, those cast-off plans have led to new, even stronger strategies and dramatic new beginnings.
That's the case with the Divinity School's Center for Continuing Education, which was a toddling six months old when the coronavirus caused international shutdowns in March 2020.
The new Center's main goal was to reach beyond the walls of the school and into the New Haven-area community with offerings of on-campus lectures, courses of study, and singular events—all for free and mostly in person.
But when fears of COVID-19 shut down the Yale campus after least year's spring break, the Center pivoted from the idea of an on-campus community to a virtual one via Zoom.
"We had high hopes for all kinds of programs that would bring people onto campus and into the halls of YDS, and obviously those all had to be shelved," said Joel Baden, Professor of Hebrew Bible at YDS and Director of the Center. "However, the pandemic also gave us a pretty remarkable opportunity to build a far more robust online presence that has drawn more people from around the world than we ever possibly could have done in person."
That became abundantly clear with the Center's first pandemic offering, a free, eight-week online study of the Gospel of Mark last fall with the Rev. Dr. Allen Hilton which drew an average of 100 people per week. The reach has only expanded with its current offering on Genesis led by Baden. Since it went live on Zoom in January, the Genesis study has attracted 300 participants per week from 35 states and 15 countries. Reflective of the reach of its virtual offerings, the Center has seen traffic to the Yale Bible Study website increase by 375 percent since May 2020.
Numbers like that have forced a re-thinking of the Center's outreach methods. "I strongly suspect that once the pandemic is over we will continue to produce materials and programming for online consumption, because we've seen first-hand how effective it can be and just how much of an audience there is for this," Baden said. "Having hundreds of people come to a weekly Bible study is pretty remarkable."
Established in late 2019, the Center brings three existing Divinity School programs under one roof for the first time—the Yale Youth Ministry Institute, which supports adolescent faith and youth ministry professionals; the YDS Summer Study program, which offers an on-campus learning experience, and the Yale Bible Study, which has showcased the school's world-class scholars for the benefit of churches since 2007.
Both the Youth Ministry Institute and the YDS Summer Study program are adapting during the pandemic as well. The Youth Ministry Institute (YMI) moved all its ongoing lectures, talks, interviews and other resources online and has seen a spike in visitors to the website of 480 percent since last March. (YMI's YouTube channel has been well subscribed for years, attracting nearly 190,000 total views since the Institute's founding a decade ago, more than 60,000 of those in 2020 alone.) The Summer Study program, which was cancelled in 2020, will be back this year with a week-long, live online session in June. YDS expects Summer Study to return to its in-person format in 2022, albeit with an online component as well.
With the exception of the Summer Study program, these programs and their considerable online resources are available to anyone with a computer at no cost.
"All of these efforts express our philosophy of providing degrees for students in residence while making resources available to people throughout the world, for free," said YDS Dean Greg Sterling. "We offer people in the pews access to Yale faculty in a conversational format."
"Dedicated to the flourishing of youth": Skip Masback '94 M.Div. and the story of the Yale Youth Ministry Institute
That relaxed style is on view in Dr. Baden's Genesis bible study. Before the pandemic, the Yale Bible Studies were pre-recorded conversations between two faculty members. There was no opportunity for viewers to directly engage with faculty, and they were primarily used by congregations in group settings followed by discussion.
Originally, the Center planned to continue recording Bible studies, but as the pandemic sent schools and universities to streaming services, the Center followed suit.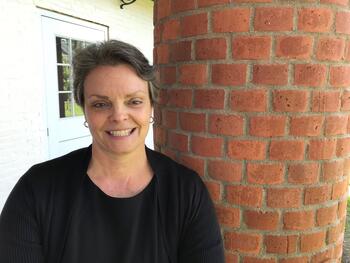 It was a revelation. "I think a lot of people felt the recorded videos were interesting, but they weren't always watching them all the way through," said Kelly Morrissey, the Center's managing director. "But with the live, online bible study, they can listen to the renowned scholar talking about something they love—and then ask questions and respond in real time. It is a very immediate, personal experience."
Diana Beecher helped produce the many of the recorded videos for the Yale Bible Study, which was developed with her church, The Congregational Church of New Canaan. Now, she logs into Baden's Genesis study once a week.
"Everyone can participate without regard to geography or time zone or any other limitation," she said. "So someone with a different background than I have asks a theological question that I have never considered, and Joel, who is truly expert, gives an answer. It gives you a new way of thinking, and how good is that, right?"
Julie Kelsey received her M.Div. from YDS in 1984 and now teaches pastoral care and preaching at the school. But she never tapped into its Bible studies until very recently. 
"I have always wanted to take a course with Joel and when I saw he was giving a course online, I was there," she said. "He is clear, he has good substance, he has this delicious sense of humor so he makes it fun."
Dr. Baden's position as director of the Center is something of a birthright. His father, Clifford Baden, was the director of the Programs in Professional Education at the Harvard Graduate School of Education.
The Book of Genesis: Watch an online Bible Study presentation by Joel Baden
"I grew up in the continuing education world," Dr. Baden said. "That has absolutely informed my attitude toward the importance of what we are doing at the Center. I think it's important for us to be thinking about the people outside the classroom and developing programs for people once they leave our halls or for those who never get inside them."
Kimberly Winston has been reporting on religion for 25 years, her work appearing in outlets including the Washington Post, Los Angeles Times, USA Today and NPR.org. She is a graduate of the journalism school at Columbia University and lives in the San Francisco Bay Area.