By Joyce Hollman
Elijah Heyward III '07 M.A.R. was raised in Beaufort, S.C., by parents who taught him to believe that he had a purpose in this life: to do something that contributes to the world in a positive way.
This early teaching set Heyward's life on a trajectory that has landed him at the center of a historic moment.
In 2021, the International African American Museum will open in Charleston, on the site where as many as half of all enslaved Africans entered this country and were housed while waiting to be sold into slavery.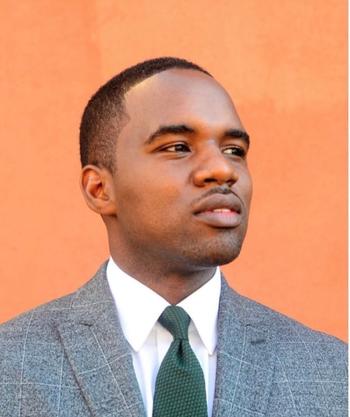 Dr. Heyward is the museum's Chief Operating Officer—a role with deep professional and personal resonance.
"My forebears endured disenfranchisement, separation from their loved ones, and injustice.  Despite the atrocities endured during the period of enslavement and beyond they found the will to persevere believing that the future—the very future that is my reality—would be better," Heyward reflects. "That's faith."
"I find it exhilarating to be in this new position that exists at the intersection of so many of my skills and interests. Our aim is to bring into being a museum that will honor my forebears' story, and the story of so many others."
Not only will the museum and its exhibits highlight the narratives of the community that raised him. It also reflects Heyward's passion for the power of cultural institutions to "educate, to inspire, and to unite."
Heyward views his upcoming work at the museum as the latest in a series of roles in which he has had the opportunity to apply the mentorship skills he developed during his time at YDS.
He also sees it as an expression of his faith.
Many ways to serve
"We have lenses through which we see the world," Heyward says. For him, this has meant viewing everything through the lens of his faith and values.
Since graduating from YDS in 2007, he has expressed that faith in ways that, at first glance, may not seem to reflect the YDS mission of serving church and world.
But Heyward doesn't see it that way. To hear him talk about the road he's traveled, and why he's taken on this new challenge, is to understand how art, faith, community, and education all dovetail to serve that very mission.
"Ministry not only happens on Sundays from  the pulpit, but by what we do beyond," Heyward says. "What happens to those who will never step foot in a church? How do we reach and serve them?"
 
The concept of "public social witness," one that grew out of Heyward's experiences at YDS, is key to answering this question.
Taking the values and traditions taught by a particular thought leader, whether secular or religious, and applying them to contemporary social problems in order to make a difference, is at the heart of bearing witness, Heyward believes. This is done by taking social movements inspired by the Bible and using them as change agents in today's world.
Heyward's work at the International African American Museum is the culmination of a scholarly and professional life committed to public social witness, aimed at creating good in the world.
Or, as one of Heyward's favorite sayings from St. Francis of Assisi goes, "preach, and if necessary, use words."
A commitment to community-building
As an undergraduate at Hampton University, Heyward began picking up and weaving the threads that would become the fabric of his personal and professional life and convictions.
At Hampton, the themes of community building, the arts, and scholarship began coming together for him, culminating in his Honors College capstone project, "Saving the Young Black Male." In the paper, Heyward explored how community, cultural institutions and the arts would all have to play roles if there was to be progress in closing the huge achievement gap between young black males and their counterparts.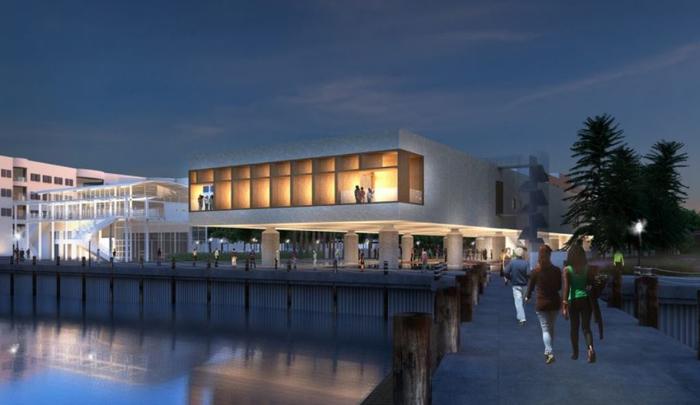 Heyward asserts that he himself is a "living personification" of how people can come together to support youth and their futures.
He grew up in a Gullah community that was racially and economically diverse, yet united in its commitment to youth and community. From an early age, he could sense the interconnectedness, the safety net that supported him, and the community whose mission it was to support its young people in their efforts to be successful in life. They lived out the credo "It takes a village" every day.
When he wasn't spending time joyfully surrounded by his parents, grandparents, and extended community "family," Heyward was at the library or the museums near his home. He always felt at home there, and it was his first exposure to the influence that cultural institutions can have on youth and their futures.
In high school, he participated in youth conferences across the country, his travel and expenses supported by his "village."
So, it was no accident that his next step was to form a support network of his own to help young men and women prepare for, and profit from, the college experience.
Preparing young scholars to succeed
One of Heyward's greatest mentors at Yale was Nadia Ward, Professor of Psychology and Psychiatry in the School of Medicine. He began working with Ward after receiving a President's Public Service Fellowship following his first year at YDS. Together with Ward, he developed and implemented a curriculum for middle school students. It was here that he developed a profound sense of education as "the great equalizer."
But finding the vision for how to best use the funding he'd received from his fellowship was a challenging project that required much prayerful consideration, Heyward says.
The "aha!" moment came when Heyward realized that, as a participant in the Institute for Responsible Citizenship in Washington, D.C., he had the perfect mentors for the middle school young men he served.
The Institute, founded by Dr. William A. Keyes IV, is dedicated to inspiring high-achieving African American young men to pursue the highest levels of achievement, not only academically but in making a difference in the lives of others. Heyward was a member of the Institute's first graduating class.
He crafted a program of gender-specific activities for those middle school students, who traveled to Georgetown University for an extended weekend, staying in university dormitories and attending classes. Through this experience, through the mentorship of Institute participants, and within the framework of a community, these young men experienced the coming-to-life of all the lessons they'd been learning back in Connecticut.
Under Heyward's leadership, what started as a youth scholars' weekend grew into the Youth Scholar Academy, dedicated to preparing high school males from disadvantaged backgrounds to thrive in high school, college, and beyond.
Art as a vehicle for service
This passionate champion of education realized it was time for him to take the next step in his own education. He entered a Ph.D. program in American Studies at the University of North Carolina and immersed himself in the world of art.
While working on his doctorate, Heyward held a yearlong fellowship at the Ackland Museum of Art, where he worked as a curator and museum educator. Using the museum's collection of painting and sculpture, he taught UNC students, including medical students, to appreciate and use art within their chosen fields.
And in 2018, Heyward lent his growing arts expertise to an important project at his divinity alma mater. He helped lead a YDS task force that commissioned an oil portrait of James Pennington, who was the first black student to attend classes at Yale and went on to become a leading minister and abolitionist. The painting by Brooklyn artist Jas Knight was unveiled last fall to great enthusiasm and glowing reviews.
***
RELATED CONTENT: YDS portrait recovers, honors history of Yale's first black student
***
"For me, the portrait communicates to all students, particularly students of color, a confidence in knowing that James Pennington went on to do so many amazing things in the world, and that they can do the same thing," Heyward says. "It is important to me that the diversity that makes YDS such a special place is reflected in every aspect of our institution. Having a portrait honoring that is really special."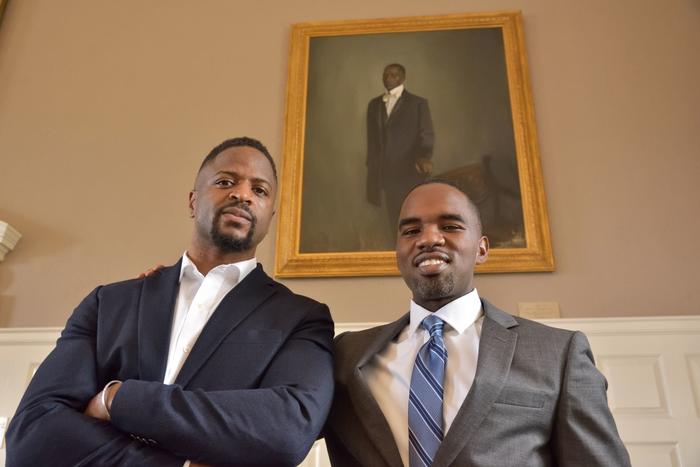 The present: tying it all together
When Heyward was offered the job of COO at the International African American Museum, he jumped at the chance.
His goal is to collaboratively create an institution that, first and foremost, will educate, serving as a "museum without walls" that can connect with classrooms and youth throughout the country and even the world.
Art, scholarship, and community will come together, continuing the narrative of faith that is the story of Heyward's ancestors. The museum will connect education, art, and scholarship to empower future generations of young people by connecting with their history.
"I have committed my life to projects that are significant and important to me," Heyward reflects, "with God and faith as my framework. I have grace to credit for such an amazing opportunity. It's hard to imagine a better role for me, personally or professionally, than helping to open and run this institution, which is going to mean so much to my community and country."