By Emily Judd '19 M.A.R.
Yale Divinity School alumni figured prominently in the National Prayer Service for the Inauguration of President Joe Biden, held January 21 in the nation's Capital.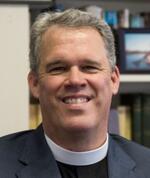 Washington National Cathedral was the site of the prayer event, coming a day after the inauguration of the 46th president and featuring YDS alumni Randy Hollerith '90 M.Div., Otis Moss III '95 M.Div., Frederick Davie '82 M.Div., Michael Curry '78 M.Div., and Robert Fisher '05 M.Div. 
Rev. Hollerith, Dean of the Cathedral, offered an opening prayer emphasizing themes of unity. Like Revs. Curry and Fisher, Hollerith completed the Anglican Studies program at Berkeley Divinity School at YDS.
"Look with compassion on the whole human family," Hollerith prayed. "Take away the arrogance and hatred which infect our hearts. Break down the walls that separate us. Unite us in bonds of love, and work through our struggle and confusion to accomplish your purposes on earth."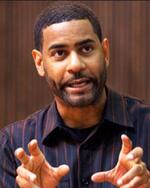 Rev. Moss, Senior Pastor at Trinity United Church of Christ in Chicago, offered a prayer for those who govern.
"Oh Lord God, bless all who dedicate themselves to governing in our land and upholding our democracy," Moss prayed. "Enable us to be a people at peace among ourselves and a blessing to other nations of the earth. May we serve you faithfully in our generation."
Moss has returned to the YDS campus multiple times since his graduation in 1995. He received the alumni award for Distinction in Congregational Ministry in 2011 and delivered the School's prestigious Lyman Beecher Lectures in 2014.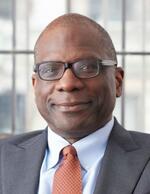 Mr. Davie, Executive Vice President of Union Theological Seminary in New York, offered prayer intentions, beginning with the President and Vice President:
"We offer prayers for President Biden and Vice President Harris and their families, prayers for peace and healing, prayers for the refugee and the homeless, prayers for all who find themselves on the margins of our society and culture, prayers particularly for this great, yet troubled nation of ours, and prayers for the world."
Rev. Curry, Presiding Bishop and Primate of the Episcopal Church, gave concluding remarks at the prayer service. Curry received the Divinity School's alumni award for Distinction in Congregational Ministry in 2015.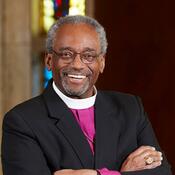 "Go forth into the world in peace, be strong and of good courage," Curry prayed. "Hold fast to that which is good. Render to no one evil for evil. Love the Lord your God, love your neighbor, love yourself. God love you. God bless you. And God hold us all in those almighty hands of love."
An alumnus of both Yale College and YDS—Robert Fisher '94 B.A., '05 M.Div., Rector of St. John's Episcopal Church in Washington—also offered a prayer at the service: "Oh God, who we cannot love unless we love our neighbor, widen the boundaries of our hearts, that we may see you in one another," he said.
In addition to Yale alumni, the inauguration prayer service featured several prominent faith leaders who have spoken at YDS—on multiple occasions in the case of William Barber II, who has twice presented under the auspices of the School's program in Transformational Leadership, among other speaking appearances at the Divinity School.
"Rekindling a Prophetic Moral Vision for Justice": View William Barber's public event at YDS in 2017
Sojourners founder Jim Wallis, who spoke at YDS as part of the leadership program in 2018, also appeared at the inauguration prayer service, as did Yvette Flunder, Presiding Bishop of The Fellowship of Affirming Ministries, who was the Divinity School's Hoskins Visitor in 2017.