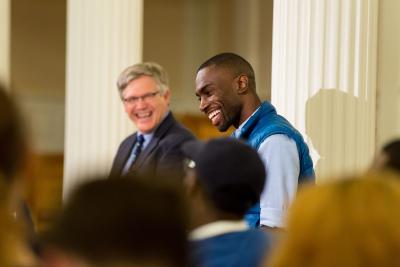 The Transformational Leadership program at Yale Divinity School offers intensive, two-day weekend courses taught by leaders in church and society. The one-credit courses are limited to matriculated students at YDS and other Yale graduate and professional schools. The Friday evening (and in, one case, Thursday evening) public conversations are open to the public and are broadcast on the YDS Livestream channel. Students may register for these individual courses just as they register for any other class. No more than two may be taken for credit within a semester, and no more than three may be applied to a degree program. Questions may be addressed to Associate Dean Bill Goettler at william.goettler@yale.edu.
See videos of many of our guest speakers at the Yale Divinity School YouTube channel. 
---
Speakers
2020-2021
Spring Term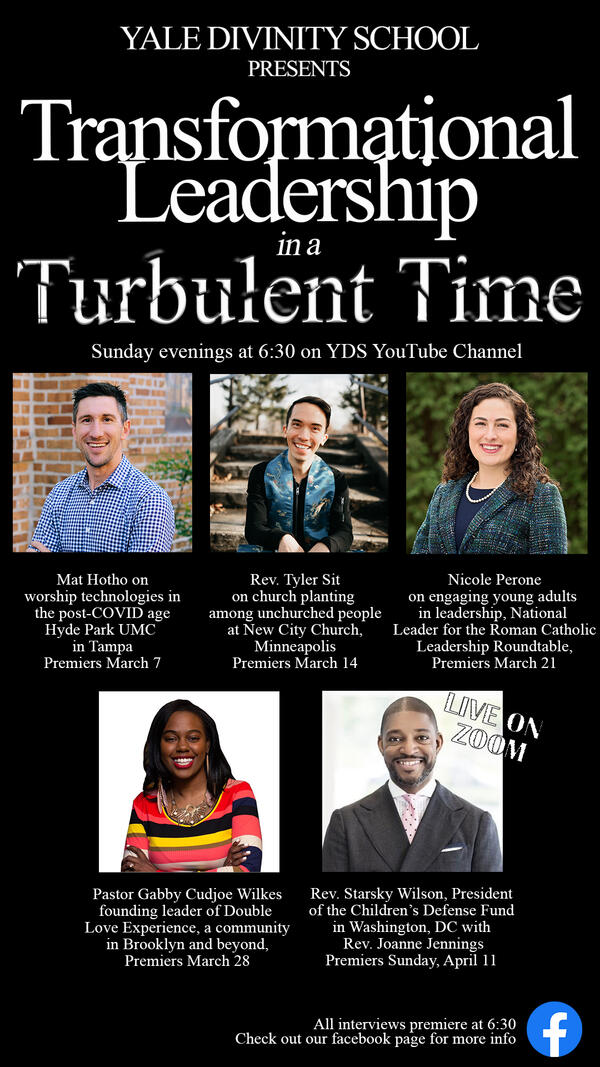 Yale Divinity School presents Transformational Leadership in a Turbulent Time
Sunday, March 7, 2021, 6:30 P.M. (EST)
Mat Hotho on worship technologies in the post-COVID age, Hyde Park UMC in Tampa, premieres March 7.
Sunday, March 14, 2021, 6:30 P.M. (EST)
Rev. Tyler Sit on church planting among unchurched people at New City Church, Minneapolis premieres March 14. 
Sunday, March 21, 2021, 6:30 P.M. (EST)
Nicole Perone on engaging young adults in leadership, National Leader for the Roman Catholic Leadership Roundtable, premieres March 21. 
Sunday, March 28, 2021, 6:30 P.M. (EST)
Pastor Gabby Cudjoe Wilkes, founding leader of the Double Love Experience church, a community in Brooklyn and beyond, premieres March 28.
Sunday, April 11, 2021, 6:30 P.M. (EST)
Rev. Starsky Wilson, President of the Children's Defense Fund in Washington, DC with Rev. Joanne Jennings, premieres Sunday, April 11 .
All interviews premiere at 6:30. Check out our Facebook page for more information. 
---
2020-2021
Fall Term
Yale Divinity School presents Transformational Leadership in a Turbulent Time
Sunday, October 18, 2020, 6:30 P.M. (EST)
Dr. Elijah Heyward III '07 M.A.R., COO, International African American Museum, Charleston
Sunday, October 25, 2020, 6:30 P.M. (EST)
Ashley Makar, Community Liaison, Integrated Refugee and Immigrant Services, New Haven
Watch on YouTube
Sunday, November 1, 2020, 6:30 P.M. (EST)
Rev. Ben Groth, Pastor of Bethlehem Luthern Church, New Orleans
Watch on YouTube
Sunday, November 8, 2020, 6:30 P.M. (EST)
Fr. Ryan Lerner, Chaplain, St. Thomas More at Yale
Watch on YouTube
Sunday, November 15, 2020, 6:30 P.M. (EST)
Bishop William J. Barber, Repairers of the Breach and the Poor People's Campaign
Watch on YouTube
---
2019-2020
Spring Term
Friday and Saturday, January 31 and February 1, 2020 
Breaking Down the Walls: Travel Leadership as Political and Spiritual Action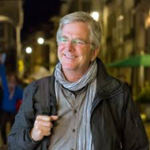 Rick Steves is one of America's most widely read travel writers and the host of a long-running travel series on public television. An active Lutheran, he is focusing his current work on travel as political action. In this leadership course, Steves spoke about the goal of making travel transformational, moving beyond ethnocentrism to engage global issues of poverty and wealth and lead people beyond their comfort zones and into places of religious pilgrimage and even places that have suffered warfare and violence.  
Public conversation, Friday, January 31, YDS Old Refectory 
Friday and Saturday, February 28 and 29, 2020
The American Church in Exile: Declining or Refining 
Professor Russell Jeung's spiritual memoir, At Home in Exile: Finding Jesus Among My Ancestors and Refugee Neighbors, shared his experiences living among the foreigner and the poor. This leadership class considered the essential role of faith and social witness in the Christian church in the U.S., as numbers, influence, and institutions wane. We considered the relationship of the evangelical church with partisan politics, market-based, hyper-individual spirituality, and social media. And then we considered some important approaches for church leaders, including Asian American theologies and spiritual practices that offer ways to refine the church and promote new types of leadership and decolonized perspectives that can revitalize the church.
Public conversation, Friday, February 28, at 7:30 p.m., YDS Common Room
---
Previous speakers
2019-2020
Fall Term
Friday and Saturday, September 13 and 14, 2019    
Prophetic Leadership Through Pastoral Engagement 
Bishop Karen Oliveto, United Methodist Bishop of Colorado and Wyoming—the only openly LGBT bishop in the United Methodist Church–lead this conversation about the requirements of prophetic leadership, the possibilities for personal and communal transformation, and the call to challenge unjust powers and principalities. Prophetic leadership, she said, requires a pastoral heart that engages the forces that keep people enslaved and eases the suffering of those impacted by injustice. This seminar assisted students as they explored their prophetic voice and pastoral heart.
Public conversation, Friday, Sept. 13 at 7:30 p.m., YDS Common Room
Thursday, Friday and Saturday, October 24, 25, and 26, 2019
God on Wheels: Disability Liberation & Spiritual Leadership  
Rabbi Julia Watts Belser, Professor of Jewish Studies at Georgetown University, is known for her work in Talmud, rabbinic literature, and Jewish ethics, and for bringing disability culture into conversation with religious tradition. How will a growing awareness of disability liberation motivate spiritual leaders to think differently about God's activity and the building of community faithful expression?  
Public conversation, Thursday, October 24, at 7:30 p.m., YDS Common Room
Friday and Saturday, November 1 and 2, 2019 
Avoiding the Slow Walk to Irrelevancy: Leadership in a Time of Innovation 
Pastor Mike Walrond is leading First Corinthian Baptist Church in Harlem to become perhaps the most thriving and innovative congregation in the city. Out-of-date church thinking has led many mainline churches to become irrelevant and finally to close. What does it mean to undo the mistakes of the institutional church, to embrace technology appropriately, and to build a thriving new congregation? And what does innovation really look like, in the church of the 21stCentury? This is where it's happening!
Public conversation, Friday, November 1, at 7:30 p.m., Marquand Chapel at YDS
2018-2019
Fall Term
Friday and Saturday, September 28-29, Rev. Jennifer Butler, Faith Leadership in an Age of Tyranny
Authoritarianism and tyranny are on the rise in the United States and globally. Faith and theology are critical to the success of the resistance movement—particularly as counters to the hijacking of Christianity for oppressive policies. This course will examine how resistance leadership is at the heart of the Christian faith and how to organize effectively to respond to a steady barrage of threats to vulnerable communities. We will look at past resistance movements and how faith communities are organizing now to advance human dignity and save democracy. From opposing bigotry and immigration bans based on faith or tradition to countering white supremacists in Charlottesville to saving the Affordable Care Act and protecting immigrant families, faith leaders are making a definitive difference. Together we'll examine what we might need for the road ahead. 
Rev. Jennifer Butler is the founding Executive Director of Faith in Public Life and the former chair of the White House Council on Faith and Neighborhood Partnerships. Rev. Butler spent ten years working in the field of international human rights representing the Presbyterian Church (USA) at the United Nations.
Watch this talk at the YDS Youtube page.
Friday and Saturday, November 2 and 3 - Nora Gallagher and Vincent Stanley, Radical Transparency and Leadership in a Time of Environmental Crisis
This course focused on leadership at Patagonia, a clothing company defined by an ethical mission: to use business to inspire and implement solutions to the crisis of biodiversity loss and climate change. Patagonia believes that the environmental crisis is the most critical issue facing humanity today.
Using a cooperative leadership and management style that engages the full commitment of its employees on behalf of a larger purpose of producing outdoor clothing that is socially beneficial, minimally environmentally harmful—and, where possible, regenerative, Patagonia a practical example of what can be done to bring people together around mission.
What if our entrepreneurial efforts sought to provide employment and community, and were places for people to find meaning?  What if moral leaders could encourage businesses to build on the engagement of their employees and their reputation in the community and among their customers?
Patagonia has become more and more clear about how every part of making clothes must be done within the planet's limits. This necessity has created innovation at all levels of the company. 
Vincent Stanley is the co-author with Yvon Choinard of The Responsible Company and has been a key executive with Patagonia since its beginning. Patagonia's long-time chief storyteller, he helped develop the Footprint Chronicles, the website that outlines the social and environmental impact of its products and Patagonia Books. He is a visiting fellow at the Yale School of Management and a poet whose work has appeared in Best American Poetry.

Nora Gallagher is the author of five books in the tradition of Dorothy Day and Thomas Merton: the daily living out of faith and doubt rather than abstract "belief." In her new memoir, Moonlight Sonata at the Mayo Clinic, Nora draws on her experience as a patient and what she learned about vulnerability and resilience. Nora Gallagher serves on the YDS Dean's Advisory Committee.
Watch this talk at the YDS Youtube page.
Spring Term
Friday and Saturday, January 25-26, 2019, Jason F. McLennan, Using Clarity, Beauty and Inspiration to Inspire Change: A Leadership Exploration
Successful leaders learn to navigate the tension between compromise and optimization, between including the contributions of many and the need for clarity that allows for vision and forward movement. How do we bring people along to possibilities they can't yet imagine?  How do we help people see a higher vision through inspiration, beauty, and clarity? What sort of leadership models are needed if we are to aspire to create world-class architecture, art, music, literature, or to manifest something that does not yet exist? The class will explore how leading with vision can be lonely and polarizing at times—but necessary for significant systemic change.   
Jason McLennan, considered one of the world's most influential leaders in architecture and the green building movement, works closely with world leaders, Fortune 500 companies, leading NGO's, major universities, and celebrities and influential development companies in the pursuit of a world that is socially just, culturally rich, and ecologically restorative. McLennan is the creator of the Living Building Challenge, the most rigorous and progressive green building program in the world, as well as a primary author of the WELL Building Standard. In addition to chairing the International Living Future Institute, he is CEO of McLennan Design, which creates some of the world's most advanced green buildings. McLennan is the author of six books on sustainability and design, one of which, The Philosophy of Sustainable Design, is considered the "bible" for green buildings. McLennan is both an Ashoka Fellow and Senior Fellow of the Design Futures Council and has been selected by Yes! magazine as one of  "15 people shaping the world." He is the recipient of the Buckminster Fuller Prize, the world's top prize for socially responsible design.
Friday and Saturday, February 22-23, 2019, Kelly Brown Douglas, Stand Your Ground: Leadership That Transforms the Academy
Institutional Leadership requires an understanding about the ways systems work, and a vision for what is yet to be. Dean Kelly Brown Douglas, a Womanist theologian and Episcopal priest, is living out such leadership at Episcopal Divinity School, a historic Boston academic institution that has taken on a new life in the context of Union Theological Seminary in New York City. This exploration of institutional leadership is intended for any who seek a leadership role in academic life, or in the institutional church.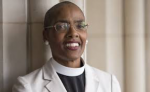 The Rev. Canon Kelly Brown Douglas is Dean of Episcopal Divinity School at Union Theological Seminary in New York City, and the Canon Theologian at the Washington National Cathedral. She is considered a leader in the field of womanist theology, racial reconciliation, and sexuality and the black church. Dr. Douglas was one of the first 10 black women to be ordained a priest in the Episcopal Church. Her newest book is Stand Your Ground: Black Bodies and the Justice of God.
Friday and Saturday, March 1-2, Marc Brackett and Robin Stern, Leading with Emotional Intelligence in Society 
In this innovative leadership workshop, participants learned why emotions matter and were introduced to the skills and principals of emotional intelligence. Through dyadic and experiential activities students learned how the knowledge and practice of emotion science benefit not only the people you work with, but enrich your own lives as well. Marc Brackett and Robin Stern are leading scholars in the field of emotional intelligence, which strives to use the power of practical wisdom to create a healthier and more equitable, compassionate, and productive society. They study the development, measurement, and real-world significance of emotional intelligence; lead nationwide efforts in training and program development, translating the science of emotional intelligence to leaders in schools, businesses, non-profits and faith related organizations; and model an approach called RULER, which stands for the five skills of emotional intelligence: Recognizing, Understanding, Labeling, Expressing, and Regulating emotions. 
Marc Brackett, Ph.D., is founding director of the Yale Center for Emotional Intelligence and Professor in the Child Study Center at Yale University. His research focuses on the role of emotions and emotional intelligence in learning, decision-making, relationship quality, and mental health and the influences of emotional intelligence training on children's and adults' effectiveness, health, creativity, and both school and workplace climate.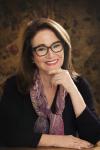 Robin Stern, Ph.D., is the associate director for the Yale Center for Emotional Intelligence. She is a licensed psychoanalyst, educator, and author, with over twenty-five years of experience treating individuals, couples, and groups. Robin holds a doctorate in applied psychology from New York University and a postdoctoral certificate in psychoanalytic group psychotherapy from the Postgraduate Center for Mental Health. She is also on the faculty of Teacher's College, Columbia University. 
2017-2018
September 22 and 23 - Peace Starts Here: Congregational Leadership and Social Justice

Father Michael Pfleger (Roman Catholic), pastor of Faith Community of St. Sabina, parish priest, social activist and anti-gun leader in a thriving, multi-race and multi-cultural faith community in Chicago. Father Pfleger's 30 years of ministry in one Chicago parish offers a model for societal change and faithful presence.
Watch this talk at the YDS Youtube page.
September 29 and 30 - Leadership in the Pilgrimage of Faith and Health

Rev. G. Scott Morris '79 M.Div., M.D. (United Methodist), CEO, Church Health, Memphis, Tenn., an ecumenical health care ministry supported by faith and medical communities that averages 30,000 patient visits a year. Dr. Morris is theologically educated at YDS, a pastor in the United Methodist Church, a leading voice for equity and healthy self-care as a physician, and the founder of this important medical clinic.
Watch this talk at the YDS Youtube page.
November 10 and 11 - Leadership in Issues of Faith and Global Health: A Theological Conversation About Gender Dynamics, Sexual and Reproductive Health.

Dr. Pauline Muchina '95 M.Div., Director of Healthy Families, Healthy Planet, for the United Methodist Church. Dr. Muchina challenges the injustices that render women, girls, and marginalized communities vulnerable by addressing policies, structures, and religious practices, focusing on HIV and gender-based violence. Dr. Muchina grew up in Kenya and is the founder of the Future African Leaders Project. Dr. Muchina earned her Ph.D. at Union Theological Seminary.
Watch this talk at the YDS Youtube page.
January 19 and 20 - Marching with God: Justice and Witness Ministry in a New Day
Rev. Traci Blackmon,(United Church of Christ), National leader in the Black Lives Matter Movement, Senior Pastor of Christ the King UCC in St. Louis, Executive Minister of Justice and Witness Ministries, United Church of Christ. Rev. Blackman is a leading voice in the struggle for faith-inspired justice in the United States and a widely recognized leader in progressive Christian movements.
Watch this talk at the YDS Youtube page.
Feb. 2 and 3 - From Local Charity to International Justice Enterprise: Thistle Farms' Bold Journey of Leadership and Love
Rev. Becca Stevens (Episcopal), Founder and President of Thistle Farms, five residential communities in Nashville for women who have escaped sex-traffic abuse, who now run a $2 million company making bath and body-care products. Rev. Stevens is also the Episcopal chaplain at Vanderbilt University.
Watch this talk at the YDS Youtube page.
February 23 and 24 – Leadership in Faith and Politics: A Theology of Public Discipleship
Jim Wallis, Founder and CEO of Sojourners Community, Editor and Chief of Sojourners magazine, and the leading Christian voice in the struggle for peace and justice for many decades.
Watch this talk at the YDS Youtube page.
2016-2017 

September 23, 2016
"Leading from Within: Personal Transformation and Social Change"
Parker Palmer and Marcy Jackson
Parker Palmer is a widely known writer, speaker, and activist who focuses on issues in education, community, leadership, spirituality, and social change. Marcy Jackson, MSW, MPH, is, with Parker Palmer, the co-founder for the Center for Courage & Renewal, where she supports the development of leadership facilitators and activists around the world. Read the article on Palmer's YDS talk.

October 28, 2016
"Leadership in the Changing World of Publishing"
Matt Malone S.J., President and Editor in Chief, America Magazine
At the time of his appointment, Fr. Malone was the youngest editor in chief in America's history. The recipient of first place Catholic Press Association award for essay writing, he has published his work in the New York Times, Boston Globe, and Washington Post, among other publications. He is the author of Catholics Without Labels, a book urging Catholics to transcend "liberal" and "conservative" and give testimony to the gospel message of Jesus.

November 11, 2016
"Continuity and Discontinuity: Leading Beyond Tradition"
Rev. Dr. Leslie Callahan, St. Paul's Baptist Church, Philadelphia
Leslie Callahan leads a historic and vital congregation in Philadelphia. Her pastoral work engages the Black Lives Matter movement. The recipient of a Ph.D. from Princeton, she also teaches modern American religion, with a special interest in African American religions, at the University of Pennsylvania.
February 3, 2017
"Rekindling a Prophetic Moral Vision for Justice"
William Barber, founder of the  Moral Monday Movement, President of the North Carolina NAACP
Founder of the Moral Monday movement, William Barber is a leading articulator of a prophetic vision of justice that unites people beyond race, class, and religious affiliation. Read the article on Barber's YDS talk.   
Watch this talk at the YDS Youtube page.
February 24, 2017
"Called Home: an unlikely journey to Habitat for Humanity"
Jonathan Reckford
, CEO of Habitat for Humanity
A former Wall Street and business executive, Reckford is CEO of the global nonprofit housing organization Habitat for Humanity, which works in works in nearly 1,400 U.S. communities and approximately 70 countries around the world. 
March 31, 2017
"Faith Leadership in a Political World"
Melissa Rogers, Special Assistant to the President and Executive Director of the White House Office of Faith-based and Neighborhood Partnerships
Now a non-resident senior fellow in Governance Studies at the Brookings Institution, Melissa Rogers served as special assistant to Barack Obama during his presidency while directing the White House Office of Faith-Based and Neighborhood Partnerships. Read the story and watch the video of her interaction with the YDS community.  
2015-16 Speakers