Kenneth Minkema is Executive Editor of The Works of Jonathan Edwards and Director of the Jonathan Edwards Center at YDS. The Center supports inquiry into the life, writings, and legacy of the iconic 18th-century theologian (and Yale alumnus) by providing resources that encourage critical appraisal of his historical importance and contemporary relevance. Earlier this academic year, Minkema joined Yale University's efforts to uncover and account for the university's historical involvement in slavery and racism.
The YDS Communications office recently interviewed Minkema about that ongoing work and the role he is playing in it.
——
You have been part of efforts by Yale University and Yale Divinity School to explore their entanglement in historical slavery and racism. How do you describe that work—and its importance?
The research team consists of faculty, staff, graduate students, members of the New Haven community, and beyond. Much of this work consists of digging into Yale's own records and holdings, going back to the very founding, right on down to the present time. The things that the researchers, especially the graduate students, are finding, are amazing. Ultimately, these discoveries about Yale's involvement in slavery and in perpetuating racism will be incorporated into a full-length study by David Blight of Yale's History Department that connects what was happening at Yale with what was happening more broadly in the country.
How did you come to be involved, and what role are you playing?
As part of the observation of Yale Divinity School's 200th anniversary, I had been helping to research and write about the School's history of involvement in racism, slavery, resistance, abolition, and the struggle for racial justice. I think that's how I came to the attention of the Yale and Slavery Working Group and was asked to join.
RELATED STORY: YDS acknowledges racial injustice in school's history, lays out actions to become more inclusive
It's a great honor and thrill to contribute in my small way. I'm part of the 18th-century team, and, as a scholar of Jonathan Edwards, I'm contributing material about him and his legacy, and more generally about the role of religion in colonial New England slavery.
The YDS Library recently received a collection of historically significant materials owned by the Shepard family, descendants of Timothy Dwight, Yale's eighth president. What is in that collection that pertains to this history of Yale's entanglement in slavery in the 18th century?
This collection was a major donation in 2019, because nothing like it, for sheer size and importance, had been made available in a long time. It includes pieces of original correspondence and other items by and about Jonathan Edwards, his wife Sarah Pierpont Edwards, and members of his family. But there is one key item: a receipt, dated 1756, of Edwards' purchase of a three-year-old boy of color named Titus. That the Edwardses owned slaves, including Titus, was not new knowledge. The Yale edition of The Works of Jonathan Edwards, which the Edwards Center curates, has been disseminating this for more than a quarter of a century. But here was the actual record, and, in light of what happened in our country in 2020, with the murders of so many people of color, and the reappraisal of how our society is rooted in white supremacy, that document focused attention.
What input do you have for people who might appreciate Edwards as a pastor and theologian of great historical significance, but who are repelled by his enslavement of a three-year-old boy? Do his practices in any way nullify his theological contributions?
Edwards was a formative figure in his own time and has had profound influence, on a global basis, in the succeeding centuries. But what must qualify that is his role as a defender of slavery and as a slaveowner, and his participation in a society that exploited and oppressed Native Americans and people of African descent. As we as a society take into account the persistence of racism, carefully studying and understanding the complicated histories behind this and other awful legacies, without obfuscation, becomes all the more vital. The Jonathan Edwards Center is committed to that task by making available the full and unexpurgated range of Edwards' writings and by encouraging student and scholarly engagement with all aspects of his life, thought, and legacy. I would encourage those who use Edwards as a resource for their scholarship or for their ministry not simply to compartmentalize this aspect of Edwards' life and thought, but to integrate it into an overall reconsideration of his significance.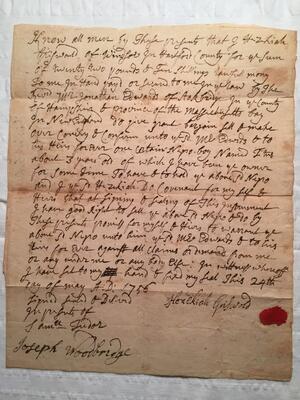 Speaking of Edwards' theology, what did he say about slavery in his sermons and writings, and how did his views change over his lifetime?
He actually did not speak too often or too explicitly about slaves and slavery, either in his public or private writings. What lies ahead is to visit his corpus anew with an eye to appreciating how assumptions about racial hierarchies are reflected in them. However, there is one document, a draft of a letter or address from the early 1740s, in which he comes out against the "slave trade," the illegal kidnapping of free Africans into bondage, where before he had purchased enslaved persons through this system. This was only a one step towards the outright call for immediate emancipation of enslaved persons and complete abolition of slavery that Edwards' disciples called for several decades later, but it was a change nonetheless.
You have been at Yale for more than 30 years. How have the university and divinity school changed over that time with respect to the slavery and racism in the institutions' histories?
Of course, this is just my limited perspective, but it seems that there is now much more of an awareness of the University's and of Divinity School's entanglement over the centuries in the oppression of people of color, and an openness to learning more and making real changes. I remember that back in 2001, when Yale was observing its tercentenary, there was an attempt to highlight how there were many prominent figures in the University's past who were slaveholders or apologists for slavery. That effort was important, but it did not have the impact of the accounting that is going on today, which has been commissioned by President Salovey. This is a necessary next step, but there is obviously more work to do going forward.
RELATED CONTENT: Yale publicly confronts historical involvement in slavery