When a distraught woman phoned the Rev. Traci Blackmon and urged her to come to the aid of a community reeling from the fatal shooting of Michael Brown, Blackmon responded as she usually does when called: She went.
Blackmon's church was just three miles from Ferguson, Mo., where Brown had been gunned down. The pastor sat that night with Brown's family—and went on to become one of the most powerful faith voices in the movement that would follow.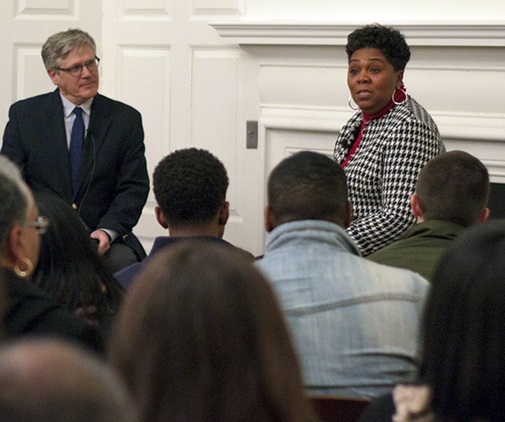 Blackmon's ministry would change during those months, as she emerged as a national leader in the Black Lives Matter movement and other justice causes. Now, in addition to her ongoing work as a pastor in St. Louis, she is the Executive Minister of Justice & Witness Ministries for the United Church of Christ
Blackmon reflected on her experiences and their faith dimensions in a public conversation at a packed YDS Common Room on January 19, as part of her two days' guest-lecturing in the School's Transformational Leadership Program.
***
RELATED STORY: This Missouri pastor is working to 'reclaim the language of faith'
***
Asked when she first connected justice work to the gospel, Blackmon drew applause as she responded: "I've never known the gospel outside of justice work." She went on to say:
"I'm a black woman from Birmingham, Alabama, born in the 1960s. I integrated two schools One of my pet peeves is when people describe me or others I work with as being left, or progressive, or liberal. I don't preach a progressive gospel. I preach the gospel. The gospel is a social gospel, a liberating gospel. We will not be defined by other people's labels. We are disciples of Jesus Christ."