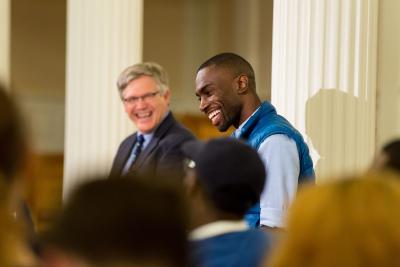 Three Transformational Leadership courses will be offered in the Fall semester of 2017. Each course is a two-day intensive and awards one credit (a third of a normal class) for successful completion. Students may register for no more than two of these courses within any semester; no more than a total of three credits will be applied toward a degree. Direct any questions to william.goettler@yale.edu (link sends e-mail)
Public Conversations with each of our guests will be held on the Friday evening of the weekend listed. All are welcome to join us for these public events, at Yale Divinity School, beginning at 7:30 p.m. Free parking is available in the YDS lot, at 409 Prospect Street.
The Transformational Leadership program is made possible through a generous grant from the Arthur Vining Davis Foundation.
---
Speakers
2017-2018
September 22 and 23 - Peace Starts Here: Congregational Leadership and Social Justice

Father Michael Pfleger (Roman Catholic), pastor of Faith Community of St. Sabina, parish priest, social activist and anti-gun leader in a thriving, multi-race and multi-cultural faith community in Chicago. Father Pfleger's 30 years of ministry in one Chicago parish offers a model for societal change and faithful presence.
September 29 and 30 - Leadership in the Pilgrimage of Faith and Health

Rev. G. Scott Morris '79 M.Div., M.D. (United Methodist), CEO, Church Health, Memphis, Tenn., an ecumenical health care ministry supported by faith and medical communities that averages 30,000 patient visits a year. Dr. Morris is theologically educated at YDS, a pastor in the United Methodist Church, a leading voice for equity and healthy self-care as a physician, and the founder of this important medical clinic.
November 10 and 11 - Leadership in Issues of Faith and Global Health: A Theological Conversation About Gender Dynamics, Sexual and Reproductive Health.

Dr. Pauline Muchina '95 M.Div., Director of Healthy Families, Healthy Planet, for the United Methodist Church. Dr. Muchina challenges the injustices that render women, girls, and marginalized communities vulnerable by addressing policies, structures, and religious practices, focusing on HIV and gender-based violence. Dr. Muchina grew up in Kenya and is the founder of the Future African Leaders Project. Dr. Muchina earned her Ph.D. at Union Theological Seminary.
January 19 and 20 - Marching with God: Justice and Witness Ministry in a New Day
Rev. Traci Blackmon,(United Church of Christ), National leader in the Black Lives Matter Movement, Senior Pastor of Christ the King UCC in St. Louis, Executive Minister of Justice and Witness Ministries, United Church of Christ. Rev. Blackman is a leading voice in the struggle for faith-inspired justice in the United States and a widely recognized leader in progressive Christian movements.
Feb. 2 and 3 - From Local Charity to International Justice Enterprise: Thistle Farms' Bold Journey of Leadership and Love
Rev. Becca Stevens (Episcopal), Founder and President of Thistle Farms, five residential communities in Nashville for women who have escaped sex-traffic abuse, who now run a $2 million company making bath and body-care products. Rev. Stevens is also the Episcopal chaplain at Vanderbilt University.
February 23 and 24 – Leadership in Faith and Politics: A Theology of Public Discipleship
Jim Wallis, Founder and CEO of Sojourners Community, Editor and Chief of Sojourners magazine, and the leading Christian voice in the struggle for peace and justice for many decades.
---
Previous speakers
2016-2017 

September 23, 2016
"Leading from Within: Personal Transformation and Social Change"
Parker Palmer and Marcy Jackson
Parker Palmer is a widely known writer, speaker, and activist who focuses on issues in education, community, leadership, spirituality, and social change. Marcy Jackson, MSW, MPH, is, with Parker Palmer, the co-founder for the Center for Courage & Renewal, where she supports the development of leadership facilitators and activists around the world. Read the article on Palmer's YDS talk.

October 28, 2016
"Leadership in the Changing World of Publishing"
Matt Malone S.J., President and Editor in Chief, America Magazine
At the time of his appointment, Fr. Malone was the youngest editor in chief in America's history. The recipient of first place Catholic Press Association award for essay writing, he has published his work in the New York Times, Boston Globe, and Washington Post, among other publications. He is the author of Catholics Without Labels, a book urging Catholics to transcend "liberal" and "conservative" and give testimony to the gospel message of Jesus.

November 11, 2016
"Continuity and Discontinuity: Leading Beyond Tradition"
Rev. Dr. Leslie Callahan, St. Paul's Baptist Church, Philadelphia
Leslie Callahan leads a historic and vital congregation in Philadelphia. Her pastoral work engages the Black Lives Matter movement. The recipient of a Ph.D. from Princeton, she also teaches modern American religion, with a special interest in African American religions, at the University of Pennsylvania.
February 3, 2017
"Rekindling a Prophetic Moral Vision for Justice"
William Barber, founder of the  Moral Monday Movement, President of the North Carolina NAACP
Founder of the Moral Monday movement, William Barber is a leading articulator of a prophetic vision of justice that unites people beyond race, class, and religious affiliation. Read the story and watch the video of his interaction with the YDS community.  
February 24, 2017
"Called Home: an unlikely journey to Habitat for Humanity"
Jonathan Reckford
, CEO of Habitat for Humanity
A former Wall Street and business executive, Reckford is CEO of the global nonprofit housing organization Habitat for Humanity, which works in works in nearly 1,400 U.S. communities and approximately 70 countries around the world. 
March 31, 2017
"Faith Leadership in a Political World"
Melissa Rogers, Special Assistant to the President and Executive Director of the White House Office of Faith-based and Neighborhood Partnerships
Now a non-resident senior fellow in Governance Studies at the Brookings Institution, Melissa Rogers served as special assistant to Barack Obama during his presidency while directing the White House Office of Faith-Based and Neighborhood Partnerships. Read the story and watch the video of her interaction with the YDS community.  
2015-16 Speakers
William Goettler
Associate Dean for Assessment & Ministerial Studies
(203) 432-9896