May 18, 2020
To graduate in the spring of 2020, YDS Dean Greg Sterling told graduates and their families today in an online Commencement ceremony, is to enter a paradox.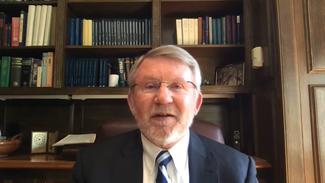 "We are sending you out at a time when 'out' means that you must remain in," Sterling said. "We have faced a global pandemic that respects no boundaries—territorial or social—by restricting our own. In an age when the advancements of medicine are extraordinary, one virus has humbled us by reminding us of human limits."
However, the Dean emphasized, paraphrasing the Apostle Paul, we are "squeezed but not squashed, in despair but not completely desperate, followed but not forsaken, and knocked down, but not knocked out."
"Today is an affirmation that as difficult as the last two months have been, you have succeeded," Sterling said. "Your perseverance in the face of a once-in-a-lifetime challenge gives all of us hope for the future."
***
Meet these graduates: Profiles of a sample of Class of 2020 members
***
In his message at the School's 194th Commencement (and Yale's 319th), Sterling confirmed for graduates what many already intuited. Even though Yale commencement ceremonies have been disrupted before, such as during the American Revolution, this was the first time the Divinity School and University held a Commencement ceremony online. (Yale and YDS expect to create some opportunity for the graduating classes to have an in-person experience when large gatherings are safe again.)
To make the experience as celebratory as possible for the dispersed graduates, YDS used technology to simulate many of the features of traditional Commencement, including the reading of each graduate's name by Senior Associate Dean Jennifer Herdt, alongside a photo of each. The video also included recorded applause from the faculty and staff.
More than 700 people viewed the ceremony broadcast, with hundreds more to expected to watch on replay in the days and weeks to come. 
***
Yale Divinity School Commencement 2020: Watch the video
***
Degrees were conferred to 134 students: 65 receiving the Master of Arts in Religion (M.A.R.), 58 the Master of Divinity (M.Div.) degree, and 11 the Master of Sacred Theology (S.T.M.) degree. (Also honored on Monday were another seven students who will graduate in December.) The youngest of the graduates is 23 years old, Sterling noted, and the oldest an octogenarian at 84. Some are moving onto ministerial positions, some onto further graduate study, and others into nonprofits and other fields and careers.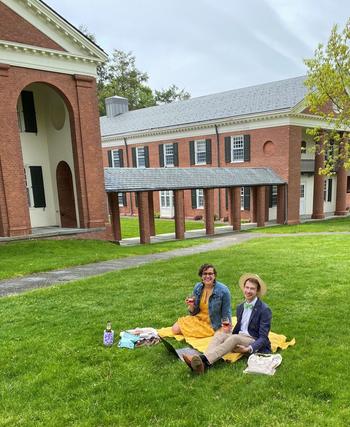 In the weeks leading up to Commencement, the YDS alumni community rallied to support a graduating class facing almost unprecedented disappointment and adversity. At the invitation of the Office of Alumni Engagement & Annual Giving, more than 170 alumnae and alumni sent notes of congratulations and welcome to the graduating students. The messages span seven generations of alumni/ae, coming from 39 states and five countries outside the U.S.
"This is not what you signed up for and not what you wanted. And I am so sorry," wrote Suzanna Krivulskaya '11 M.A.R. from San Diego. "I hope … that you allow yourselves to celebrate your accomplishments, remembering how difficult your road to graduation must have been at times. And yet you persisted. We are so proud of you. You will go on to do great things. You will work to create a more just and equitable nation and world. We need you."
***
Congratulations and well wishes: Read the notes from YDS alumni/ae
***
"I wouldn't be surprised if your class has been way ahead of the curve on reframing ministry in light of Covid-19 and requirements for social distancing," wrote Kate Heichler '02 M.Div., '04 S.T.M. from Newburg, Md.
"I pray that your creativity will help transform the church as a whole and the congregations you will lead. While nothing will make up for the lack of your well- deserved (in-person) graduation events and ceremonies, I pray you will feel enfolded in the love of the wider YDS alumni community you are now joining, and even more importantly that you sense that divine voice that speaks deep into your spirit 'Well done, good and faithful servant.' You've been fabulous and will be more fabulous still!"
***
Digital summer internships: Read how YDS is using technology and specialized training to provide internships in time of distancing
***
Thanks to the intervention of the YDS Dean's Advisory Council, the tradition of a donation from graduates to the School continued despite the difficult financial circumstances wrought by the Covid-19 pandemic. The Council collected donations from members and made the traditional class gift on the graduates' behalf—and in a record amount exceeding $20,000.
"You inspire us," Council Co-Chair Nancy Taylor '81 M.Div. told the graduates. "The Dean's Advisory Council extends to every one of you our heartfelt congratulations. With wide open arms we welcome you into the family of YDS alumni." 
***
Students created a special flash mob surprise for online Commencement. Watch the video.