Lamin Sanneh is the D. Willis James Professor of Missions & World Christianity and Professor of History at Yale Divinity School. He recently sat down with the communications office (in the virtual sense) to discuss his new book Beyond Jihad: The Pacifist Tradition in West African Islam (Oxford University Press) and what it's like to pursue a life of scholarship at Yale Divinity School.
YDS: What motivated you to write your new book Beyond Jihad, and what do you hope the book accomplishes?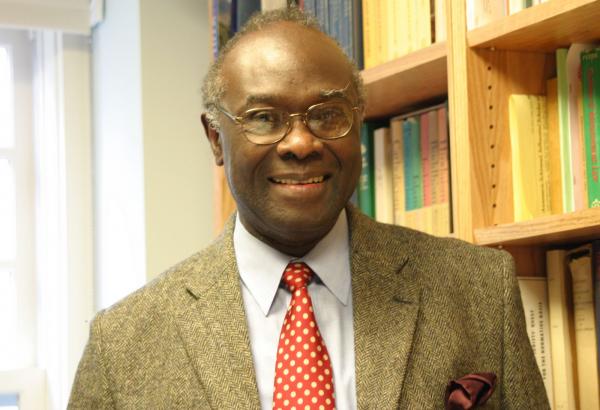 Sanneh: Beyond Jihad is a study of the pacifist tradition in West African Islam. I dismissed the idea of a Muslim pacifist tradition out of hand when it was first brought to my attention in graduate school in England, familiar as I was with war and warfare in the origins of Islam. I thought the idea of a "vegetarian" spirituality in Islam was preposterous. What I didn't know was that the pacifist tradition was all around me when I was growing up in Muslim Gambia, and if I could overcome my distrust I could investigate it to see what its history was like. I had tough questions to ask. But I pushed aside my resistance and broached the subject with guarded curiosity.
In terms of what I hope the book accomplishes, I would like the study to encourage an appreciation of the softer side of Islam as a force for intercultural understanding and mutual trust.
YDS: We understand the book was a long time in the making. Tell us more about that.
Sanneh: I was a penurious graduate student, and the pittance of my student bursary limited my freedom to pursue the subject in libraries, archives, and site visits in several countries in West Africa. The subject had never been studied in depth, and given my own experience of incredulity, I needed to be thorough and meticulous in order to be convincing. I must say that the support I received when I was on the Harvard faculty was very helpful; it allowed me to present a revised version of my research findings in a book I wrote in 1989. That kept alive the desire someday to do the kind of study that led to Beyond Jihad. The conditions existing today of preoccupation with religious extremism and violence make the publication of the book timely.
YDS: What are one or two major misunderstandings about Islam and jihad that you concern you?
Sanneh: I have watched with growing dismay the escalating rhetoric about how Islam is a radical religion, with militant jihad its natural and necessary expression. Given Islam's resilience in history and in communities around the world, I worry less about how this heavy-weather view may affect Islam than I do about what misguided policies the West may pursue in consequence of it. It would be damaging to Western interests to adopt this view and reduce Islam to nothing more than a security threat and pursue actions that are counter to the principles and values we cherish in the West. The only thing worse than being the target of religious extremism and violence is the forsaking of the very values and ideals that violent extremists find so abhorent. The enemy doesn't deserve that outcome because the West is worthy of more noble ends. It would be ironic if we became in the hands of our tormentors the rod of our own chastisement.
***
Watch this 2015 video conversation with Lamin Sanneh
***
YDS: Dean Sterling speaks about YDS as a divinity school that is unapologetically Christian, but never narrowly Christian. How can Christians embody this concept in their dealings with Muslims in this country and around the world?
Sanneh: I agree totally with the idea that being narrow is self-negating, and agree, too, with the implicit caution that we should not be cocky in being unapologetic. Still, I am not sure either attitude is the great temptation religion faces at Yale. Having spent a lifetime thinking about interfaith relations I am not sanguine about the challenges that daunt intercultural understanding. From the start, we should discount two options, one being the liberal view that since all religions lead to the same goal a distinctive Christianity has no place in a world that is becoming unified, and the other conservative view that the fact of religious difference justifies our adopting a dogmatic superiority complex toward other religions. Both options lead us into a dead end; separately and together they make religion virtually invisible in a changing and challenging world.
Yet between these two extremes there is space for religion to be visible. The great achievement of Islam in being a spiritual force in the world can be acknowledged by the West despite widespread disaffection with religion. Similarly, the West can reciprocate with its experience of religious freedom and the heritage of civil society that fosters a dynamic culture of philanthropy and individual responsibility. The respective distinctiveness of the two great civilizations can inspire collaborative solidarity in the cause of a common humanity rather than feeding antagonism and division.
YDS: Your background is fascinating because, among other reasons, you have been both a Muslim and a Roman Catholic and, thus, you have firsthand insights about both. How does that valuable background inform your scholarship and teaching?
Sanneh: I suppose one premise of the question is that for many centuries Muslims and Catholics were a rare sight at Yale, and in retrospect it seems disconcerting that it took so long to scale the wall of tolerance. Yet however slow, the old order did change, giving place to new. Today we recognize the value of inclusion and cultural diversity as reflected in the University's campus culture. I hope and trust that coming students of the Divinity School will welcome the prospect of pursuing theological education in an environment of openness and intercultural sensitivity. Speaking for myself, I have written extensively and, I hope, respectfully about the intercultural dimensions of historical and human encounter. I am convinced that reciprocity on that basis can only be to our common benefit and advantage. Adding more voices from Asia and Africa to instruction, for example, would increase the value of what students learn.
YDS: How do you describe the environment of YDS? What's it like for you to teach the students here?
In 1989 when I arrived from Harvard as a newly appointed faculty member at Yale, I remember conversations with Divinity School colleagues about how the study and teaching of World Christianity should contribute to the academic and ecumenical enterprise of our work at Yale, conversations that appealed to my interest in inter-disciplinary collaboration. There was no other way, I believed, to pursue the subject of World Christianity and its interface with the societies of the world.
My faith in that approach has been amply and gratifyingly vindicated by subsequent developments: academic presses have created publication series in the field; new journals have been founded; the Yale-Edinburgh annual Conference series initiated at the Divinity School with about a dozen participants in 1992 has grown to embrace some 700 U.S. and international scholars; new chairs and faculty appointments have been established in the U.S., Europe, Asia and Africa; new programs of study have been designed at undergraduate and graduate levels; and a listserv maintained at the Divinity Library caters to students, researchers and scholars around the globe. There was nothing like this when I arrived at Yale.
If prospective students wish to take advantage of opportunities of learning, discovery, and self-improvement at all, the Divinity School offers unrivaled resources and a place of stimulating exchange of ideas. Yale's Puritan heritage might bristle at the vanity of self-promotion, but that scruple still leaves room for modestly beckoning students in this direction where they will be engaged, challenged and fulfilled by what Yale has on offer.
YDS: Why did you decide to become an academic, a scholar?
Sanneh: I hope it is not too embarrassing and too self-incriminating to state that I became an academic because I failed in my application to be ordained. I was told ever so politely in a way to spare my ego that I possessed sufficient academic stock not to need ordination to study religion. It left me deflated, and in defeat I took up the scholarly life for compensation. It was not until my appointments at Harvard, and subsequently at Yale, that I discovered the appeal of life in a divinity school. Colleagues in both places were generous with their friendship and advice, reviving feelings of regret over my abortive bid to study in a divinity school. In view of the immense fulfillment I have found in my academic and scholarly career, I cannot explain why that remains still a simmering personal issue. Perhaps the ego does not know enough disguises to dispense with persistent clamorous reminders of failed ambition.
---