Timothy Cahill '16 M.A.R. 
Rick Steves knows what ails America. We don't get out enough.
"There's a lot of fear right now in the United States, and the most fearful Americans are the Americans … with no passports," says the popular guidebook author and TV personality. "Travel can humanize our world and give us a better understanding" of others.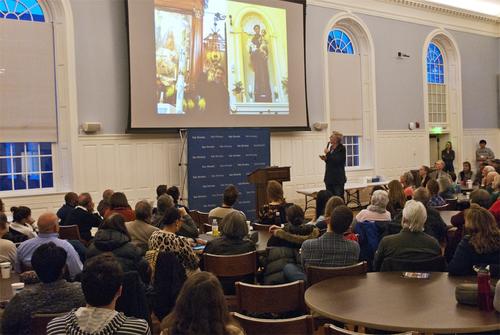 Since the 1990s, Steves has gained fame as a maestro of the European vacation, dispensing practical, user-friendly advice on hotels, trains, and sightseeing through a series of bestselling guides and an upbeat travel series on public television. Following the September 11, 2001 attacks, however, the self-made travel guru was gripped by a new calling as he watched the country's suspicions and hostilities grow ever more pronounced.
"After 9/11, I realized the most important thing was to teach Americans how to get out of their comfort zone" through travel, Steves told an audience at Yale Divinity School last month.
Since then, while continuing to expand his lucrative empire of "Rick Steves" books, tours, and the perennially popular Rick Steves' Europe program on PBS, Steves has used his celebrity to urge middle America to get out of the house and meet the world.
Steves was at YDS to conduct a two-day seminar titled, "Breaking Down Walls: Travel Leadership as Political and Spiritual Action." His visit was part of the Transformational Leadership program, a series of intimate, intensive seminars that give students close contact with leaders in theology, ministry, social justice, business, and politics. The one-credit courses are open to students at YDS and all Yale graduate and professional programs.
Half entrepreneur, half social warrior, Steves has committed his name and significant amounts of his wealth to battle hunger, homelessness, and climate change. Faith undergirds all his activism. A lifelong Lutheran, he is a past speaker at the Lutheran Peace Fellowship and recipient of the Luther Institute's Wittenberg Award "for outstanding service to church and society." 
***
"The Road as Church": Watch the video of Rick Steves' presentation
***
At YDS, he delivered a Friday evening public lecture and led a day-long student seminar on Saturday.
Steves' Friday talk began with a lively slide-show sermon based on his book Travel as a Political Act. Travel dismantles American ethnocentrism, he observed, allowing us to "gain an empathy with the other 96 percent of humanity, and bring home what I consider the greatest of all souvenirs, a broader perspective."
Steves then screened a new film on hunger in Africa and Central America and led a discussion with the nearly 200 Yale faculty and staffers and New Haven locals in attendance. They were obvious fans of his genial travelogues, but many were also familiar with his harder-edged documentaries examining European fascism, the Israel-Palestine divide, and life in Iran. His latest of these efforts, which he premiered at YDS, is "Hunger and Hope: Lessons from Ethiopia and Guatemala."
To say Steves' documentaries (or "television specials," as he calls them) are "harder-edged" is to contrast them with the sunny demeanor of his travel episodes, where the weather is always fair and the sites tidy, and where Rick is rested, ready, and forever flashing his avid, boyish smile. If Rick Steves' Europe is entertainment, his specials seek to educate, enlighten, even shake up complacency. They tackle difficult issues, from authoritarianism to religious conflict, prejudice to systemic injustice, but always end on a note of hope.
Remaining optimistically agreeable is Steves' trademark. "I don't hit people over the head," he told students the next day. "Temper your message so it's more effective."  
On Saturday, Steves led a seminar for 30 students, two-thirds from the Divinity School, the remainder from the School of Management, the School of Forestry and Environmental Studies, and the Graduate School of Arts and Sciences. The participants represented a range of travel experience, from those who'd grown up abroad to people who had never left home before leaving for college. 
"I'm no theologian," he told the group. "I get close to God when I travel." Elaborating, Steves said drawing closer to the divine source of creation is one of the chief ends of enlightened travel. He outlined his hierarchy of travelers. At the first level is the "tourist," who regards all travel as a form of consumption and is happy to crowd Europe's "Instagram spots," sites designated for social-media selfies. These are the vacation-goers Steves wants most to reform, lifting them at least to the second tier of "traveler," people willing to become "cultural chameleons" who immerse themselves in other places and ways of life. The most heightened experience, however, lies in the third category, he said: the "pilgrim," who seeks to find God through travel and discovers inner personal truths along the way. "As a tour guide, I encourage people to be pilgrims," Steves said. He sees himself on a continual pilgrimage as well.
"I feel the evidence of God when I'm traveling," he said, "the grandeur and the small expressions of love."
William Goettler, who directs the Transformational Leadership program, was attracted to Steves as a possible speaker/instructor after learning of his involvement with Bread for the World, a Christian fellowship that addresses world hunger. Steves has helped raised more than $1 million annually for the organization and contributes to its mission in other ways as well. Goettler first contacted Steves more than a year ago through a contact at BFTW.
"I'm always looking for a range of leadership models," said Goettler, a former Presbyterian pastor and now Associate Dean for Ministerial and Professional Leadership at YDS. "Part of the work of ministry involves opening the world in new ways and with new sensibilities. … There are fairly clear connections between the topic of travel and world-awareness generally and the work of ministry."
Timothy Cahill '16 M.A.R. is a writer specializing in religion and the arts.