Convocation events, running from mid-September through late-October and including Quad partners Andover Newton, Berkeley Divinity School, and the Institute of Sacred Music, attracted thousands of YDS alums and friends as the annual tradition continued despite the limitations posed by COVID-19.
Among the highlights were the Dean's State of the School address and a pair of high-profile lectures that drew several thousand views at the YDS Livestream and YouTube pages. Also, eight alums from the church, nonprofit sector, and academia were presented with the Divinity School's prestigious alumni awards.
Nearly all Convocation events were held virtually as YDS continues to limit in-person gatherings to classes and Marquand worship. Interest and enthusiasm ran high nonetheless, with Convocation attendees gathering from across the globe. The use of technology enabled participation by many who would not have had the time or ability to travel to New Haven for a more traditional Convocation, noted Debby Jagielow, Director of Alumni Engagement and Annual Giving.
"It was wonderful to see so many YDS alums connecting with one another and engaging with the YDS community that has meant so much to them over their lives and careers," Jagielow said.
Alumni/ae awards
Celebration of the 2020 alumni/ae awards honorees was postponed last fall due to strict COVID precautions. The October 21 Awards Ceremony hosted live on Zoom honored eight individuals, covering both the 2020 and 2021 cohorts, and included time at the end of evening for friends and family to congratulate the honorees in private Zoom meeting spaces. The evening's program also included a musical celebration of "Total Praise" sung by member of the YDS Gospel Choir. 
The alumni/ae award honorees are:
Distinction in Theological Education – Javier Viera '00 S.T.M
Distinction in Congregational Ministry – Shelley Best '00 M.Div.
William Sloane Coffin Award for Peace & Justice – David Dodson '77 B.A. '81 M.Div., '81 M.P.P.M.
Lux et Veritas – Jerry Streets '75 M.Div.
Distinction in Theological Education – Robert Wilson '67 B.D., '72 Ph.D.
Distinction in Congregational Ministry - Jane Middleton '78 M.Div.
William Sloane Coffin Award for Peace and Justice - Kaji Douša '06 M.Div.
Lux et Veritas – Elijah Heyward III '07 M.A.R.
YDS Alumni/ae Awards: Learn more about the honorees and watch the virtual presentations.
In addition, Cathie Cipolla '70 B.D. received the Dean's Award for Outstanding Service, in recognition of her tireless efforts to organize her class fundraising and reunions, while fostering close community among her classmates through her numerous personal notes and other outreach. Her award was presented by Dean Sterling during the Class of 1970's 50th Reunion celebration on Zoom October 12.
Andover Newton Seminary at YDS presented its Spirit of the Hill Award to Elizabeth "Liz" Aguilar '97 ANTS M.Div., Senior Pastor of Community Congregational Church in Chula Vista, Calif., at a virtual event October 18. In presenting the award, Virginia Child, past president of the Andover Newton Alumni/ae Association Board, hailed the work of Aguilar and her church to support migrants along the U.S.-Mexico border and to mobilize a wider network of regional churches to participate in the effort. Watch video of the award presentation.
At its Convocation Evensong event October 19, Berkeley Divinity School awarded honorary degrees to Jennifer Baskerville-Burrows of Indianapolis and, in absentia, Thabo Makgoba of Cape Town. Read more.
State of the School
Delivering his annual YDS State of the School address through pre-recorded video, Dean Greg Sterling focused on the School's progress in four areas: navigating the pandemic, confronting racism, improving student financial aid, and moving ahead with the Living Village—the Divinity School's planned regenerative student housing complex. Watch the video.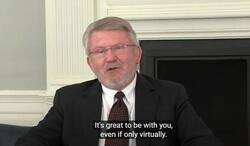 In a presentation premiering October 20 on YouTube, Sterling reported that YDS is tantalizing close to reaching its years-long goal of raising enough scholarship money to meet the full tuition need of all students with demonstrated need (which is the vast majority of students). Over the past nine years, the School has doubled the amount of financial aid given to students, he noted. YDS will next turn its attention to raising money to help students pay for living expenses.
"To all of you, whether you have given an endowed scholarship—and many of you have either individually or through class gifts—or if you have contributed to the Annual Fund, we say a very hearty and profound 'thank you,'" Sterling said. "You have made a real difference."
High-profile lectures
The Beecher Lectures—delivered by one of the best-known YDS alums in the church and academy—and the Ensign Lecture—given by a Yale sociologist on a topic of unusually high news value—highlighted the slate of Convocation lectures.
In his Beecher series, presented as a celebration of the 50th anniversary of his graduation from YDS, Will Willimon '71 M.Div. focused on the theme of "Preachers Dare," exploring what he described as the astounding claim at the heart of Christian faith: the claim that God speaks. View the videos on the YDS YouTube channel: Lecture I, Lecture II, and Lecture III.
Yale sociology professor Philip Gorski dedicated his Ensign Lecture to white Christian nationalism, the subject of his forthcoming book. Titled "Flag and Cross: White Christian Nationalism and the Threat to American Democracy," the lecture examined how white Christian nationalism emerged, where it's going, and what must be done to confront it, giving special attention to the way it appropriates Christian scripture and mobilizes racial animus. Watch the lecture video here.
Giving Berkeley Divinity School's Pitt Lecture on October 19 was Patrick Cheng, Theologian in Residence at Saint Thomas Church Fifth Avenue in New York. Watch video of the lecture. That same day, Yvette Flunder, Senior Pastor of the City of Refuge United Church of Christ in Oakland and Presiding Bishop of the Fellowship of Affirming Ministries—also an Andover Newton Fellow—preached at Andover Newton's Opening Plenary and Worship.
Bryan Spinks, Bishop F. Percy Goddard Professor of Liturgical Studies and Pastoral Theology, delivered the ISM's Kavanagh Lecture on October 21, addressing the liturgical background and ideas of Dorothy Sayers. Watch the video.
Virtual class gatherings, Class of '70 gift
Over the course of six weeks, 11 classes hosted seven virtual reunion and cluster reunion events. Dale Peterson, former YDS dean of students, opened with a sermon and closed with communion the 15th reunion cluster event for the classes of '05, '06, and '07, with classmates moving between virtual rooms over the course of the evening to re-connect with one another.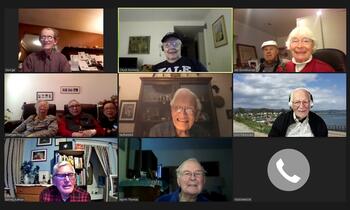 The Class of 1970 presented Sterling with their class gift, including over $77,000 for a newly endowed class scholarship. Nine energetic members of the class of '56 celebrated their 65th reunion, meanwhile, with representation from each of the U.S. time zones.
Other classes hosting gatherings included '61, '79, '80, '81, '95 and '96. Several classes are making plans for more frequent virtual gatherings, as attendance was easier from the comfort of home, and there were more stories to share at the end of each night.
Convocation 2022
Planning is underway for Convocation and Reunions 2022, which will have a special bicentennial theme as the Divinity School observes the 200th anniversary of its establishment as a distinct entity within Yale. Barring unforeseen spikes in COVID rates, YDS expects to hold convocation and reunion events in person. The exact dates and other details will be announced soon.
"I am anxious to be able to welcome you back in person to the Quad," Sterling told alums in the closing of his State of the School address, "and I hope that a year from now, we will be able to do just that. And instead of sitting in the Common Room talking to you on camera, I will be shaking your hand and welcoming you back to your home."