"The truth of the matter," the Rev. Dr. William Barber declared before a packed house in the YDS Old Refectory, "is that for every transformative movement in this country, somewhere in that mix has been the voice of religion shifting the narrative."
After 30 years of ministry, Barber explained, he was moving on from pastoring Greenleaf Christian Church DOC in North Carolina to become founding director of the new Center for Public Theology and Public Policy at YDS—where, he said, he felt called to spend the rest of his working days training and inspiring a new generation of prophetic leaders in "moral analysis, moral articulation, moral agenda-building, and moral activism."
Punctuated by standing ovations at the beginning and end, Barber's half-hour speech highlighted the new center's spirited public launch event on April 5. The mood was both celebratory and deeply reflective as people from Yale, New Haven, and across the country convened to mark the historic moment. Among the Yale dignitaries in attendance were Provost Scott Strobel, Law School Dean Heather Gerken, and Yale College Dean Pericles Lewis.
Also present were staff and board members of Repairers of the Breach, which was founded and is still led by Barber. Among the Repairers attendees was the Rev. A. Kazimir Brown '19 M.Div., who now serves as the organization's Executive Director.
Public theology center launch event: Watch the video.  
The YDS gathering was one in a series of events taking place during the new center's launch week, April 2-6. Also included were a Palm Sunday service at historic Dixwell Avenue Congregational Church in New Haven, a launch-focused worship service in the Divinity School's Marquand Chapel, Barber's lecture at Yale College's Dwight Hall, and a tea with Yale undergraduates at Pauli Murray College.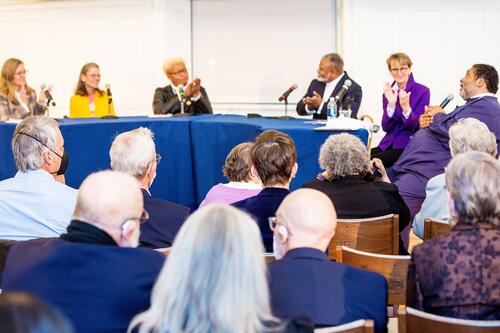 Dean Greg Sterling told the YDS crowd that it was Yale's and the Divinity School's mission that motivated him to work with Barber to create the new center. "Universities exist to address the challenges that confront us in the 21st century," Sterling said. "Divinity schools exist to address those challenges from an ethical or moral perspective. Our contribution is to ensure that the moral dimensions of great problems are not lost in the fog of scientific and technical debate and are not drowned out in the political divides, but to remind all of us that there are moral dimensions that need to be addressed."
Barber, the Dean said, "is the most important voice of moral conscience, speaking from a religious perspective, in this country."
Although the new center held off on a public launch until spring, it has been up and running at YDS since January. Managing its operations and development is social justice advocate and attorney Valerie Eguavoen, the Center's Associate Director. Barber, bearing the faculty title of Professor in the Practice of Public Theology and Public Policy, has been teaching a well-subscribed course, Introduction to Public Theology, Public Policy, and Moral Fusion Movements in America.
William Barber to direct new Center for Public Theology and Public Policy at YDS: Read the Dec. 19 news announcement.