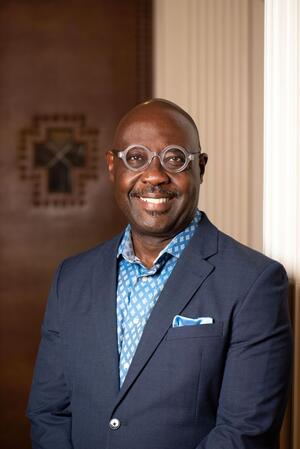 Yale Divinity School Professor Willie James Jennings will give Oxford University's Bampton Lectures for 2023—the first African American tapped for the 243-year-old lecture series and one of the few Americans ever to earn the distinction.
Jennings, Associate Professor of Systematic Theology and Africana Studies, will give the lectures at Oxford's University Church on May 23 and May 30. The four-part series is titled, "Jesus and the Displaced: Christology and the Redemption of Habitation."
The lectures will be broadcast live on Facebook and Twitter and made available for replay on YouTube.
Willie James Jennings has served on the YDS faculty since 2015 following 25 years at Duke Divinity School, where he taught theology and served for 10 years as academic dean.
Dr. Jennings' book The Christian Imagination: Theology and the Origins of Race (Yale 2010) won the American Academy of Religion Award of Excellence in the Study of Religion in the Constructive-Reflective category the year after it appeared and, in 2015, the Grawemeyer Award in Religion, the largest prize for a theological work in North America. His commentary on the Book of Acts, titled Acts: A Theological Commentary on the Bible (for the Belief Series, Westminster/John Knox), received the Reference Book of the Year Award from the Academy of Parish Clergy in 2018. In 2020, Jennings published a book examining the problems of theological education within Western education, entitled After Whiteness: An Education in Belonging (Eerdmans). He is now working on a major monograph provisionally entitled Unfolding the World: Recasting a Christian Doctrine of Creation as well as a finishing a book of poetry entitled The Time of Possession.
Confronting whiteness in theological education: A Q&A with Prof. Willie Jennings
Discussing his Bampton Lectures, Jennings explains, "We are in a crisis of displacement that joins the problems of housing, homelessness, and forced migration to the horrors of white supremacy, patriarchy, and war. Our crisis of displacement—geographic, racial, social, and environmental—demands we consider both the body and the building, both the design and creation of subjects and built environments in their inextricable connection and relation. Taking the work of the great African American theologian and mystic Howard Washington Thurman in his famed text Jesus and the Disinherited as inspiration and guide, these lectures outline a Christology aimed at redeeming habitation."
The four lectures are:
May 23
"Mary, Jesus, and the Dwelling Condition: An Interpretation"
"Deconstructing the Fearful Condition"
May 30
"Overcoming the Delusion Condition of Home Ownership"
"Addressing the Hateful Condition of the Line"
Founded by a bequest of English churchman John Bampton (1690–1751), the Bampton Lectures began in 1780—initially as annual lectures and, since the turn of the 20th century, typically on a biennial basis. Focused on Christian theological topics, the lectures are traditionally published in book form.