Yale President Peter Salovey announced today the reappointment of Greg Sterling to a second five-year term as Dean of Yale Divinity School. Sterling, Lillian Claus Professor of New Testament and Professor of Religious Studies, will begin his second term on July 1 and serve through June 30, 2022.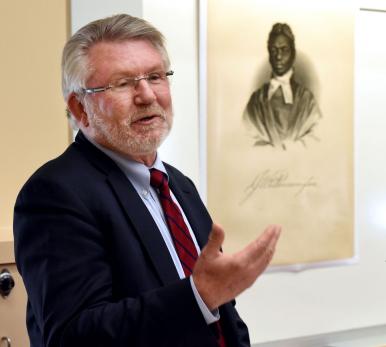 Citing comments from students, faculty, staff, and alumni who gave input during the Dean's review process, Salovey hailed Sterling as "an energetic leader working tirelessly to advance the Divinity School (with) sharp focus on the school's future and his deep dedication to academic excellence. … We look forward to the sustained eminence of Yale Divinity School under Dean Sterling's continued leadership."
During Sterling's tenure, the Divinity School has:
restored financial stability after the 2008 market plunge and economic downturn, which had particularly devastating effects on endowment-dependent schools like YDS
increased diversity—in terms of students, faculty, staff, curriculum, and iconography
created a strategic plan and made robust progress on its implementation, especially in the following priority areas: financial aid, diversity, leadership initiatives, and the proposed regenerative village complex, and
forged agreement on a phased affiliation with Andover Newton Theological School that will lead to Andover Newton's relocation to Yale if negotiations continue on a successful tack.
"The Divinity School community has accomplished a great deal during these past five years," Sterling said. "It is a distinct honor to lead a school that has such a tremendous sense of purpose and such an important role to play in society. The people are first rate: faculty, staff, students, Advisory Council members, and alumni/ae. I want to express my deepest thanks to all who support YDS, and I look forward to another five years of working together to deliver on our mission of service to church and world."
A New Testament scholar with a specialty in Hellenistic Judaism, Sterling has concentrated his research and writing on the first-century historian Josephus, the Gospel of Luke and Book of Acts in the New Testament, and the writings of Philo of Alexandria, with a focus on the ways in which Second Temple Jews and early Christians interacted with one another and the Greco-Roman world.
Sterling became dean of YDS in 2012 after more than two decades at the University of Notre Dame, where he served on the faculty and held several administrative posts in the College of Arts and Letters before becoming the first dean of the independent Graduate School.
In addition to his roles at Yale, Sterling is an ordained minister in the Churches of Christ and serves in several leadership roles for his denomination.