By Elizabeth Ekman '23 M.Div.
When people ask what inspired him to minister to LGBTQ people and urge his church toward a more welcoming relationship with LGBTQ Catholics, James Martin, SJ, points to the 2016 Pulse Nightclub massacre in Florida.
"It shocked me that so few Catholic bishops expressed any sort of sympathy to the families of the murdered LGBTQ people," Fr. Martin told YDS in a recent email interview. "That led to my creating a Facebook video, which led to a speech, which led to a book, which led to this ministry."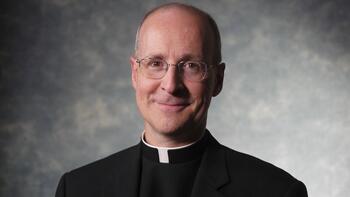 Martin—who will be giving the Divinity School's annual Ensign Lecture on Wednesday, October 21—is a prolific author. His books include Building a Bridge: How the Catholic Church and the LGBT Community Can Enter into a Relationship of Respect, Compassion and Sensitivity and Jesus: A Pilgrimage. He is also editor-at-large for America magazine, a weekly review published by the U.S. Jesuits.
***
"Welcoming LGBTQ Catholics": View James Martin's YDS Ensign Lecture on YouTube Premiere Oct. 21
***
Since beginning his ministry in 2016, Martin has seen an evolution in the work of building bridges. He said more dioceses and parishes are starting LGBTQ outreach groups. 
"Last year, Pope Francis named as a cardinal Archbishop Matteo Zuppi of Bologna, who had written the introduction to the Italian-language version of my (Building a Bridge) book," Martin said. "As someone in the Vatican told me, before Francis, that would have probably disqualified him for life from being a cardinal!"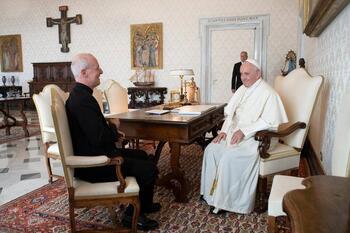 Last fall, Martin met with Pope Francis in the Vatican for a private discussion about LGBTQ ministry.
"There are bridges being built," Martin said. "And as more and more (LGBTQ) Catholics come out … more and more people in the church come to know them. That changes hearts." 
Fr. Martin's work yields important insights for educators and ministers who come from more traditionalist backgrounds. How does one start to build relationships with LGBTQ people? It starts "by listening to them," Martin said. "They know what they need. Hear what they have to say, even if it's challenging." 
"Remember, in Jesus's public ministry, he is continually going out to those who feel on the margins, the excluded ones," Martin continued. "And when he met people who felt excluded, he listened to them. That's where the church needs to be.  And that's what the church needs to be doing." 
***
"LGBT Catholics Have Been Treated Like Dirt": Listen to James Martin's interview on the America magazine podcast.
***
Inclusive theologies are well known in the extended YDS community. To others who will be using technology to attend Martin's YDS Ensign lecture—and who might not be accustomed to hearing from bridge-builders like him—Martin offers a message of hope.
"If they're LGBTQ Catholics, the church is their home, too," Martin said. "If they're neither LGBTQ nor Catholic, the Catholic church is trying to reach out to this important, this essential, community." 
The Loring Sabin Ensign Lectureship in Contemporary Interpretation of Religious Issues was founded in 1994 by church members and other friends to honor Loring S. Ensign '51 M.Div. for his 25 years of service as pastor of Southport Congregational Church in Connecticut.
Fr. James Martin will give Yale Divinity School's annual Ensign Lecture at 5:30 p.m. on Wednesday, October 21st. This lecture will be accessible through the YDS YouTube channel and available for replay after the event. The lecture is part of  YDS Convocation 2020, which is open to all; more information and full schedule here.
—
Elizabeth Ekman (she/her/hers) has a B.A. in Religious Studies from Gonzaga University and is currently a first-year M.Div. student at YDS. Her academic interests include Catholic feminist theology, moral theology, and Christian ethics.