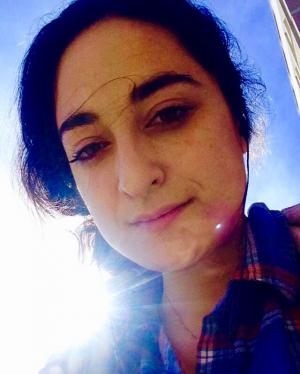 Salam! Khosh amadid! My name is Mia Tabib, a second year M.Div student. One of my favorite memories growing up was listening to my father (born and raised in Iran) read tales from the Persian epic Shahnameh to me in Farsi. Stories of jinns and peris made an indelible mark, and I hold on to that magic as best I can when this life seems bleak. As a first year M.Div. student I enrolled with an abundance of questions, and very few answers– which is OK! We're all here to explore, ruminate, wonder, and take in as much knowledge as we possibly can. I love fairytales. I love the crisp kiss of autumn on my cheeks. I love the stories people tell in their eyes. I love watching candles flicker when you blow gently into their flame. I love Christ, humans, existence… and I think Love conquers all.  
It is such an honor to work with the beautiful Jordan as one of your Co-coordinators, and what a privilege it is to be a thread in the tapestry of your existence. I'm so very excited to meet you. 
Hey folks!  My name is Jordan Rebholz and I am a second year M.Div student. I am currently seeking ordination in the United Church of Christ and this fall will begin serving as the Minister of Faith Formation at the Church of the Redeemer here in New Haven.  I am a Midwest girl (born and raised in Ohio), but also spent 5 years in New Brunswick, New Jersey working as a grassroots political organizer and serving as the director of a food pantry. I married my husband, Bobby, last March (just a few months before moving to Connecticut!), and he is working as a visual arts teacher at the Cooperative Arts and Humanities High School here in New Haven and as a concept artist for video games and television shows.  I love everything leopard, my favorite show is Battlestar Galactica, and my hair changes color every month! My goal is to find ways to incorporate Feminist Theology into practical ministry and I plan on working as a parish minister after graduating from YDS. 
There are no words to explain how important this past year has been in regards to my own academic growth and spiritual formation and I know each one of you will add such incredible things to the YDS community.  Being able to serve as one of your BTFO Co-Coordinators with Mia is an absolute honor and we are both so excited for you all to arrive!