"Yale Divinity Farm" 
by Sherri Reed, Divinity Farm Coordinator 
Yale Divinity School is committed to sustainability. One way they show that commitment is by hosting the Yale Divinity Farm. A community garden established in 2009 by students, faculty, and administrators, the Div Farm is a great asset to the greater YDS family.
Year-round, people study, contemplate nature, pick herbs, meet friends, and join community events in the beautiful YDS Farm space. They BBQ, sit around the fire pit, play croquet and frisbee, and enjoy the birds and other wildlife. The garden offers a space that allows for us to continue thinking academically about our theology while actively engaging our senses with the extraordinary gift of God's creation.  
In spring, the garden is awakened for a new season of growing food, berries, herbs, and flowers. Students, faculty, and staff are all invited to become involved, by having an 'individual' plot, working and harvesting from the 'community' garden space, and joining in celebrations of God's bounty. Entirely student-run, each year the garden has a new focus. This year we expanded the area where we grow as a community. Next year we are hoping to explore the idea of a Giving Garden, growing food that we harvest weekly and donate to a local food bank. Always, we focus on organic and sustainable growing methods. 
The Div Farm is also a place where other sustainability efforts find a home, such as the bins where food waste from Divinity Housing is collected and picked up by Yale as part of their campus-wide composting efforts. We also strive to create a community where knowledge is shared between gardeners, both novices and those with years of experience. As we go into the world, we will take so many things learned at YDS with us. The Div Farm hopes some of what we take will be an understanding of how to live in more harmony with God's creation.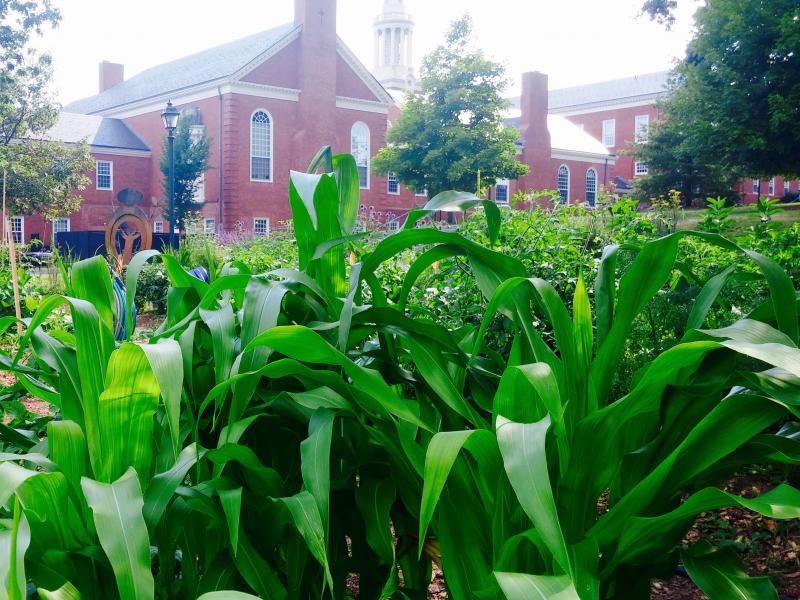 If you have any questions about the Divinity  Farm, you can contact either of the Garden Coordinators, this year Julia Johnson and Sherri Reed, at the Yale Divinity Farm email: ydsdivfarm@gmail.com. Or check out our Facebook and Instagram Accounts:
https://www.facebook.com/ydsfarm/
https://www.instagram.com/divinity.farm/?hl=en
The garden will need looking after through October, and we'd love to get some new minds and hands at work on it. 
We look forward to meeting you!