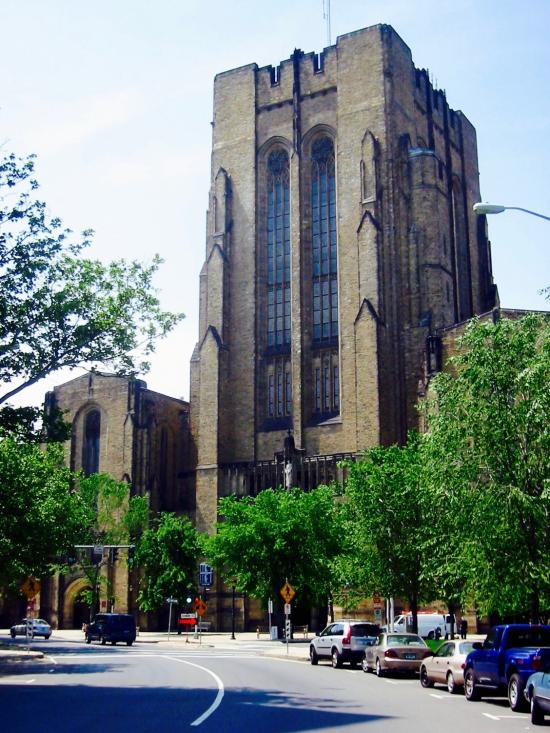 It has been said that our "Bodies are temples…"
What a beautiful truth.
Fitting, then, that Yale's Payne Whitney Gym is reminiscent of the Liverpool Cathedral, in England. Endearingly referred to as the "the cathedral of sweat" or "the temple of the body", Payne Whitney gym is rumored to be the largest indoor sports and recreation center.
Conveniently located at the heart of the Yale University campus (70 Tower Parkway, New Haven, CT), "The gym, a nine story gothic style building, has 12 acres of indoor space housing numerous exercise rooms, dance studios, swimming pools, men's and women's locker rooms, saunas, a jogging track, free weight & pin-selector strength training equipment and a wide variety of cardio exercise equipment."  
Anyone affiliated with the Yale is eligible for gym membership. Students with valid I.D. cards are permitted access to the gym. "All gym users may also purchase an optional locker and/or towel service. Students may also purchase a locker assignment and/or towel service. For additional information, visit the membership office located in the main lobby Monday-Friday, 10:30 a.m.-2 p.m. and 3-6 p.m."
Many students find solace in taking group exercise classes, such as (but most assuredly not limited to) cycling, hip hop/dance, swimming, etc. Click on the link below to explore classes!
http://sportsandrecreation.yale.edu/payne-whitney-gym/online-gym-members…
Please explore the various options for all the beauty that is Yale's Payne Whitney Gym!
http://sportsandrecreation.yale.edu/category/facilities/payne-whitney-gym
How beautiful it is to live in the solemn recognition that our bodies are temples, and made for sacred things…
 *Information taken from Yale University Payne Whitney Gym website
*Photo Credit Payne Whitney Gym Wikipedia