"Sustainability at Yale Divinity School"
by Jordan Rebholz

BTFO is NEXT WEEK and we are so excited about your official arrival on the Quad! So, in the mean time, we wanted to let you know about something really important to the YDS community and ways we are incorporating it into this year's BTFO. 
Sustainability is a high priority to the Yale community. University-wide sustainability efforts have been guided by strategic planning documents, designed to look comprehensively across divisions and involve all members of the Yale community to create the infrastructure and behaviors that support institutions goals.  
YDS Sustainability fosters a sacred commitment to the love and knowledge of God through ecological health, human wellness, and economic viability. The Sustainability Team of students, faculty, and staff cultivates innovative approaches to sustainable living, ministry, worship, and knowledge. We seek an enduring communion as stewards of creation.
Today the Sustainability Team's three working groups lead most of the school's sustainability efforts and coordinate with student groups, Sterling Divinity Quadrangle partners, and other members of the Yale and New Haven communities.  
The joint degree program between the Divinity School and the School of Forestry and Environmental Studies, along with many other initiatives, creates a first-rate opportunity for academic training in areas of religion and ecology.  Both schools take seriously the role of articulating, enacting, and advancing efforts to respond to the crises of climate change, environmental degradation, and other eco-justice issues in our time.  The Bioethics Center, the Forum on Religion and Ecology, the Yale Sustainable Food Project, and the Yale Office of Sustainability regularly partner with the Divinity School for lectures, lunch discussions, and other events.
Student-led clubs and initiatives also offer opportunities for learning and living together.  FERNS (Faith, Ecology, Religion, Nature, and Spirituality) is the student club that organizes many events throughout the year.  The Divinity Farm, established in 2009, also provides sacred space for students to connect with the land and grow within the community.
The Church and world need theological institutions to respond to our ecological, economic, and social challenges by articulating a vision that speaks to Christian values, other world religions, and modern science. By drawing on partnerships with the School of Forestry and Environmental Studies, The Forum on Religion and Ecology, the Institute of Sacred Music, Berkeley Divinity School, Yale's Office of Sustainability and other Yale and New Haven neighbors, YDS aims to be at the forefront of theological institutions enacting sustainable practices that promote social and ecological flourishing now and in the future.
New Haven and Yale Divinity School offer possibilities for building and sustaining community through intellectual opportunities, worship, and justice ministries.  Building these relationships will prepare YDS students to engage in their communities once they graduate. 
The Divinity School's history with the Divinity Farm, community dinners, and the Nourish New Haven food justice and sustainability conference makes food an established thread of life at YDS.  Food not only connects to sustainability but also offers a common touchstone for Christian and other religious/non-religious communities to find common ground.  Food intimately entwines diverse calls for social and ecological justice.
Yale Divinity School seeks to transform people through the love and knowledge of God.  Along with that transformation, we aspire to live sustainable, practical lives that connect our passions to the world's needs.  Living intentionally in a community that values sustainability will prepare students for healthy, balanced, and grounded lives for growing and contributing in the wider world. 
This year at BTFO, we will be using completely compostable cups and plates at all of our meals.  Additionally, recycling containers will be available throughout the building and the Quad. Although we will be providing cups for coffee and other drinks throughout the event, we also encourage you to bring your own reusable water bottles and/or a coffee thermos to help cut down on how much waste we produce.
It is difficult to find the words to explain how absolutely overjoyed we are knowing that we will be able to finally meet all of you soon.  Take these next few days to recharge and relax.  Be mindful of every moment and know that we are holding you all in our thoughts.  We are ready for you and cannot wait to welcome you into the YDS community.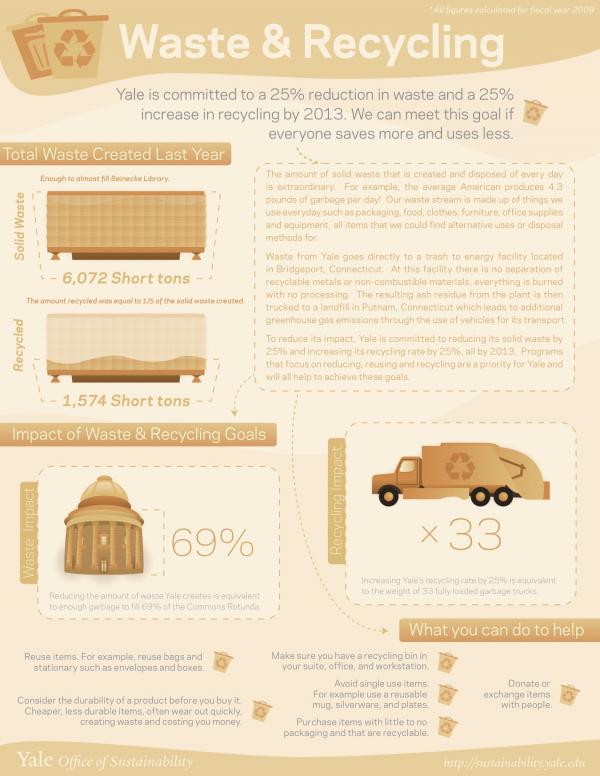 Content taken from: http://ydssustainability.yale.edu and http://sustainability.yale.edu