"Trains, Planes, and Automobiles" 
by Jordan Rebholz
Transportation
In the midst of trying to decide what courses you may want to take this fall semester and how many books you can fit in your U-Haul, many of you have probably been contemplating how you will get around once you're here!  One of the best things about the greater New Haven area is that there are so many options in regards to transportation.  We have compiled a quick resource guide for you so that you will know some of your options.
Walking:
            New Haven is a very walk-able city! The Divinity School is just up 'the hill' from the rest of Yale and downtown New Haven. Beginning from the Divinity School, walking down Prospect Street will get you to most places in downtown New Haven in about 20-30 minutes.
If you find yourself needing to walk within campus boundaries (especially after dark) and would not like to walk alone, Yale security has a 24-hour security escort service. For more information, check out the Yale Public Safety Website:
http://publicsafety.yale.edu/security/nighttime-shuttle-safe-rides-walking-escort-service
Cars:
            The decision to bring a car or not is completely up to you, but you should know a few things about parking.  To park at the Divinity school parking lot will require a permit that is going to run you about $700 dollars. Otherwise you will need to park on Canner Street or St. Ronan Street, both adjacent to the div school. These spaces are known to fill up and force you park farther away, so plan accordingly! When parking, also beware of streets that require a parking permit. New Haven is divided up into zones and some streets require a 'zone parking pass' to be parked on the street. Parking in downtown uses a traditional meter system.
             If you don't want to bring your own car to New Haven, but find that you need access to one, you can use Zip Car. For more information http://to.yale.edu/zipcar
Bike:
            Increasingly, more resources and infrastructure are being provided to support cyclists, both on campus and in the City of New Haven.  Yale even has a Bike-Share program with plenty of locations across campus.  Yale Environmental Health & Safety offers a Bicycle Safety Training Class that covers state and local laws pertaining to bicyclists, accident avoidance including common situations where accidents occur on roadways and how to avoid them.  For more information about biking in New Haven, check out: http://to.yale.edu/bike
Bus:
CT Transit provides local and express bus services in the greater New Haven metro area.  CT Transit operates 7 days a week over 22 local routes, connecting with other state-owned or subsidized bus services in Meriden, Wallingford, Milford, and the lower Naugatuck Valley areas, as well as with the Metro North and Shore Line East rail services. Bicycles are accommodated on all CT Transit buses—as is also true for all Yale Shuttle buses—to facilitate your multi-modal trip.
The Hartford Express connects various New Haven locations with Hartford, with stops at Park & Ride lots in Wethersfield and Middletown.
Greyhound Bus Line offers 20 stations across the state with service to New Haven.
Megabus serves New Haven/Hartford/Boston for a fare of between $1.00 and $15.00 depending on how far in advance you book your trip.
For more information, check out: http://to.yale.edu/bus
Train:
            New Haven has two train stations, State Street and Union Station.  The train is a fast way to get around Connecticut and to places like New York City.  For more information, check out: http://to.yale.edu/train
Airports:
            When it's time to travel home for the holidays (or someone wants to come see you!), you will want to know all of your options for airports.  There are many in the surrounding area, including Tweed-New Haven Regional Airport (HVN). For more information, check out: http://to.yale.edu/fly
Yale Shuttle:
            Using the Yale shuttle is an easy, free way to get around Yale campus and downtown. There are several different lines that run throughout the day. The Divinity School has two stops nearby on Prospect, one on the red line and the other on the blue.  For more information, check out: http://to.yale.edu/shuttle
Jordan and I took the Yale Shuttle in order to give you a glimpse of how to use it!
Step 1: Find a Yale Shuttle stop. There is a map conveniently located in the hallway of the divinity school.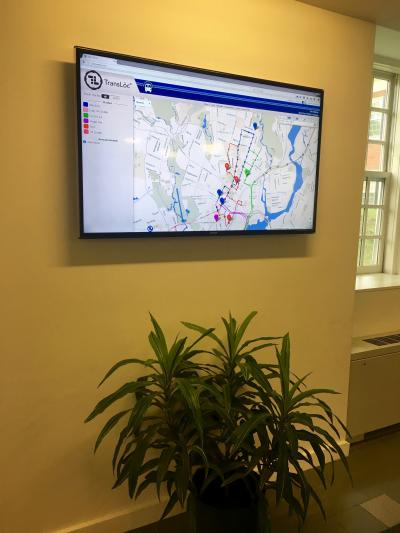 You can also download the Yale app, that will show you exactly where the shuttle is, and where your destination is located!
Step 2: Wait for the shuttle! We chose the stop right outside the Quad!
Step 3: You needn't show your I.D., simply board the shuttle (either the Blue line or Orange, depending on your destination), and take a seat. 
Step 4: Take a selfie!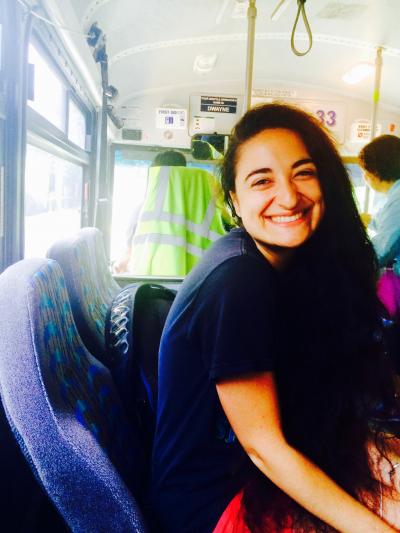 Step 5: The Blue line will take you Downtown, which is where we stopped for a cup of coffee.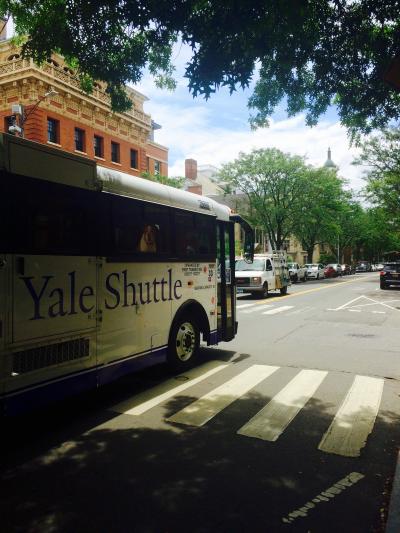 Step 6: Board the Blue line shuttle again for your return to the Divinity school!