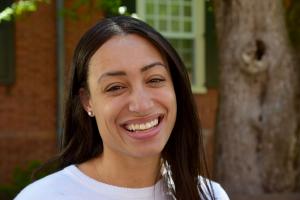 Yesterday, we introduced our BTFO Coordinator, Shancia. Today's we're happy to introduce Kazimir, who will be running Logistics throughout BTFO. 
Kazimir (Logistics)
What's your name and what program are you in?
My name is A. Kazimir Brown, and I'm starting my 2nd year of the M. Div. Program 
Where are you from?
I'm from San Francisco, CA.
What did you do before arriving at YDS?
I was as a political appointee in the Obama-Biden Administration working as a budget analyst.
What have you enjoyed most about your time at YDS?
I love the community here at Yale. Being a part of a larger community, whether at YDS, Yale University, or the greater New Haven area, has made my first year amazing!
One of you favorite ways to rest and relax through the semester?
I love taking walks around the neighborhood. It helps me relax and learn the area better.
One piece of advice you would give to incoming students?
Take time for self-care! Find something that allows you to rest, relax, and replenish.