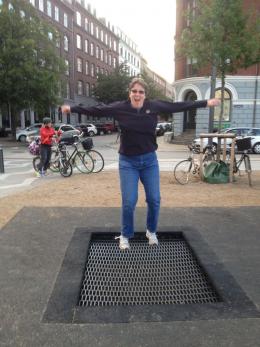 *A Message from the Registrar's Office!*
Hi, everyone, and welcome once again to Yale Divinity School! Lisa and Roslyn in the Registrar's office look forward to welcoming you in person and to helping you navigate "all the things" that await you here at YDS. Over the Summer we've asked you for things like your final undergraduate transcript and your ID photo and reminded you that Yale Health needs things from your medical records. Once you get here for BTFO we'll be the source of more exciting news: like who your adviser is, how you can get your ID card, and how and when you will register for classes. You may also want to know that Lisa is the person to talk to if you are a U.S. Veteran, or want to change your enrollment status in some way, and Roslyn is the go-to person for an ID card for your spouse or to change information in your student record. As your time at YDS unfolds we are here to help you track your degree progress and make sure you are meeting your requirements (Lisa) or to obtain a transcript of your YDS coursework or get an enrollment verification (Roslyn).
We are conveniently located near the candy bowl, on the first floor of Seabury along with our Student Services buddies in Admissions and Student Affairs. Come say hi, tell us how your summer was, or ask a question (we've heard them all, so fear not).
Here are some of the most common ones:
When does registration begin? 9:00 a.m., August 29th.
When and what is the registration party? Is it fun? Those who are interested will be gathering together beginning at 8:30 on August 29th in the Common Room. If you enjoy donuts and coffee, meeting your fellow newbies, and choosing between a bazillion exciting courses, then YES!
How do I get together with my adviser? Adviser assignments will be posted on the bulletin board outside Lisa's office when you arrive. Most advisers have a sign-up sheet outside their office, or will provide you with instructions about choosing a meeting time in an on-line calendar. They are not generally available before August 29th.
How do I get my Yale ID? Can I get it when I arrive in New Haven? IDs will be available beginning on August 29th for students who are not on hold (remember what I said above about all the things we've been asking you for over the summer?). Unfortunately we cannot give you your ID earlier in the summer since you are not technically a matriculated student yet!
How many credits should I take? Can I take more? Less? Typical full-time enrollment is 12 credits per term. You can take more, but first-term students are strongly discouraged from taking more than 14 credits. If you want to reduce your enrollment, contact Lisa to have your tuition billing adjusted. Keep in mind that Yale Health benefits require at least half-time enrollment and International students must be registered for at least 9 credits in all but their final term.
What's the best pizza in New Haven? Modern. 'Nuff said. [c.f. post on pizza places. ed.]
What advice do you have for new students? Don't forget to have fun.