To say that New Haven takes its pizza seriously is an understatement. There's some major local pride surrounding the particular genre of New Haven pizza. One should be very careful to distinguish it from New York pizza: developed from traditional Neapolitan pizza types, New Haven pizza is very much a thing unto itself, characterized by thin bases, lightly charred crusts, the finest ingredients and a particular kind of brilliant simplicity. More than this, it is held by many to be the best pizza in America, if not the world (and there's every chance they may be right). With this in mind, it seems that the least we can do is write a few introductory paragraphs for the major pizza stops in New Haven.
(*disclaimer: the opinions in this blog post are the author's own, and any clear falsehoods regarding the various merits or ranking of New Haven pizzerias are the author's responsibility.)
The Big Three (*Four)
Pepe's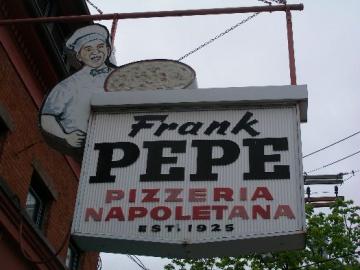 Though it's the main landmark of the Wooster Square neighborhood in New Haven, Pepe's is a household name across the country. If you've told someone who's visited New Haven that you're going to be studying at YDS, there's every chance they'll have told you to visit Pepe's, then regaled you with stories of their visits. There can sometimes be a line outside, but the wait time is rarely as long as the line can look. When you step inside, the most striking thing is the simplicity of it all. You can see the pizzas being cooked in the famed brick oven, a team of culinary artists going about their business as if they weren't routinely recreating one of America's top meals. The booths are decently sized for a party of six, and a large pizza is probably enough for a party of ten.
When it comes to ordering the pizza itself, you can rest assured everything's good (and I mean good). There aren't really prepared options beyond the most minimal, but there are famous combinations—the white clam pizza, the fresh tomato pizza during the summer months. For my part, I always go for the meatiest combination available, and have never been disappointed. The service is quick and friendly, it's absurdly relaxed for such a busy place, and the pizza tastes as good as it looks. All in all, it's the top of the New Haven bucket list for very good reasons.
Sally's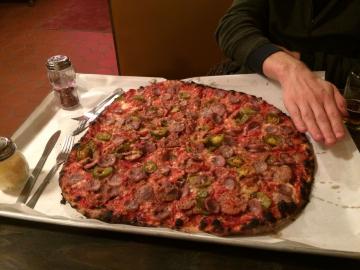 There's a story that Bill Clinton, while president, wanted to get a slice of New Haven pizza early in the morning over the course of a visit. So, his team called Sally's (where he'd been a frequent customer during his time at the Law School, and literally just down the street from Pepe's) to ask if they'd be willing to open early for the President and his press junket, benefitting both from the visit itself and the publicity it would raise. Whoever was on the other end of the phone heard the pitch, then let them know 'we don't open early for anyone.'
I'm not sure how much of this story is true, and I'm telling it pretty much word for word how it was told to me. Whether true or not, though, I can very easily believe it. Sally's has a very particular approach to customer service, one which is easily discerned if you go to their Yelp page: the customer is not always right, good pizza is more important than fast service, waitstaff don't owe diners anything, and Hawaiian shirts will always be in fashion. And to be completely honest, this is part of why Sally's is my favorite of all the New Haven pizzerias.
The other reason, though, is the pizza. Behind the lack of flattery there lies a very simple question: do you want good pizza, or do you not? The answer is always yes—because it is absurdly, extraordinarily, transcendentally good. Pepe's is a once in a lifetime meal, for certain, with many who prefer it unreservedly to Sally's, but if I had to choose between the two of them, I wouldn't even have to think about it. There's nothing fancy about it. But the meat is good enough to be served on its own. The peppers hit that exact spot between spice and sweetness. I don't know what it is that's special about those basic ingredients of cheese and tomato, but whatever they're doing at Sally's, its special. It's so good that when the waiter shrugs after being told how brilliant it was, you can understand it. It's like telling Michael Jordan he had a knack for basketball.
This is also, however, why you have to time going to Sally's just right. If you get there even a few minutes late, you can be caught in a line that will last the better part of an hour (in keeping with their general casualness about serving, the staff at Sally's are never particularly minded to rush people who are eating). And in my experience, going in the middle of a light snowstorm is the best way of guaranteeing an immediate seat. But with all that said, it's worth the wait (at least, in my slightly awestruck opinion).
Modern
There are those who will argue that Modern (located on State Street) is the best of the classic Big Three pizzerias, and they certainly have a case. But over the course of my time in New Haven, the prevailing opinion has been that while Pepe's and Sally's are duking it out for the number one spot, Modern can't quite compete for the 'best in America' description.
Even if that's true, however, Modern has at least two things in its favor. The first is that, however it compares to the other New Haven institutions, the pizza is really, really good. It's clearly made by people who live into New Haven's tradition of excellence, and it is certainly the one most likely to specialize in that particular combination you've always strangely loved. The second is a bit more intangible. As is probably conveyed by my write-ups above, going to Sally's and Pepe's can be little bit like 'event' dining. You really need to plan it, and I think there can sometimes be a slight feeling of self-awareness that actually detracts from the simple fact of eating a really good pizza. In the very best way possible, Modern has none of that. It's easily the most friendly of the three (in my opinion), and if you walk in at any time of day it becomes readily apparent how many people from all around the New Haven area have made a relaxed pizza at Modern part of their weekly routine. I've seen more families there, more people who have been looking forward to it for their birthday, more people getting together to catch up for the first time in years. And whilst there is sometimes a line at its busiest, it is still the easiest to just pop along for lunch on a whim with a few friends, without needing to really think about it beforehand, and just have an exceptionally lovely time.
Plus, and this bears repeating: the pizza is really, really good.
Da Legna
So, I should be entirely upfront about this: Da Legna is not universally held to be in the same league as the classic Big Three. Hence my caution in the title above, marking the fact that I think there's a Big Four with a slight disclaimer. Opened in 2012, its founding chef certainly has the pedigree. But I've heard it said that it's a little too… fancy. It serves 'artisanal,' gourmet pizzas. It has iPad menus. Its style is more reminiscent of recent millennial trends than the classic New Haven aesthetic. It might be good—but it's a different kind of beast to the old guard.
Now, there may be something to this. All I have to say in response is this: the Honeypot pizza at Da Legna is a work of sheer genius. Thin sliced salami, lightly spiced peppers, and truffle honey oil. The moment I took a bite, it seemed so obvious that all these things have always belonged together. And yet it took Da Lenga to make it a reality (at least here). I have it every time I go, and I've yet to be anything but astonished at how good it is. It may not be the best pizza in the world (though I'm on the fence)—but it is a perfect pizza.
Lest the reader think I'm basing my inclusion of Da Legna on this alone, I should also say that almost every time I've been, the people I've been with have marveled at the ingenious combinations thought up for the menu. Because whilst they are presented as artisanal pizzas, and whilst the overall feel is certainly different to the stripped down simplicity of the others, when you really get down to it, Da Legna runs according to the same principles that make Pepe's, Sally's, and Modern great: high quality ingredients, immaculately crafted thin bases, charred crusts, and a basic simplicity of conceptualization. The finished product at Da Legna may seem a little more out there, but it has been arrived at in the same way—and it is stupendously good. So whilst it may be a somewhat divisive opinion, I will very much argue that this newer establishment deserves to be named in the same breath as the older ones.
It is also worth mentioning that Da Legna indisputably does the best gluten free pizzas in New Haven—mainly by dint of the fact that they can do all their pizzas gluten free for a little bit extra.
Take-Out
As a quick post-script, here are my favorite take-out places, for those evenings when you'd rather the pizza be brought to you. In no particular order: Pizza Haven does great value, no nonsense pizza. Brick Oven has a monster of a pizza called the Bad Chad Dawson, named after a local boxer. I think the others are good too, but I always get this one. Westville Pizza is again extremely reliable, delivers, and doesn't disappoint. All three of these can be ordered through Grubhub, and all are great go-to options for communal TV nights/gatherings, study group sessions, or the final stages of that paper you've so almost finished. This list is very far from exhaustive, but these are the ones I've tried, and I would certainly recommend them!