Among the many questions anyone asks before going to grad school, perhaps the most important is 'where is coffee to be found?' We are of course fortunate to have plenteous supplies of caffeine at the Divinity School itself, provided by our incredible refectory staff. The Office of Student Affairs also hosts a "Community Coffee Hour" (for 30 minutes!) everyday (Monday through Friday) at 11am in the Common Room during the academic year. But since the cafeteria doesn't open until the semester starts, and since it's well worth exploring New Haven in any case, here's a list of some of the best places to sit, relax, chat, or read whilst sipping on fine caffeinated beverages. We've even divided it up into patio spots perfect for socializing and the slightly more work-orientated spaces, not that the two categories are mutually exclusive! (Disclaimer: I only ever drink regular drip filtered coffee, so I can give no guidance on the quality of cappuccinos, lattes, espressos, and all that stuff. But I'm sure they're good.)
Patios
East Rock Coffee/P+M Market
East Rock Coffee and P+M Market are nestled next to each other on Orange Street. ERC has a strict rule against electronics inside, which goes some way to explaining why it has such a welcoming ambience, whilst their coffee beans are also reasonably priced (for those mornings where you need coffee in order to get out of bed to go get coffee). P+M meanwhile has a great variety of breakfast and lunch selections, with a spacious patio with plenty of shade for the hotter days. There are few better ways to spend a morning or an afternoon than wandering along and grabbing a seat outside with a group of friends.
The Book Trader
One of the very few independent book shops left in New Haven (others including our very own Student Book Supply), The Book Trader also boasts excellent coffee, snacks, and space for both work and relaxation. Somewhat unusually among New Haven coffee shops, there's a lot of space between seats and tables, meaning that it doesn't feel crowded even when it's full. And its downtown location makes it a perfect place to meet up with people during the day (perhaps to scan the shelves for a reasonably priced book or two).
Nica's Market
Further down Orange Street than P+M, the lunch selection at Nica's Market is so renowned in New Haven that the queue for the deli has been known to snake around the entire store. And if you get there at a good time, or have the patience required, you can easily see why. Another fantastic lunch spot with comfortable and shady seating, Nica's is a perfect place to gather for post-class debriefs throughout the semester.
Cafe Romeo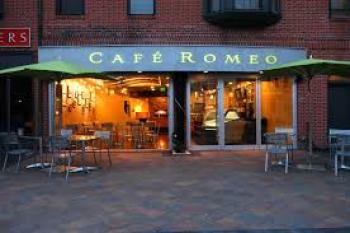 The closest of the Orange Street Markets to Downtown, Cafe Romeo has one particular secret ingredient that the others do not—pizza. Now, we're going to have a whole separate post on the wonderful world of New Haven Pizza, but if you're looking for a relaxed slice over coffee and conversation (as well as any of the other excellent options on their lunch menu), Cafe Romeo is the place to be. It also has free wifi, so it's a particularly good spot for working with classmates on any presentations you might have coming up that week.
Work Spots
Blue State Coffee
Blue State has three locations in New Haven—two downtown and one by Yale New Haven Hospital. It's a student favorite, with some very fine coffee and plenteous snacks. Each of their locations can get a bit crowded during the day, but it's a friendly and convenient place to meet up with people or get some morning reading done. The Wall Street location in particular is an essential pit-stop if you're taking any downtown morning classes.
Maison Mathis
Another student favorite just off Broadway, Maison Mathis also doubles as a lovely breakfast spot, with some phenomenal waffles (they also have a small selection of Belgian beers for those evenings when you want to work in a coffee shop but also plan on sleeping at some point). This is an especially great place to go with family, as their seating set-up is very much geared toward groups—and it might even be an opportunity to sample some of their macaroons or brownies.
The Owl Shop
This is something of a hidden gem on the coffee shop front. The Owl Shop is primarily known as the bar where you can smoke and drink scotch—and if you ever want a lounge atmosphere in the late evening at the only Connecticut bar which allows indoor smoking, it's the perfect place. What's less well known is that in the early morning, The Owl Shop serves some of the best coffee and tea in New Haven, with the added bonus that it's more or less the only place in town where you're guaranteed to get an armchair between 10:00-4:00. The smoke isn't too bad in the morning/early-afternoon, they have a fantastic selection of paninis on offer, and if you happen to smoke a pipe (as I do) it is probably the most relaxing work spot in New Haven.
Koffee on Audubon
Koffee on Audubon is probably the quirkiest place on this list, with a wide selection of seating possibilities and quite a few board games littered across the tables. Another student favorite, it can fill up pretty quickly with students settling in for a day of paper writing—but the coffee is extremely good, their muffins are exceptionally good, and if you want to grab a glass of wine without going to a bar, their transformation into Koffee After Dark is a lot of fun.
Coffee Pedaler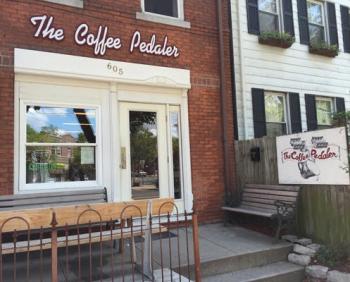 A fantastic coffee spot in its own right, Coffee Pedaler is a small, intimate space boasting some of the finest brews to be found on State Street. Apart from its clear intrinsic value, however, its location gives it a unique advantage. The Pantry on State Street is one of New Haven's most popular breakfast spots, and rightly so (though more on that in a future post!), but this means that the line can get a bit long. Thankfully Coffee Pedaler is right across the street, meaning that if you came in a group you can get coffee for while you wait for cinnamon roll pancakes. So, a great place to spend a day in its own right, and fount of blessed sustenance whilst waiting for an excellent breakfast!
Edge of the Woods
Again, this is a bit of a hidden gem. Most people know Edge of the Woods as a really rather good value grocery store, where you can get fresh vegetables etc. without completely breaking the bank. But it also has an incredible bakery where pretty much everything is gluten free, a great vegetarian lunch buffet, and bounteous coffee supplies. It's a bit more out of the way than the other places on this list, but if you feel like getting out of the East Rock/Downtown area with a good book/friend/both (and maybe even getting some grocery shopping done to boot), this is the place.