As the start of the academic year starts to get closer, I can imagine a number of people are starting to think about how to get to New Haven. Well, you're in luck—Yale has a phenomenal website with information on pretty much every way you could conceivably try and get to the Elm City, at to.yale.edu. Just follow the link, and prepare for what we hope will be stress free travel!
As for when you get here, meanwhile, here are a few tips about how to get about town.
Walking
New Haven is an extremely walkable city. It takes about 10 minutes to get Downtown from the Div School if you want to find something to eat, or 10 minutes in the other direction to get to East Rock if you feel like wandering.
Driving
Driving is also a convenient way of getting to some of the places further out, and there are some fantastic hikes out there. Just be sure to check up on parking regulations before you get here, and be aware that Connecticut driving can be… unpredictable!
Cycling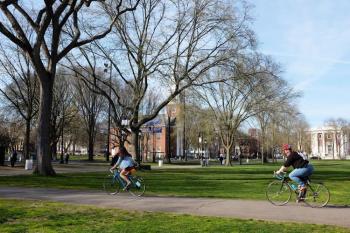 If you bring a bike, there are plenty of places to keep and safe and plenty of routes in and around the city. And if you feel like exploring, the Farmington Canal Trail goes all the way to Sleeping Giant State Park (or even further, if you just want to keep going).
Yale Shuttle
When you check the to.yale link and see lots of arrows going around a map, that's the Yale Shuttle. It's free for all students (and others) to use—just follow the instructions on the site to download the app.