Today's post is courtesy of your fabulously hospitable Hospitality Coordinator Claire Repsholdt!
**************************
You've paid your dining fee up front and set up your Yale meal plan. You're ready to roll into the Refectory and spend them away, but for breakfasts and dinners you'll need to be more creative. Here follows a roll call of All-American day-to-day shopping hubs. 
Grocery Stores in Town
As a Midwesterner who moved away from a 24-hour Kroger with an equally 24-hour fresh cashew butter grinder, it's taken me a little while to find my food niche here. But whether you consider grocery shopping an experience or an errand, New Haven has something for you. Note: Alcohol is one of Connecticut's quirks. If you're looking for something other than beer to top off your courtyard gathering, plan an additional trip to a liquor store. 
An easy jaunt down Whalley avenue takes you to a foodshoptroplis frequented by a wide variety of town folk that it feels almost like a New Haven Commons of sorts. Their options for food hold to a strong median. While there are a bounty of expected whatnots, you won't always find the kinds of specialty products that you may have come to love in other just slightly more posh stores. I must say, though, I find their seafood to be particularly exquisite and their $5 sushi hard to beat as bangs for bucks go. One perk is that they also have a gas station on sight, with prices that tend to be pretty reasonable - especially if you have racked up reward points on your Stop and Shop card (hello 10 cents off per gallon!). Other perks–our Stop and Shop can be the door to many. Once you learn this store's labyrinth, you're ready to take on the wilds of Stop and Shops nearby–East Haven, Hamden–all boast their own local Stop and Shop variety. And if you're really looking nearby Connecticut has you covered: Shoprite and Big Y will also compete to win the main affection of your kitchen. 
Edge of the Woods
Just a hop, skip, and a jump down Whalley from Stop and Shop, this multipurpose natural market is all of the charm of Vermont with none of the politics. Without boasting a single animal protein, it stocks two floors with a full all-natural grocery, a fresh bakery/cafe, and an abundant apothecary. For some, it is a main destination, the petite one-stop-shop for all dietary and wellness needs. For others, the limited products make it no more than a big hard to reach granola bodega. No matter what, it's worth your investigation. 
Orange Street Markets
Perfectly positioned about a mid-schoolday jaunt or a lazy weekend promenade from the divinity school are Romeo and Caesar's, P & M, Nica's, and Oriental Pantry. They'll ensure that you will never go hungry. Each boast a curated array of pantry fodder and takeaway food that attract a constant stream of movers and shakers. If you visit them all, you'll soon have a favorite, but any will do the trick if you're looking to top off your cabinets before your next big grocery trip. My notes: Nica's for sandwiches, and morning seat under an umbrella. Romeo and Caesar's for a taste of Italy outside of Wooster Square. P & M if you're hoping to linger, and maybe top off your takeaway dolmades with a coffee or a craft beer.  
You won't have to go very long without hearing the legend of the expensive, well air-conditioned Elm City Market. Two reasons you might find to go: if you need a gift for the friend who has everything, a one of a kind food item might be a good bet. Or, maybe you've boycotted Uber/Lift/etc and taken to walking to the Union Station. You might find that ECM pops up right as you're about to despair that you'll have to settle for some donut holes and a slice of Sbarro pizza if you want to catch your train on time. Or maybe you're just a high-quality grocery guy or gal. Bully for you! All of these possibilities and more await you there. They usually do drop some 10% off coupons at student fairs at the beginning of the year—be on the lookout. 
This is one of those grocery stores predicated on the desperation of Yale students. It could be safely compared to grabbing groceries from an airport market. You can find it in the brick storefronts on Whitney and in the Yale Shops plaza on Broadway. (Though the real treasure is the Hong Kong Market that faces it on the other side of Whitney, offering a seemingly endless labyrinth of delightful and inexpensive Asian products.) Good Nature Market is a bit pricey, but not to be totally discounted in a pinch: their hot bar carries a constant circuit of options great for takeout, and they often have very wonderful and quite affordable bouquets for sale outside if you're on the way to congratulate someone, and they'll wrap them for you in a lovely pink floral paper for no extra charge.
And if you're looking for more or less in your grocery experience… 
Never fear, if the in-town options haven't whet your whistle, then Divinity Students are often known to split rides to Milford etc for a tour of Trader Joe's, Whole Foods and Costco, where nearly every other grocery box can be checked. (Not to mention the nearby L.L. Bean outlet, in case you turn out to be really grabbed by the New England aesthetics). And, of course, not painstakingly but not unlovingly described on this list are the bodegas offering specialty fried something or others or cold drinks, which spring up reliably on otherwise quiet corners of town whenever you must entrust Google maps to lead you to somewhere new. I leave these for you to discover. 
Big Box Stores
I won't step on the toes of your search engine prowess for these familiar outposts for items that are just beyond the reach of the grocery circuit. To get the odds and ends you need to make your apartment both Instagram worthy and liveable, all of your favorite shopping centers are here within a fifteen-minute drive of our quad. A couple important notes:  
You may have become well acquainted with this Swedish domestic dreamland when you furnished a dorm room or an apartment, but did you know about what IKEA could do for your social life? Another New Haven Commons, this utilitarian playground offers an especially sunny cafeteria for eating and a wide variety of social events. Last year, the Lutheran Student Organization sponsored a big event at their Yuletide Smorgasbord.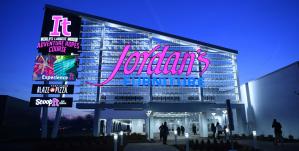 Jordans Furniture
A neon slice of the American dream awaits you at Jordans, where an unending selection of damn good furniture sits, untroubled by their neighboring hardcore chain IKEA. Mall of Americans might be nonplussed, but the furniture mecca is home to the world's largest indoor ropes course, and the rates aren't shabby. Further investigation of the website indicates that there are numerous winter playground activities here and in other Massachusetts locations, to be revived when the cold temps return. This is near the masculine monolith Sports Haven, where I must admit I have never been. 
And the list goes on… 
I-95 is your ticket to New York City, D.C., and any number of mega store riches: highway and you'll arrive at Bed Bath and Beyond, Target, Walmart, Home Depot… Make your boring errand trip into a thrilling trip down the coast! 
I cannot close without including a little scrumptious addition to your standard shopping. If you're in for a treat head to one of these colorful and local boutiques worth their cute in salt: Atticus, dwell, EBM, Civvies, and the British Art Museum Store.