The new Andover Newton Seminary at Yale website is now online. 
Andover Newton Theological School, a historic seminary in the congregational tradition, had a visiting presence at Yale Divinity School in the 2016-17 academic year. During that visiting season, leaders from the two schools continued progress toward formal affiliation.
On July 20, 2017, those negotiations reached their fruition as the schools signed a historic agreement to formally affiliate. The pact puts in place a structure by which Andover Newton—now to be known as Andover Newton Seminary—will relocate to YDS while continuing to offer classes for current students in the Boston area during the 2017-2018 academic year.
Andover Newton graduates have shaped religion in New England alongside Yale Divinity School graduates throughout the two Schools' respective histories. The schools share many values that make partnership in a time of significant change in religious practice both sensible and creatively inspiring. 
For over 200 years Andover Newton has educated clergy and other religious leaders dedicated to serving the church. Its theological commitment to educating toward transformative involvement in society, rather than setting the church apart from society, has led Andover Newton to take bold stances in the past against slavery, in favor of women's ordination, toward full inclusion of LGBTQ candidates for ministry, and in the interest of promoting interfaith understanding.  
During the visiting year, Andover Newton's three visiting professors, academic dean, president, and administrative assistant worked to create an educational program in congregational ministry. The program design process will include pilot initiatives that will provide opportunities for current YDS students to become prepared to lead in locally-governed and theologically inclusive Christian faith communities.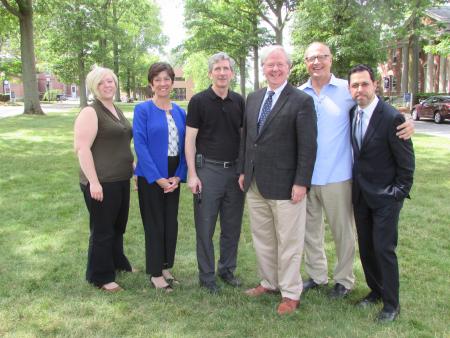 Sarah Drummond
Visiting Professor of Ministerial Leadership and Assistant Dean
(203) 436-9954
Kathleen J. Hamilton
Executive Senior Assistant for Andover Newton at Yale
(203) 436-9970