Leading in a Liminal Season with Rev. Susan Beaumont
Zoom | October 20 | 12 - 1:30 pm EDT
How do you lead an organization stuck between an ending and a new beginning—when the old way of doing things no longer works but a way forward is not yet clear? Such in-between times are called liminal seasons—threshold times when the continuity of tradition disintegrates and uncertainty about the future fuels doubt and chaos. In a liminal season it simply is not helpful to pretend we understand what needs to happen next. But leaders can still lead.
Liminal seasons call for a different kind of leadership presence, one that connects the soul of leaders with the soul of the institution. Participants at this event will:

Enter a three-way conversation engaging God, the soul of the leader, and the soul of the institution.

Examine the leadership challenges and opportunities inherent in liminal seasons.

Explore three fundamental shifts in orientation that invite a more soulful leadership presence. (From knowing to unknowing, from advocating to attending, from striving to surrender.)

Understand four bodies of work that help to connect mission, vision and values with the soul of the organization: deepening group discernment, shaping institutional memory, clarifying purpose, and engaging emergence. 
An ordained minister in the American Baptist church, Susan is a consultant, coach, author and spiritual director who has worked with hundreds of congregations and denominational offices in the United States and Canada, and is known for her groundbreaking work in leadership dynamics and large congregations. Before forming her own company, Susan worked for the Alban Institute for nine years, has served on the faculty of two business schools, and currently teaches at Wesley Theological Seminary. Susan is the author of How to Lead When You Don't Know Where You're Going: Leading in a Liminal Season, and Inside the Large Congregation. She is co-author of When Moses Meets Aaron: Staffing and Supervision in the Large Congregation.
Registration will be available on June 1st.
---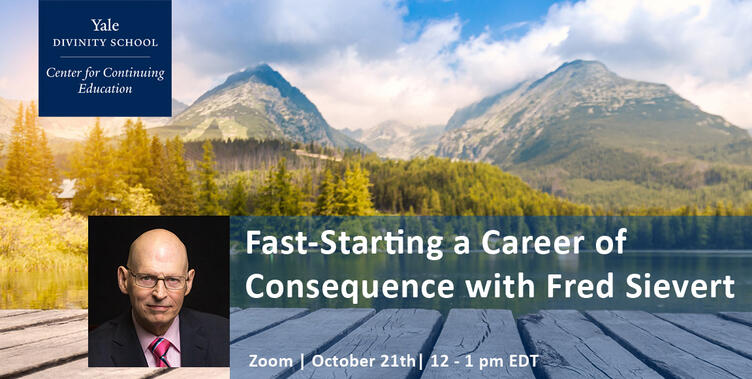 Fast-Starting a Career of Consequence with Fred Sievert
Zoom | October 21 | 12 - 1 pm EDT
In this webinar, we will explore the symbiotic relationship between faith and career and provide practical Christ-centered advice for creating a career of consequence. Fred Sievert, retired president of New York Life Insurance Company, YDS graduate and author, has created five biblical principles and ten practical, proven tips for individuals entering the workplace for the first time, those re-entering the workplace, or those considering a change of career. Discover how your spiritual gifts can be applied to the marketplace and how your faith can be the foundation of a more fulfilling work life.
Fred Sievert started his career as a teacher, later entered the insurance business and retired in 2007 as President of New York Life Insurance Company, a Fortune 100 corporation. As president of New York Life, he first achieved a number one market share ranking in the sale of Life Insurance in the United States and repeated that distinction for seven years.
Fred has held numerous leadership positions in industry related associations and organizations. He is a past-chairman of the Life Insurance Council of New York (LICONY), The American College of Financial Services and The Actuarial Foundation. In addition to remaining active throughout his career in industry activities, Fred has also regularly participated in civic and volunteer activities in his local community and church.
Fred received the highest honor bestowed upon industry leaders by the American College (The Solomon Heubner Gold Medal Award) in 2008 and was named a "Legend of the Industry" in 2012; a joint award bestowed by the American Council of Life Insurance and The Actuarial Foundation. In December of 2013, Fred received the Lifetime Achievement award bestowed by the Million Dollar Roundtable of New York.
Following his retirement, Fred received a master's degree in religion from Yale Divinity School in May of 2011. He has taught business school courses on strategy and leadership and has done over 30 guest lectures on the same topics. He serves on the boards of three non-profit organizations and two for-profit corporations.
Fred is the author of God Revealed: Revisit Your Past to Enrich Your Future, Grace Revealed: Finding God's Strength in Any Crisis, and Fast-Starting a Career of Consequence: Practical Christ-Centered Advice for Entering or Re-entering the Workforce.
Fred earned a B.A. from Amherst College, an M.A. from Wayne State University and an M.A.R. from Yale Divinity School. He and his wife, Sue, have five grown children and five grandchildren.
Registration will be available on June 1st.