Janet K. Ruffing RSM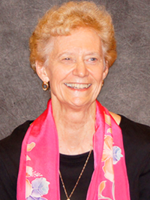 Professor Emerita of the Practice of Spirituality and Ministerial Leadership
Office:
Sisters of Mercy, 229 Russell Hall, 2300 Adeline Drive, Burlingame, CA 94010
Denomination Affiliation:
Education
B.A. Russell College
M.A. University of San Francisco
S.T.L. Jesuit School of Theology, Berkeley
PhD in Christian Spirituality, Graduate Theological Union. (Roman Catholic)
Originally from California, Professor Ruffing, a Sister of Mercy, is Professor Emerita of Spirituality and Spiritual Direction at Fordham University where she directed the spiritual direction program from 1986 until her arrival at Yale Divinity School in the spring of 2010. She has published five books and numerous articles on spiritual direction and supervision, mercy spirituality, female religious life and leadership, kataphatic mysticism, prayer, and other technical topics in spirituality. She has lectured or given workshops in the US, Canada, Australia, New Zealand, France, the UK, Ireland, India, Thailand, the Philippines, Korea, Hong Kong and Macau. She was a founding member of Spiritual Directors International and is past president of The Society for the Study of Christian Spirituality. She has also chaired the mysticism group in the AAR, been an associate editor for The Way, and on the Editorial Board for Presence. She has experience in teaching religion and English in secondary schools, in the formation of spiritual directors, permanent deacons, and women religious.
Read more about Professor Ruffing: Janet Ruffing: understanding the winds of the spirit in the 21st century.
Read more
Books
To Tell the Sacred Tale: Spiritual Direction and Narrative (Mahwah: Paulist Press, 2011)
Elisabeth Leseur: Selected Writings. Classics in Western Spirituality (Mahwah: Paulist Press, 2005)
Spiritual Direction: Beyond the Beginnings (Mahwah: Paulist Press, 2000)
Essays on Mysticism and Social Transformation (Editor) (Syracuse University Press, 2001)
Uncovering Stories of Faith: Spiritual Direction and Narrative (Mahwah: Paulist Press, 1989)
Lettres sur la souffrance: Correspondance avec soeur Marie Goby (1910-1914) (Paris: Les Editions du Cerg, 2012)
Further Information
Selected Articles and Essays:
Available in PDF (full citations are on the C.V.)
Historical Essays:
Religious Life:
Spiritual Direction and Supervision:
Mysticism:
Spiritual Life:
Other Topics: