Jennifer A. Herdt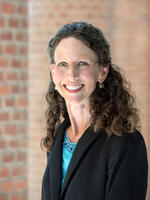 Gilbert L. Stark Professor of Christian Ethics
Phone:
(203) 432-0024; (203) 432-5309
Denomination Affiliation:
Jennifer A. Herdt is Gilbert L. Stark Professor of Christian Ethics at Yale University's Divinity School.  Her most recent book, Forming Humanity: Redeeming the German Bildung Tradition, was supported by a research fellowship from the Alexander von Humboldt Foundation.  She is also the author of Putting on Virtue: The Legacy of the Splendid Vices (selected as a Choice Outstanding Academic Title), and of Religion and Faction in Hume's Moral Philosophy, and has published widely on virtue ethics, early modern and modern moral thought, and political theology. She serves on the editorial boards of the Journal of Christian Ethics, Studies in Christian Ethics, and the Journal of Religion, and is serving as the 2020 President of the Society of Christian Ethics. She is currently revising for publication her 2013 Warfield Lectures and 2016 Jellema Lectures on eudaimonism, egoism, and obligation.  She is a senior member of a research team that has received a $3.9M, 3-year collaborative grant from the Templeton Foundation in 2020 to pursue projects in science-informed theological anthropology.
Learn more
Books
Forming Humanity: Redeeming the German Bildung Tradition (Chicago, 2019)
Putting On Virtue: The Legacy of the Splendid Vices (Chicago, 2008)
Religion and Faction in Hume's Moral Philosophy (Cambridge, 1997)