Mary Clark Moschella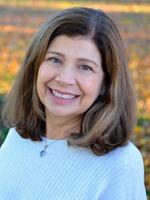 Roger J. Squire Professor of Pastoral Care and Counseling
Education
B.S. Southern Connecticut State College
M. Div. Harvard Divinity School
Ph.D. Claremont School of Theology
Professor Moschella joined the faculty at Yale in 2010. Her research focuses on three main areas: ethnographic research methods in practical theology; joy in the ministry and in life; and narrative approaches to spiritual care.  She has recently published the updated and expanded second edition of Ethnography as a Pastoral Practice: An Introduction (2023), with presses in the US and the UK. She co-edited a related publication, Qualitative Research in Theological Education, with Susan Willhauck in 2018. Her earlier books in this area include: Living Devotions: Reflections on Immigration, Identity, and Religious Imagination, and a collection of essays, edited with Jane Maynard and Leonard Hummel, Pastoral Bearings: Lived Religion and Pastoral Theology. She teaches a research methods course to equip students with the skills needed to observe, engage, and understand faith communities and collectives. She co-leads the study group for Religious Practices and Pastoral Research in the Society for Pastoral Theology.
With the support of the Henry Luce III Fellowship in Theology, Professor Moschella published Caring for Joy: Narrative, Theology, and Practice in 2016. She continues to lecture, research, and teach on this topic, with a particular focus on the link between justice and deep spiritual joy.  Professor Moschella's current research project is on narrative spiritual care, a form of care that focusses on developing people's strengths through storying practices that challenge hegemonic cultural narratives. Professor Moschella trains extensively in this modality and teaches courses in it as well. In addition, Professor Moschella recently co-edited with Lee Butler, The Edward Wimberly Reader: A Black Pastoral Theology (Baylor, 2020).
Prior to coming to Yale, Professor Moschella taught Pastoral Theology and Congregational Care at Wesley Theological Seminary in Washington, D.C. Before that, she was a chaplain and then a pastor in United Church of Christ congregations in Massachusetts. Additional teaching interests include psychopathology and pastoral care, pastoral perspectives on death and dying,  and pastoral wisdom in fiction, memoir, and poetry. She has recently chaired the YDS Task Force on Prison Justice Ministries and enjoys teaching  Inside/Out  courses that bring YDS students into prisons to learn together with incarcerated classmates. She is a fellow of Yale's Grace Hopper College.
Read more
Books
Pastoral Bearings: Lived Religion and Pastoral Theology, co-ed. (Lexington Books, 2010)
Ethnography as a Pastoral Practice: An Introduction (The Pilgrim Press, 2008)
Living Devotions: Reflections on Immigration, Identity, and Religious Imagination (Pickwick Publications, 2008)