Upcoming ​Conference: 
---
Welcome to YDS Sustainability, a Divinity School resource for sharing progress and opportunities as we aspire each day to learn, live, and lead more responsibly into the future. We take seriously the ecological, social, and economic challenges ever-present in our world; and we seek to turn our gifts into good examples that will support our communities and guide our graduates. 
Mission St​a​tement
YDS Sustainability fosters a sacred commitment to the love and knowledge of God through ecology, human wellness, creation care, and economic viability. The Sustainability Team of students, faculty, and staff cultivates innovative approaches to sustainable living, ministry, worship, and knowledge. We seek an enduring communion as stewards of creation.
Learnin​g, ​Living, and Leading Together
As sustainability efforts have increased at the Divinity School, YDS Sustainability has evolved from key leadership to wider community ownership.  The Sustainability Team of students, staff, and faculty created the 2013-2016 YDS Sustainability Action Plan, which the faculty and student council endorsed in Spring 2014.  Today the Sustainability Team's three working groups lead most of the school's sustainability efforts and coordinate with student groups, Sterling Divinity Quadrangle partners, and other members of the Yale and New Haven communities.  
The joint degree program between the Divinity School and the School of Forestry and Environmental Studies, along with many other initiatives, creates a first-rate opportunity for academic training in areas of religion and ecology.  Both schools take seriously the role of articulating, enacting, and advancing efforts to respond to the crises of climate change, environmental degradation, and other eco-justice issues in our time. The Bioethics Center, the Forum on Religion and Ecology, the Yale Sustainable Food Project, and the Yale Office of Sustainability regularly partner with the Divinity School for lectures, lunch discussions, and other events.
Student-led clubs and initiatives also offer opportunities for learning and living together.  FERNS (Faith, Ecology, Religion, Nature, and Spirituality) and YDAWG (Yale Divinity Animal Welfare Group) are the student clubs that organize many events throughout the year. The Divinity Farm, established in 2009, also provides a sacred space for students to connect with the land and grow within the community.
This YDS Sustainability web site serves to share updates, provide useful information, and convey the history and understanding of sustaining YDS over time.  Relevant news stories that preceded this web site have been included, when possible, in our news archive. Student Sustainability Coordinators, along with other student leaders connected to these efforts, can be found throughout this site. In addition, the Sustainability Team welcomes ideas, feedback, and support through our opportunities to share community input.
Histor​y of​ Sustainability on the Quad
YDS Sustainability formally began in January 2011 when Sandra Lynch and Ann-Marie Piscitelli, the Director and Associate Director of Finance & Administration, hired two student sustainability coordinators.  While this could be considered the official launch of YDS Sustainability, Yale Divinity School has a strong history of sustainable practices and initiatives generated from students, faculty, and staff.
For several years, the student group FERNS (Faith, Ecology, Religion, Nature, Spirituality, formerly the Yale Earth Care Committee, YECC) has worked on a variety of projects and activities within the Quad, the University, and the city of New Haven to raise environmental consciousness.  Students have organized No Impact Week events, Earth Day celebrations, community conversations on faith and ecology, an environmental fair, discussions on locally grown food, and screenings of environmental films.  FERNS has also been an enthusiastic supporter and participant in Yale Sustainability Week.  
YDS faculty, including The Yale Forum on Religion and Ecology, are also deeply involved in environmental issues as internationally known leaders in their field.  Along with the School of Forestry and Environmental Studies, the Divinity School has hosted national conferences such as Renewing Hope, Environmental (Dis)Locations, and Religion and Environmental Stewardship, drawing national audiences of theologians, activists, and ethicists to debate and discuss the theological dimensions of eco-justice.       
The YDS staff members spearhead several efforts to reduce business waste at the school.  For example, custodial staff enthusiastically support the use of ionized water cleaning products. The Divinity School Refectory staff have developed more sustainable practices in the kitchen. Also in the Refectory, YDS is striving to become ZERO WASTE, utilizing composting and recycling bins. We have increased our compost bins from one to four, eliminating two garbage bins and striving to make YDS the first Divinity School to become Zero Waste.
With faculty, students, and staff all expressing a desire to make YDS more sustainable, the school decided to create a Sustainability Action Plan in 2009-10.  The plan was created with support from Greenfaith, the Yale Office of Sustainability, and a grant from the Rocky Mountain Institute.
The 2013-2016 YDS Sustainability Action Plan serves as the institutional foundation for the Divinity School's sustainability efforts in the immediate future.  To join in these efforts, please contact a member of our team.
YDS Sustainability Coordinator | Julia Anne Johnson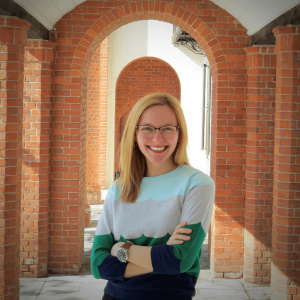 Julia is currently a 2018 M.Div. candidate, interested in exploring the human-animal relationship of land and sea animals, especially regarding food, death, and the afterlife. She is chair of the environmental and animal student groups at YDS, raising awareness of the Christian responsibility to food animals and the earth.
Before arriving at Yale, Julia graduated from Michigan State University (2015) with a B.A. in Religious Studies, a concentration in Nonprofit Leadership, and a Specialization in Environmental Public Policy.
Her role as Sustainability Coordinator has been to make YDS a model for seminaries interested in environmental stewardship. Decreasing waste and increasing compost, hosting a student conference in religion and ecology, and working with the faculty and staff to bring environmentalism into the conversation more fluidly are just some of her many duties. Julia also works with the Office of Sustainability at Yale University, to create a bridge between YDS and downtown.
If you have questions or ideas about YDS Sustainability,
please email Julia or Sandy Lynch.