May 24, 2021
"It has never felt so good to be in a crowd!"
So exclaimed Yale Divinity School Dean Greg Sterling as he opened the School's 195th Commencement today—the first in-person event of any significant size at YDS since the COVID-19 pandemic began 15 months ago.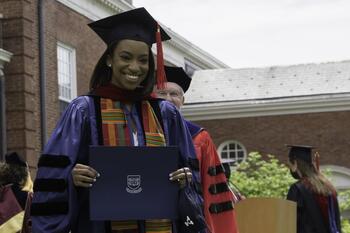 "This has been the most challenging year in our academic careers," Sterling said in his charge to the nearly 150 graduates, roughly 110 of whom gathered in person on the School's outdoor quadrangle. "Two words come to mind as the realization that this day has arrived: Thank God!"
Along with his celebratory notes, Sterling acknowledged the somber realities hanging over a graduation held almost exactly one year after the police murder of George Floyd, and after the deaths of nearly 600,000 Americans and 3.5 million worldwide in the worst pandemic in a century.
"We have made it through. But we have not escaped the circuit of the Pale Horse," the Dean said, noting that many members of the YDS community lost loved ones to COVID-19.
Unlike the 2020 graduates, whose Commencement was held entirely online because of the then-new coronavirus outbreak, the Class of 2021 was able to come together in person, albeit under circumstances constrained by pandemic protocols. To maintain safe distancing, Yale limited attendance primarily to the graduates and faculty.
Of the roughly 145 graduating students, nearly 110 attended in person, sitting on well-spaced chairs while hundreds of family members and friends watched the live broadcast—and another several dozen viewed the proceedings from Prospect Street.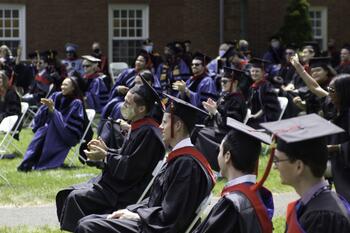 Seventy-three are receiving the Master of Arts in Religion (M.A.R.), 64 the Master of Divinity (M.Div.), and eight the Master of Sacred Theology (S.T.M.). 
"We have survived," Sterling said. "We are all grateful for the medical expertise and services that have guided us and cared for us this last year. I also hope that we are grateful—as was Paul—to God, 'who rescued us from so deadly a peril' and who 'will continue to rescue us.'"
"Faith is the quiet confidence that no matter what we face—even death—we will not face it alone," Sterling told the graduates, who now embark on careers in ministry, education, nonprofit leadership, politics, activism, and other walks of life. "As you go out, our hope and our prayer for you is that you will remember the presence of God in your life, the presence that sustained you this last year and will give you the strength that you need to face new challenges that lie before you."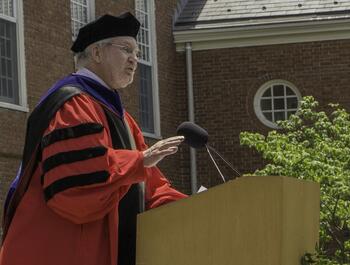 "Today we are sending you out to change a world that desperately needs transformation. When you face challenges—and you will—remember the experience of this year and Paul's words: 'We had received the sentence of death so that we would rely not on ourselves but on God who raises the dead.' Your faith will sustain you in the future even as it has this year."
While the day was dedicated to honoring students for their resilience and perseverance under trying circumstances, the graduates turned the tables at the end of the ceremony by extending a rousing commendation to a pair of associate deans, Jeanne Peloso and Lynn Sullivan-Harmon, whose herculean efforts helped students navigate an extraordinarily difficult 15 months and complete their degrees.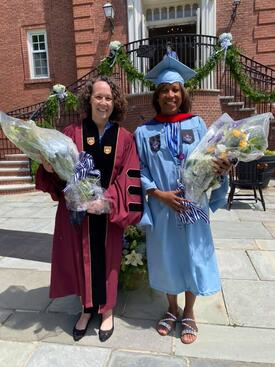 "Look at where we are today—together as a YDS community!" declared student representative Geronimo Desumala '21 M.Div. "It is because of our shepherds, Associate Dean for Student Affairs Jeanne Peloso and the
newly minted Associate Dean for Diversity, Equity, and Inclusion
, Lynn Sullivan-Harmon!"
"You have risen to unimaginable challenges. You have walked with us through unspeakable loss. You have stood in our corner through unprecedented struggles. The Yale Divinity School Class of 2021 commends you for your service as ministers among ministers!"