A sampling of graduates reflect on their YDS experience and look ahead to what's next in their lives and careers.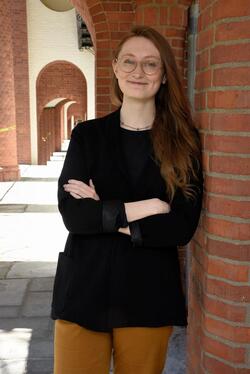 Nicole Carroll '21 M.A.R. (History of Christianity)
I've had so many incredible experiences while at YDS both in the classroom and in conversations with my peers. Classes with Tisa Wenger, Clifton Granby, and Willie Jennings have deeply influenced both my intellectual and ethical development. But I think some of the most transformative experiences during my time here were during my YDS summer internship. I interned at the Yale Prison Education Initiative (YPEI), and though my professional background is in college-in-prison and I had worked with YPEI during the school year, the structure of the Divinity School internship program really allowed me to dig deep into the work, learning more about the non-profit structure and what it takes to run a college-in-prison program. 
This fall I'll be starting a Ph.D. in Religious Studies at Stanford University, focusing on American religion. My research explores the relationship between secularism, race, and criminality, examining how the category of religion has been used to manage, discipline, criminalize, and racialize communities of color in the U.S. empire. In addition to my doctoral studies, I hope to continue my work in prison education by working with the Stanford Prison Education Initiative and other college-in-prison programs in the Bay Area.   
Doing graduate school and archival research during a global pandemic has been extremely difficult, both logistically and emotionally, but even in spite of the difficulties I've found the work to be incredibly rewarding; finding fulfillment in the midst of these challenges has only served to affirm for me that I want to continue down this path. In terms of my worldview, the unremitting violence and death of this past year has called me to question how we can meet this relentless violence with relentless care, compassion, and protection for the most vulnerable among us. The pandemic has demonstrated for me the necessity not only of community (for isolation has certainly taken its toll) but of communities of care and mutual-aid—communities that I have been fortunate enough to be a part of at YDS.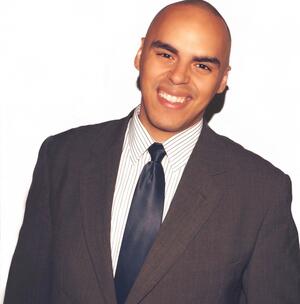 Bobby Casiano '21 M.A.R. (Black Religion in the African Diaspora) 
The experience of my journey at Yale has offered a space to pursue larger critical questions associated with my identity, spirituality, and resistance to the injustices of people who have been historically at the margins. The Black Religion in the African Diaspora program added a depth to my intellectual and emotional engagement with a tradition that has always been a counter to antiblack racism and injustice. This has been my most impactful experience at Yale and has strengthened my commitment as a Queer Afro-Puerto Rican person to a global politic of Black freedom across the diaspora. I have been so fortunate to share a learning space and push my growing edge considering the path of challenges and joy that I have encountered in my life. This weekend, I look back at the ancestors who paved the way for this first-generation college student and foster child. 
My plans include continuing to teach in higher education, while continuing to provide behavioral health care and antiracism consultation to public service organizations across the country. I leave Yale with a great deal of gratitude for my advisors, Dr. Almeda Wright and Dr. Clifton Granby. A special thanks to my peers and faculty for sharing your knowledge and kindness. A balance of my work and academic as a public health professional during the pandemic has been one of the greatest challenges of my life. It is indeed a celebration that marks a critical moment in my journey. James Baldwin once said "our crown has already been bought and paid for. All we have to do is wear it."
Thank you to my ancestors. I'm reimagining something different from the status quo.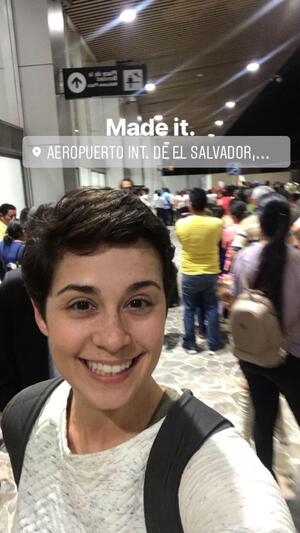 Jessica Church '21 M.Div.
The summer after my first year I was lucky to serve as Chief of Staff for "Before the Fall Orientation." I got to work with 16 awesome current students who helped orient the incoming class. It was a powerful experience to watch a new cohort step foot on campus for the first time, meet one another, build friendships, and begin to shape YDS in their own way. So many students from that class have made a huge impact on our school and community. Now, they are the leaders on the Quad. 
After graduation I am moving back to Washington, D.C., where I will continue working as the Director of State and Local Campaigns for End Citizens United/Let America Vote. This political action committee focuses on electing campaign finance reform and voting rights champions to state, local, and federal office. I also hope to find a new church home in D.C. and reconnect with friends I haven't seen in a long time. 
COVID really solidified for me that we cannot be there for others unless we are taking care of ourselves. Our world faces so many challenges and it's easy to feel like we need to solve them all. But none of us can, alone. It helps me to remember the oft-repeated line from the Mishnah, which says, "You are not obligated to complete the work, but neither are you free to abandon it."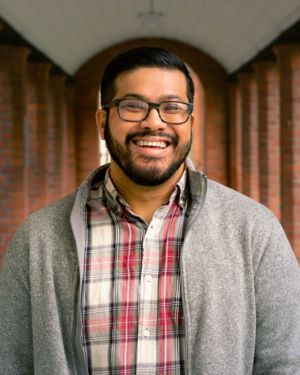 E. David de Leon '21 M.Div.
I'll never forget the moment in my first year when we realized there were 11 or so Filipino/Filipino American students at YDS (which I assume is a record number in the history of the School). On that beautiful fall day on the Quad, I had no idea how important that community would become for me: colleagues who became pamilya and scholars who were endeavoring together on a journey of mutual learning within our shared histories. This consequential moment would eventually lead to clarity and integration for me—showing me what education could look like in the company of friends.
This summer, my family and I are going to figure out how to cram into a New York City apartment. In the fall, I start the doctoral program in systematic theology at Fordham University. I am incredibly grateful for the opportunity and privilege that it is to continue my studies and I am eager to grow as a learner and educator in this upcoming season.
The pandemic has exposed to everyone what many historically oppressed and marginalized people have always known: the world is not as it should be. Because of this, I've been reminded again that unless the work we do in the halls of academia and seminary matter to what's happening out there, we are not partnering with the work of the Spirit. In the last 15 months, I've been confronted more than ever by how small my imagination is; as such, my longing for the Spirit to break open our collective imagination has grown.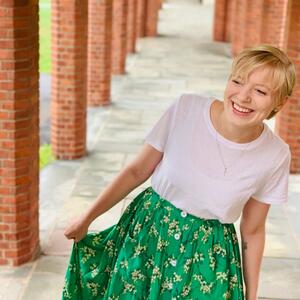 Sophy Driscoll Gamber '21 M.Div. (she/her) 
I served as Marquand Chapel sacristan in 2019-2020. One Communion Friday, I accidentally made a loaf of communion bread that didn't bake through in the middle. Jenny Davis presided, and when she broke the bread, everyone saw the wet dough pull apart like taffy! I was mortified. But one by one, classmates and professors ate that bread, and afterwards a cluster of students ate all the remnants. People laughed and smiled; it was so silly and holy. Like each of us individually, this shared project of being the Body of Christ is imperfect and stunningly, wonderfully weird. God's love keeps calling us into community, and God's grace is abundant. 
After graduation I am relocating to Chapel Hill, North Carolina, where I'll complete my CPE internship this summer and continue my candidacy process for Elder's ordination in the United Methodist Church. I have no concrete plans for after I finish my CPE unit, but for all the other grads who also don't know what's next, I want to say that maybe that's just fine. Maybe we should all just sleep late and eat snacks and rest with God for a bit. It's been a hard year and a hard-earned degree, and even Jesus took naps. 
I pastored my first church during my last two years at YDS, in the midst of the pandemic and the co-evolving movement for racial justice. Our life in ministry together was frequently heartbreaking, but also laden with small joys, unlikely communion, and incredible creativity. The pandemic revealed that we're capable of doing church differently and with new energy, in ways that center deep care, radical solidarity, and earnest justice-seeking. What a gift it'd be if we can continue to embrace this creative spirit of transformation even after the days of this pandemic.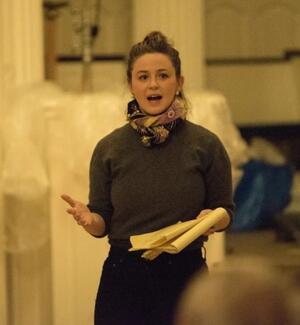 Phoenix Gonzalez '21 M.A.R. (Liturgics)
From the moment I stepped into YDS's campus as a prospective student, I have continued to be both impressed by and extremely grateful for the people who warm the halls. My experience at YDS and the ISM has helped me grow in ways I am still processing, but I have particularly appreciated serving as chapel minister in Marquand, as co-leader of the Roman Catholic Fellowship, and as Resident Theater Director for YDS, experiences which have each allowed me to combine my passion for designing worship with musical and theatrical performance. An inflection point for these experiences was, without a doubt, the performance of Play of Noah in Marquand Chapel, which helped me get to know faculty and fellow students much more closely and offered an opportunity to bring other parts of the Yale community up to YDS.
This fall, I will begin an interdisciplinary Ph.D. program at Northwestern University in their Department of Communication. I will pursue a course between Medieval Studies and Theater and Drama, studying medieval religious plays in their original contexts and adapting and performing them for social change today. I will be wafting into the windy city on the Holy Spirit's momentum in my life, and I am happy to carry my experiences from YDS with me there.
Without a doubt, COVID-19 has upended almost everything about my experience at YDS and its worship life. It has reinforced my thoughts about the importance of in-person communal theater and worship, while affording an opportunity to explore how digital spaces also create community, albeit with their own unique challenges. I am particularly grateful that we were able to re-stage Yale Divinity Drama's production of "The Christians" in an online Zoom format last spring, offering the community a way of gathering and maintaining connection during the height of uncertainty and fear about the pandemic.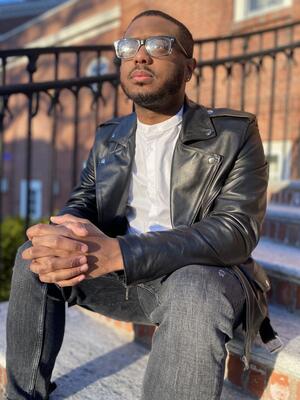 Christopher Spencer Gurley, Jr., '21 M.A.R. (History of Christianity)
My time at YDS has been filled with great memories even during this pandemic season. I would say some of my most transformative YDS experiences occurred in the classrooms of Dr. Tisa Wenger and Dr. Erika Helgen. In them, I discovered reflections of the scholar I one day hope to become. In addition to these experiences, I count myself lucky to have worshiped with the community of St. Thomas More. Fr. Ryan Lerner and the Catholic community at Yale extended to me a welcoming hand upon my arrival, and for that I am eternally grateful. In YDS and the broader Yale community, I found a nurturing place for both the mind and the heart.   
This fall I will begin a Ph.D. in History at Georgetown University. My interests are at intersections of identity construction/s, class, and belonging in the history of rural southern African American Catholic communities. I am beyond thrilled to be continuing the work I started at Yale in telling the stories of these often-overlooked communities, and in the process elevating the Catholic voice within the chorus of African American religious history. 
Dawn Jefferson '21 M.Div.
Reverent prayer at the beginning of Professor Jennings' Systematic Theology class, enlivening conversation in our Ethics discussion for Professor Turman's class, colorful tapestries at the front of the room for Professor Mercer's Practical Theology class, echoes of sermons in the Nouwen Chapel for Professor McCray's Pauli Murray class, rediscovering theologies of the body in Professor Tonstad's Queer Theology course, uproarious laughter at a table in the Second Floor Common Room while someone went to get more coffee, listening for how Dean Drummond and Dean Parker invited us to the communion table during Emmaus service, friends whispering in the library around carrels full of reading, feeling the energy in the Refectory during All-School Conference, and singing praises of new and old songs at 11 a.m. worship in Marquand. These are snapshots of memories I hold with me as I am preparing to graduate from YDS.
But most importantly are the people, My God, the people! It was here that I was reminded that the Gospel's truth and the Spirit's power live in the embodiment of its students, staff, and faculty—so many whom I call friends and family—diverse, brilliant, compassionate, and called. The one constant revelation through the pandemic was how much I wanted to return to these people and dwell in their company. This is, this could be Church.
I look forward to recreating the closeness I shared with people I love at YDS within my next calling. I am presently the Sabbatical Pastor for Trinitarian Congregational Church (TriCon) in Concord, Mass., for this summer. I have the privilege of preaching several Sundays a month and getting to know this congregation all while remaining remote and traveling across the country to different National Parks in our travel trailer. I will be staying in the Northern Virginia area with my wife and spending time with my mother while awaiting ordination in the United Church of Christ for God's specific call. I shall continue to explore the practical theology of dementia along with pastoral care for caregivers.
Shevalle T. Kimber '21 M.Div.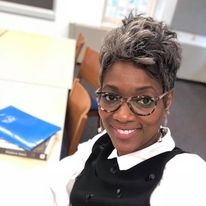 Clinical Pastoral Education was the most transformative experience for me and has changed the trajectory of my vocation. Before YDS, I had not realized how limited I was to a specific demographic of people in ministry. I recognize that nothing compares to absolute strangers from all walks of life letting you into their life and hospital room and at some of life's most challenging and complex moments. … Not all people have the same beliefs about living, dying, religion, or God. CPE has opened my eyes and heart to see and help people in ways I had never imagined, and it is truly a place of holy ground.
A native of New Haven, I will continue to live here in New Haven and co-pastor the First Calvary Baptist Church in the Newhallville community. I will begin my Chaplaincy Residency at Yale-New Haven Hospital in mid-July. 
This pandemic has taught me even though we have been living in unprecedented times, I can do the things that I thought I could not do.  
Quavon Newton '21 M. Div.
Taking the course Radical Lives of Proclamation with Professor Donyelle McCray was one of the many transformative experiences during my time at YDS. Not only were her lectures intriguing and thought-provoking, but she also strengthened me as a preacher and exposed me to influential activists while viewing their lives as sermons. During this semester, I critically engaged my preaching style and learned from other classmates whose styles drastically differed from my own. This has allowed me to teach congregants how to view sermons in the lives of activists and their individual life experiences.
New Haven man turns his life around, graduates from Yale Divinity School: Watch this TV news segment about Quavon Newton.
While I will continue pastoring and working in congregational ministry, I plan to pursue a bi-vocational career in social work to respond to the persistence of health disparities among minorities. I found the challenges significant, especially at the peak of the COVID-19 pandemic as African-Americans and Latin-Americans faced higher risks of contracting the virus and death. Historically, there is a negative stigma associated with persons of Color who need mental health care. Yet as a religious leader, I advise people to seek formal assistance for depression or anxiety. However, I am also keenly aware of the limitations in social worker numbers addressing minorities' physical and mental care needs. Merging the two fields will allow me to continue to erase that stigma by uplifting the needs for holistic health for African-Americans and Latin-Americans.
Thi An Hoa Nguyen LHC '21 M.A.R. (Theology)
I believe that the most transformative experience I have had at Yale Divinity School is the environment of welcome and support. I am impressed by the school's hospitality in classes, through daily conversations, and in times of worship. I truly found myself in God's hands when God provided a convent for me during my studies here. The Dominican Sisters of Peace welcomed me into their home as one of their members. It is at this convent where I have had precious and practical experience parallel to my academic training at YDS such as the zeal to stand up for justice and to embrace the sense of communal/global responsibility. 
I will pursue a Ph.D. in Theology and Education at Boston College where I will gain the training necessary to conduct research on the role of religious education to foster family ministry in the Church. I am interested in developing a new vision of Religious Education in which parents can play the role of primary religious teachers of their children, placing family once again at the center of faith formation. I hope to solidify my pedagogical methodologies and pastoral skills in practical theology to enhance the faith life and spiritual experience in migrant communities. 
The pandemic of COVID-19 helped me to have time to look deeper into my heart and re-examine my purpose for life. This searching is a great encounter between God and me that fosters my inner peace and joy. Thus, I have more energy and positive attitude to do ministry in a transformative way, where I see God in God's people. I found a deeper interconnectedness between my belief and my ministries. I trust that the more I love God and embrace the image of God in me and others, the closer I become to God.