It was, Miroslav Volf declared, an uplifting culmination. As the Divinity School professor and Center for Faith & Culture director welcomed 200 people to a sold-out capstone conference at YDS earlier this summer, there was much to reflect on and celebrate.
Since launching in 2015 with a $4.2 million grant from the John Templeton Foundation, the Center's study of joy and the good life has cultivated promising new ground for theological inquiry. The project has reached hundreds of scholars, spawned courses and research projects at dozens of institutions, and produced videos that have attracted more than 330,000 views, among other accomplishments.
None of which should be especially surprising given the richness and magnitude of the subject, described by Volf as the "great question of our time": What does it mean to experience human flourishing and fullness?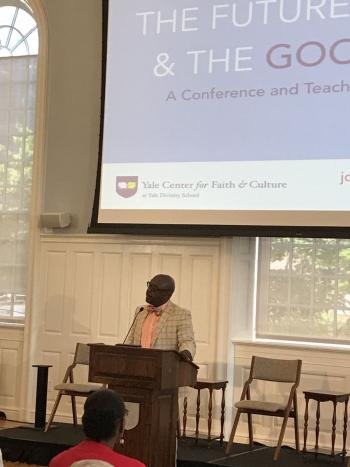 Over the conference's four days (July 31-August 3), scholars, clergy, and business and nonprofit leaders from 10 countries and multiple U.S. states bore into that question via a series of keynotes, panels, and group discussions. The first two days were organized as an academic conference focused on the future of joy and the good life, with the third and fourth given over to a workshop on teaching the subject at universities, high schools, and churches.
Indicative of the power of joy in even the most adverse circumstances, Dewey Williams was given center stage on the conference's first night. The North Carolina pastor won a preaching-on-joy competition offered by the project in 2016–17, and he inspired conference attendees by projecting hand-written testimonials by the death-row prisoners who heard his sermons.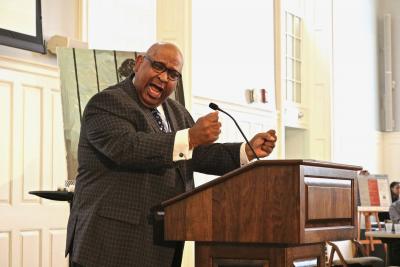 One of the condemned men likened himself to Old Testament figure Jonah and described death row as the belly of the whale. As with Jonah, "God in his mercy will release me from this fish's belly," the prisoner wrote, "when he is done building my character for what he has planned for me."
Another of the death-row prisoners wrote, "I am not where I want to be." But, he added, "it is a delight to know God will never leave me. It brings me joy every day of my life."
Broad impact
It is hard to match the emotional impact of death-row sermons. But a quantitative accounting of the project is also impressive. More than 255 scholars and practitioners from over 135 churches and academic institutions have participated to date. The project has awarded subgrants to 40 different institutions where scholars are pursuing joy-and-the-good life research and writing, as well as convening groups and courses exploring the relationship between joy and the good life through multiple lenses; among them: vocation, narrative, contemplation, consumer culture, incarceration, addiction, disability, medicine, the arts, missiology, pedagogy, intentional communities, the public square, and vulnerability.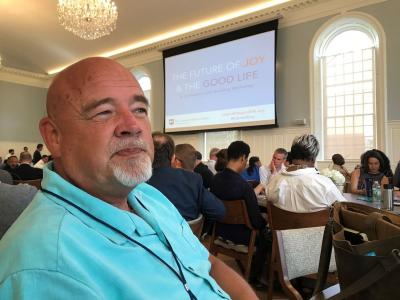 During the grant period, Center for Faith & Culture staff members wrote three books related to a theology of joy and the good life. Associate research scholar Sarah Farmer, with coauthor Anne Wimberly, penned
Raising Hope: Four Paths to Courageous Living for Black Youth
. Volf and associate research scholar Matthew Croasmun '06 M.A.R. wrote
For the Life of the World: Theology that Makes a Difference
, which will be published in January 2019. Also, associate research scholar Angela Gorrell authored
Always On: Practicing Faith in a New Media Landscape
, which will be published in May 2019. The second and third of these books are part of a new Baker Publishing Group book series titled "Theology for the Life of the World."
Through its work on the grant, the Center for Faith & Culture formed partnerships at several universities and seminaries, including Pepperdine University, the University of Fribourg, Princeton Theological Seminary, Duke University, Baylor University, and Fuller Theological Seminary. The acclaimed "Life Worth Living" class in Yale College and "Christ and Being Human" at YDS (partially funded by the Templeton grant) have now been taken by more than 210 students at Yale. Variations of Life Worth Living or courses inspired by it are being taught at Notre Dame and five other institutions.
***
***
The project has achieved a broad public impact as well. In addition to its much-viewed videos, it has drawn coverage from media outlets including
Sojourners
,
Religion and Ethics
,
U.S. Catholic
,
American Baptist Churches USA
, the
Boston Globe
, and Religion News Service.
"Drawing together scholars and practitioners from such a wide variety of institutions and disciplines to work together on such big, enduring questions hasn't been easy," said Ryan McAnnally-Linz '10 M.A.R., the Center's managing director. "But the conference really drove home how vital this work is."
A fruitful conversation
During the conference, the lectern in the Old Refectory was visited by some of the Divinity School's most accomplished theologians, as well as leading scholars and practitioners from around the country and across the theological spectrum.
***
Video: Watch an excerpt of Willie Jennings' talk.
***
African-Americans' relationship with joy was the focus of the lecture by Willie Jennings, Associate Professor of Systematic Theology and Africana Studies at YDS, on the conference's first morning. For black Americans, Jennings said, joy is an "act of resistance against despair and death." This "oppositional" joy, he declared, "humanizes dehumanizing conditions [and] makes pain productive, without ever justifying or glorying suffering."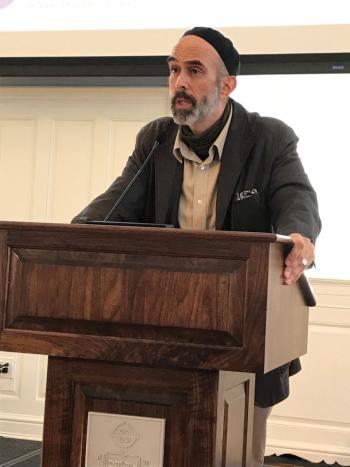 The conference's striking diversity also played out theologically. Speaking on the afternoon of the first day was Prince Ghazi bin Muhammad, who is Personal Envoy and Special Advisor to King Abdullah II of Jordan and Chairman of the Board of Trustees of the Aal al-Bayt Institute for Islamic Thought.
Prince Ghazi discussed joy in the Islamic tradition—a subject he explored further on the second day as part of an interfaith panel that included scholars from the worlds of humanism and Hinduism, with Volf moderating.
Also on the panel were Anthony Pinn, Professor of Humanities and Religion at Rice University and Director of Research for the Institute for Humanist Studies; and Anantanand Rambachan, Professor of Religion, Philosophy, and Asian Studies at St. Olaf College.
***
Related story: Joy and Good Life project assembles scholars from across traditions
***
Reflecting on the candid exchange—one that revealed significant differences between the panelists and their traditions—Volf said, "From the beginning, the Christian faith was about what constitutes a good life, a true life, a flourishing life." But Christians are not alone in the quest. Marx and Nietzsche were concerned with the same question, Volf added—albeit it in a somewhat twisted way in the case of Nietzsche.
"Our traditions imagine flourishing in different ways," Volf concluded, "yet also with similarities. The conversation across traditions about this fundamental human question can be very fruitful."
The three-year period of the Templeton grant is now ending, but the Center for Faith & Culture plans to continue its work to explore what it means for humans to flourish—and to bring that question into the public conversation.