A record turnout of more than 600 alumni and friends. Inspiring alumni award winners. Fascinating faculty lectures and a panel on women in ministry. Andover Newton's first convocation on the Quad. These and more made Convocation and Reunions 2017 one of the most memorable and uplifting in recent history.
"The alumni of Yale Divinity School are a truly extraordinary group," said Director of Alumni Relations Gail Briggs, lead organizer of the event. "For these leaders in ministry and service to be together again on the Quad, with such a warm and uplifting spirit, is a renewing experience for all and a reminder of what's so special about this place."
Here are some of the highlights of last week's celebration:
Alumni awards
The Dean's Award for Outstanding Service was presented to Martha Highsmith '95 M.Div. Highsmith recently retired from Yale after nearly a quarter-century of service as senior adviser to the University President, pastor of University Church, and lecturer at YDS, among other positions.
Read by Dean Greg Sterling, the award citation praised Highsmith for "stepping into high-pressure situations with poise and calm, and getting the job done" and "minister(ing) not only to students, but also to colleagues, Yale families, and guests every day of your distinguished tenure."
At the same dinner gala in the Divinity School's newly restored Old Refectory, YDS honored four alumni for their extraordinary service to church and world. They were:
Sharon Watkins '84 M.Div. — Distinction in Congregational Ministry
David Bartlett '67 B.D. — Distinction in Theological Education
James Antal '78 M.Div. — William Sloane Coffin '56 Award for Peace and Justice
Rena Weller Karefa-Smart '45 B.D. — Lux et Veritas
Read more on the 2017 Alumni Awards recipients.
Watch video of the award presentations.
The ceremony had an especially poignant moment owing to Professor Bartlett's recent death and the heavily attended memorial service held for him the previous day in Marquand Chapel. Accepting the award on his behalf was his son, Jonah Smith-Bartlett.
Before gathering in the Old Refectory for the dinner, alumni attended an unveiling of a new "wall of fame" display of the names and photos of alumni award recipients going back to the award program's beginning in 1992.
View photos from the awards dinner and "wall of fame" unveiling
Addressing the crowd gathered for the unveiling, Dean Greg Sterling said, "Every year I have the same reaction at the awards dinner: I wish that every student at YDS could hear the stories of their predecessors. The stories are inspiring and challenge all of us to live the values that we hold. They set the standard that we want all students to achieve.
"Today we dedicate a wall of fame that features the names and photos of the people whom we have recognized. Our hope is that students, staff, alumni/ae and others will read these stories and be as inspired as I am."
Record turnout
Alumni and guests from around the country and world flocked to the Quad for the annual event, which this year featured the 50th reunion of the Class of 1967 and a first-ever 65th reunion, held for the Class of 1952 and convened by Dick Stazesky '52 B.D.
Members of these and many other reunion groups reminisced, attended worships and lectures, and enjoyed a community dinner featuring New Haven pizza, gelato, and cappuccino.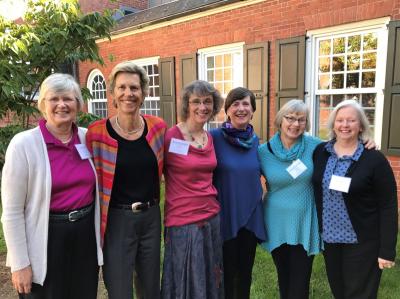 For the six women who form the "Sisterhood of the Traveling Packet," it was the first time since their graduation 20 years ago that they all were together in person. (Read their story.) The six, now spread geographically from California to Connecticut to England, used their reunion to re-connect face-to-face and review 20 years' worth of letters they have sent to each other reflecting on their lives and careers.
View a gallery of photos from Wednesday's Convocation Luncheon.
View photos from the reception for black alumni and friends
YDS women in ministry panel
How are alumnae ministry leaders raising their voices today? And how has YDS informed their responses to the "Kairos moment" facing the church? Such was the focus of conversation at a "YDS Women in Ministry" panel held at Convocation and Reunions. The presenters were:

Ginger Gaines-Cirelli '96 M.Div., Senior Pastor of Foundry United Methodist Church in Washington, D.C.; Kaji Spellman Dousa '06 M.Div., Senior Minister of Park Avenue Christian Church in New York; Nancy Jo Kemper '67 B.D., retired United Church of Christ and Disciples of Christ minister and former director of the Kentucky Council of Churches; Marilyn Kendrix '13 M.Div., Interim Senior Pastor of the Congregational Church of Naugatuck, Conn.; Emily Scott '06 M.Div., founding and former Pastor of St. Lydia's, a Dinner Church in Brooklyn, N.Y.; and Sharon Watkins '84 M.Div., former General Minister and President of the Christian Church (Disciples of Christ) in the United States and Canada.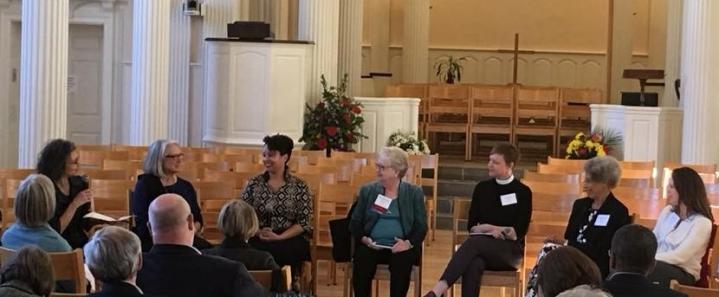 Serving as panel moderator was Maria LaSala, Director of Congregational Ministry at YDS.
Beecher lectures with Allan Boesak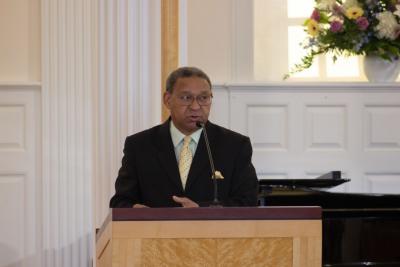 The nation's preeminent homiletics lecture series, the Lyman Beecher Lectureship is a YDS tradition dating back to the 1870s. Delivering this year's Beecher Lectures was Allan Boesak, a theologian, humanitarian, author, and social justice advocate from South Africa who served as Desmond Tutu Chair of Peace, Global Justice, and Reconciliation Studies at Christian Theological Seminary in Indianapolis until earlier this year. Boesak devoted his three well-attended lectures in Marquand Chapel to the theme of "One More River to Cross: Black Liberation Theology, Black Preaching, and Unanswered Challenges."
Watch video of Allan Boesak's Beecher Lectures.
Faculty lectures
Learning from and interacting with world-renowned professors is a central part of the YDS experience. Alumni attending Convocation and Reunions enjoyed a chance to relive that experience by attending four faculty lectures, given by:
Chris Wiman, Professor of the Practice of Religion and Literature, on "Joy: 100 Poems"
Bruce Gordon, Titus Street Professor of Ecclesiastical History, on YDS and the Reformation" Watch the video.
Eboni Marshall Turman, Assistant Professor of Theology and African American Religion, on "This is My Body: Black Womanist Christology in Perspective" Watch the video.
Kathryn Tanner, Frederick Marquand Professor of Systematic Theology, on "Christianity and the New Spirit of Capitalism" Watch the video.
Andover Newton

Andover Newton Seminary at Yale is the newest YDS partner on Sterling Divinity Quadrangle. For the first time since affiliating with YDS, Andover Newton held its alumni convocation on the Quad. Roughly 60 alumni, friends, and trustees attended the multiple-day gathering, which included tours of the school's new home; an opening worship with Carolyn Roberts, an Andover Newton alumna now on the Yale University faculty; and workshops on issues including the role of congregations in refugee resettlement.
Meanwhile, Berkeley Divinity School—like Andover Newton, a seminary within YDS—held its own slate of events. Highlights included the Pitt Lecture—delivered by Victoria Matthews, Bishop of Christchurch in New Zealand—and the awarding of honorary degrees to Matthews and Griselda Delgado del Carpio, Bishop of the Episcopal Church of Cuba.
Grand opening of Old Refectory and Old Common Room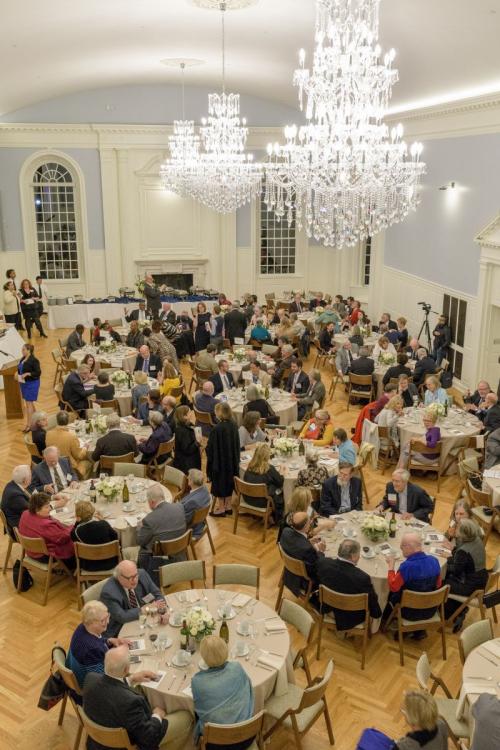 Opened mere days before Convocation and Reunions, the newly restored Old Refectory and Old Common Room dazzled attendees and showcased the renewed vigor and strength of YDS following decades of uncertainty over the fate of these buildings in the Quad's northeast corner.
Two of the week's biggest events—the Convocation Luncheon and Alumni Awards Dinner—were hosted in the Old Refectory, which many alumni remember as the dining hall where they ate three meals a day in earlier decades. Several receptions, meanwhile, were held in the adjoining Old Common Room, which served primarily as a student lounge prior to its closing in the late 1990s.
Note: A complete story on the restoration and reunion of the Quad will be published soon.