After months of complicated planning, Yale Divinity School will begin the new academic year August 31 with an almost-normal number of students enrolled. But because of the coronavirus pandemic, this will be a fall semester unlike any other.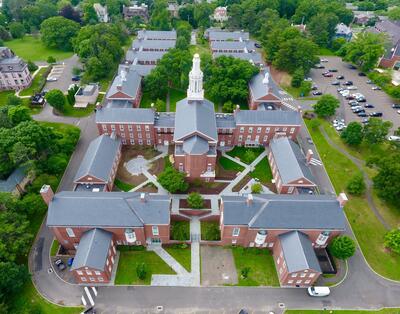 Most classes will be on-line only. Stringent Covid-19 testing and other safety protocols are in place. And daily chapel services in Marquand will be limited to the virtual realm.
"At least during fall semester, life at YDS will be different from what any of us are accustomed to," Dean Greg Sterling said. "But it will still be YDS. It will still be Yale."
***
Covid-19 tests and other safety protocols: Read the FAQs for incoming and returning students.
***
One major difference for the 136 new students is orientation. The pandemic forced the Office of Student Affairs to cancel the traditional Before the Fall Orientation (BTFO), which in most years takes place over four days prior to the beginning of classes and revolves around close-up interactions among  students—an impossibility in the time of Covid-19.
Instead, Student Affairs has been running a summer-long virtual orientation program called "First-Year Experience," complete with Zoom drop-ins hosted by trained student orientation leaders and a Zoom social hour planned at the program's completion in mid-August.
Once classes begin, most will be online-only. Six courses will be "hybrid"—taught in person and offered online for those who cannot attend physically because of concerns about spreading or contracting the virus.
"This summer, our faculty have been participating in intensive workshops to learn best practices for remote and hybrid teaching," said Jennifer Herdt, Gilbert L. Stark Professor of Christian Ethics and Senior Associate Dean for Academic Affairs. "They will be utilizing a variety of strategies for building community and for supporting active and engaged student learning.
"While there is no substitute for face-to-face interaction and instruction, we certainly expect that students will be participating in high-quality learning experiences." 
***
Virtual Opening Convocation August 31: Watch the ceremony online
***
In another measure forced by the pandemic, Yale and YDS have modified the fall semester calendar to concentrate class instruction in a shorter time period and begin winter break early. All in-person activity will end at Thanksgiving, with end-of-semester activities like reading week and finals taking place entirely online.
Although students were given the chance to stay home and take their fall semester classes online, most are coming to New Haven or have not left since the beginning of the pandemic. According to a census taken by Student Affairs in mid-August, 241 of the 364 enrolled students will be in the New Haven area by the time the semester starts (72 residing in the Divinity School's apartments on Canner Street) with another 25 living in other parts of Connecticut. Seventy-five will remain in other states and 13 in other countries. (Ten were undecided, or their plans unknown, at the time of the census.)
The on-campus population will be subject to the University's and Divinity School's strict limits on travel. Graduate and professional students at Yale have agreed to restrict their travel to within Connecticut, and faculty and staff are discouraged from traveling outside of the state.
***
Alumni Convocation moved to on-line format for 2020: Read more.
***
Some aspects of normality remain. The School is going ahead with plans for the next art exhibit in the Sarah Smith Gallery, which will focus on the history of New Haven's predominantly Black churches.
But much will be different. The Quad will be closed to visitors. The Refectory, normally abuzz with people eating and socializing, will be closed. YDS is working with Yale Catering to arrange for limited breakfast and lunch deliveries for the students, faculty, and staff who depend on the Refectory for their meals.
Of greatest concern for many will be pandemic's disruption of daily worship in Marquand Chapel. Following the guidance of infectious disease specialists, and cognizant of the risks associated with people singing and speaking in close quarters, YDS is making chapel services online-only through fall semester.
In addition to foregoing in-person Marquand services and other close-contact gatherings, the Divinity School is requiring members of the on-campus community to wear face coverings—and providing Yale-branded cloth masks to help make sure they do. In addition, students, faculty, staff must test negative for Covid-19 before being granted access to the Quad.
Students arriving from one of the states included in the State of Connecticut Travel Advisory must quarantine for 14 days upon arrival, regardless of test results.
All students at Yale—professional, graduate, and undergraduate—are required to sign a Community Compact pledging their commitment to contributing to campus life in a way that promotes the health and safety of all community members.
"We have done our planning with the primary objective of protecting the safety and well-being of our students and the rest of the campus community. We are determined to start the semester Covid-free and keep it as Covid-free as possible," Sterling said.
As a school that fosters community and trains students to create communities in the venues where they serve after graduation, YDS is particularly challenged by the pandemic's disruption of community life, Sterling said.
"The question for us is how do we create a new kind of community under these circumstances," he said—a learning process that could yield insights that carry over into students' careers post-YDS.
"The pandemic has caused a great deal of hardship for our students and alumni, and I'm sure many of our incoming students, in particular, will have an experience different from what they were looking forward to," Sterling said. "But while it will be an atypical year, it should also be an exciting and innovative one."