By Kathrin Havrilla
After 16 years chairing the Dean's Advisory Council (DAC) at Yale Divinity School, Christopher Glenn Sawyer '75 M.Div., Chair Emeritus, has passed on the torch, leaving behind a legacy of leadership, innovation, and rebirth.
"Chris Sawyer's leadership of the DAC has at times enabled me to bring forth issues that were of pivotal importance to the School," says YDS Dean Greg Sterling. "Under his DAC supervision, I have received thoughtful, considered advice that I have adopted and followed. He has been a guiding light not only for myself, but for a total of six deans throughout his tenure. He is to be celebrated for his contribution to the Divinity School's past, present, and future and congratulated on his well-earned appointment as our first Chair Emeritus."
The rejuvenation of YDS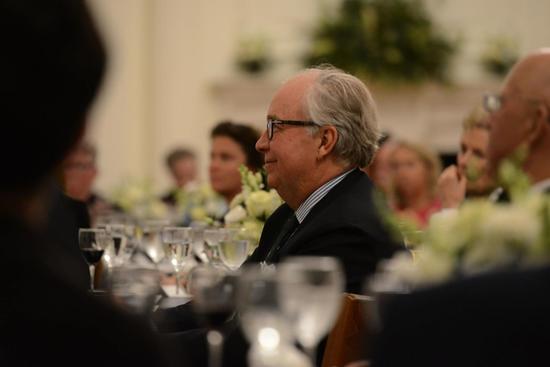 The Atlanta-based Sawyer began his role with the DAC in 1995 at the invitation of then-Dean Thomas Ogletree, who invited him to come visit YDS—which Sawyer had not seen since he graduated in 1975—to consider serving on the advisory board. Sawyer's experience in corporate, real estate, and environmental law, as well as counseling individuals and boards on institutional development, deal structures, strategic matters, and legal issues, made him an ideal choice for the position.
The 20 intervening years had not been kind to the School's physical health. As he made that return visit in 1995, Sawyer was saddened to see the disrepair throughout the venerated school.
"I was so disappointed to see the campus condition in the mid-nineties," recalls Sawyer. "The place was falling apart, with lead-based paint chipping on the grounds, leaking roofs, and columns falling off the majestic steeple. I also very quickly learned that this was not just a YDS issue, but a campus-wide problem at Yale."
"I felt some responsibility for this reality, a reality that reflected neither the importance of our School nor the obligations of our shared faith."
Sawyer set out to help structure an effort to turn things around at Yale Divinity School.
"I wanted the school to survive as an integral part of Yale," Sawyer says. "With my real estate background, I knew the value of 409 Prospect Street, but there is a lot of history here as well. To me, the Divinity School has always had a simple elegance that is almost transcendent, and I wanted to help restore that."
As part of this grand plan, Sawyer helped recruit new DAC members who brought strong commitments to the School and experience in areas ranging from business and finance to ministry.
"At the time Chris became involved with the DAC, the board members were largely from the New Haven area and there were few ministers to speak of," Sterling says. "During the beginnings of the restoration conversation, there was the question of whether YDS would retain our commitment to training ministers. Chris was vocal advocate that it would remain an emphasis of the school, and he and DAC helped preserve the historic mission of YDS."
The new team joined with the Divinity School and University administration to undertake the immense and ultimately successful project to save and restore the Divinity School's Quadrangle, a complete transformation of YDS that was 20 years in the making and a proud accomplishment for Sawyer, former Dean Harry Attridge, former Yale President Richard Levin, and thousands of YDS alumni who made strong stands for the School's preservation and renaissance.
"We have been a rock wall of support for this effort and this goal," says Sawyer. "We supported that goal with our time, experience, and money, and encouraged many more to do the same."
In addition to championing the restoration of the campus, Sawyer and the DAC have advised YDS and Yale on many diverse matters, including, most notably, the strategic direction of the Divinity School and the search process that led to Sterling's appointment in 2012.
A sustainable future
Another part of Sawyer's lasting impact on the Divinity School is the Living Village, a proposed 127,000-square-foot residential community that will derive all its energy from the sun and all its water from onsite rainfall—which, Sawyer says, is how we should all learn to live.
"When we began to think strategically about the future of the school in late 2013, one of my immediate questions was what to do with the current YDS apartments that were built in 1957," recalls Dean Sterling. "In my opinion, these were not in a condition worth preserving."
During a phone call with Sawyer, Sterling mentioned his desire to reestablish the School's residential character and sense of community—and do so in a way that would make a powerful theological statement. Sawyer's suggestion was revolutionary: Build a residential complex that would meet the Living Building Challenge, a green-building certification program and sustainable design framework. Such was the genesis of the Divinity School's decision to pursue the Living Village.
"The Living Village became part of our strategic plan," Sterling recalls, "and then a year later during a DAC meeting, Chris made passionate appeal to the Council to provide the funds for a feasibility study to move it forward. We had the money that afternoon. It was a magical moment; Chris had done something as Chair that I couldn't have done as Dean."
"I am thrilled that the School embraced this idea of net-zero energy and water use, and that Greg is an advocate for it," says Sawyer, who plans to remain actively involved in fundraising and planning for the Living Village as Chair Emeritus.
A new chapter for the DAC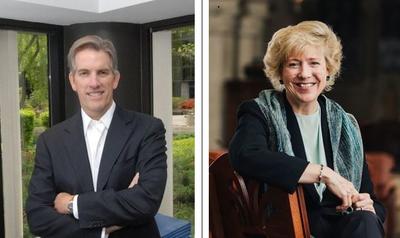 Stepping in as the new co-chairs of the DAC are Nancy Taylor '81 M.Div., Senior Minister and Chief Executive Officer of Old South Church in Boston, and Samuel Croll III '75 M.A.R., CEO of Croll Reynolds Company, Inc., an engineering firm specializing in the design and manufacture of process vacuum systems.
"Both Nancy and Sam are wonderful people, and each has particular strengths and areas of focus that they bring to the Dean's Advisory Council," Sterling says. "Nancy leads a positive and successful place of worship where she has fostered incredible change. Sam brings us his prowess in business, academia, law, and entrepreneurship as a leader with a broad and impactful background."
Taylor has led Old South Church since 2005. Previously, she served as Minister and President of the Massachusetts Conference of the United Church of Christ and as minister at churches in Idaho, Connecticut, and Maine. Taylor's main focus as co-chair is leading the effort to meet all YDS students' demonstrated financial need for tuition by July 2022.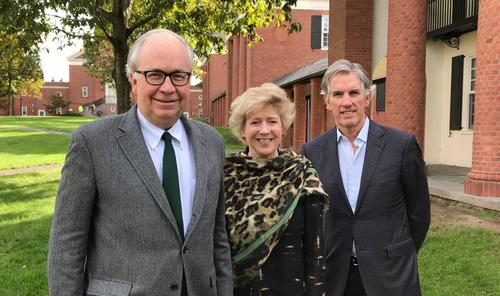 "Chris Sawyer has been a superb chair of the Dean's Advisory Council," Taylor says. "He is focused, affable, and passionate about theological education and about wedding theological education to a moral call for the care of God's creation. Chris' laid-back southern hospitality belies the fierceness of his commitment to creation care. The School has been well served by his leadership."
Croll is the CEO of both CR Ocean Engineering—an enterprise that helps provides solutions for exhaust emissions control at sea—and The Clean Air Group—an engineering firm specializing in the custom design of air pollution control equipment. Croll's focus as co-chair will be continued improvements to the Divinity School's sustainability efforts, very much including progress on the Living Village.
"I am not sure that we can adequately thank Chris for his leadership during the past 16 years," Croll says. "The Divinity School has come alive during his tenure with the restoration of the Sterling Quadrangle. Chris has helped guide the Divinity School through choppy waters, and everyone who cares about YDS owes him a debt of gratitude."