Considering her 14 books and numerous awards (including a place on Time magazine's 100 most influential people list) it's surprising to hear that author, priest, and educator Barbara Brown Taylor '76 M.Div. was burdened by self-doubt when she began her Yale Divinity School education.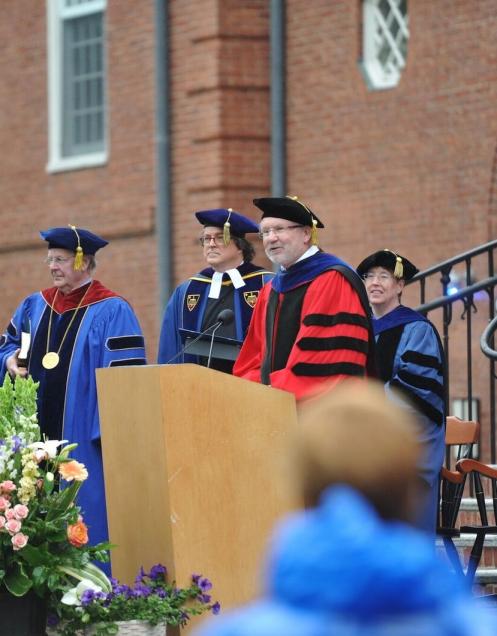 "When she arrived, she wasn't sure if she would succeed here," YDS Dean Greg Sterling told the Commencement Day audience on Monday, recalling a memorable conversation with Taylor. "But by the end of the first semester she knew she could. She learned that she could think independently and, in the process, found her own voice. The experience was transformative for her."
Sterling told the graduates, "You have been asked to read more, think with greater precision, write more, and argue more than you had previously. We hope that you, like Barbara Brown Taylor, have discovered your voice."
At its 191st Commencement, held in a light but steady rain at Sterling Divinity Quadrangle, YDS graduated 135 students. Seventy-five received the Master of Arts in Religion (M.A.R.), 52 the Master of Divinity (M.Div.), and eight the Master of Sacred Theology (S.T.M.)
***
In their own words: Four graduating students talk about their YDS experience
Dax Crocker / Jason Land / Maggie Pierson / Jenny Peek
***
Extolling the class for its accomplishments and multi-faceted diversity, Sterling reported that the graduates hailed from 16 countries and ranged in age from 22 to 62, with 23 percent coming from under-represented ethnic/racial groups in the U.S. Forty already held advanced degrees, including Ph.D.'s (four), J.D.'s (three), and various master's degrees.
Many will soon begin or resume hectic professional lives. But Sterling urged the graduates not to forget the value of contemplation.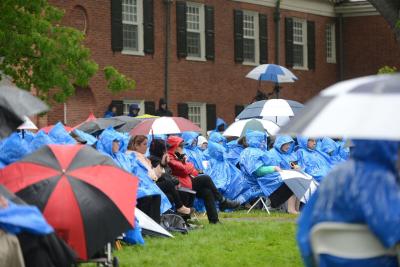 "Do not become so caught up in the routine panic of life that you forget to sit and think long thoughts," Sterling said, looking out over the sea of umbrellas and university-issued rain ponchos. "Thomas Merton was right: 'Contemplation goes beyond concepts and apprehends God not as a separate object but as the Reality within our reality, the Being within our being, the Life of our life.' You will not live fully if you ignore the contemplative life. While you are leaving the ivory tower in which you have lived for several years, do not forget to go back into that tower and contemplate."
***
Watch the video: Commencement Worship / Commencement Exercises
***
In a poignant Benediction, Teresa Berger, Professor at YDS and the Institute of Sacred Music, bid the graduates: "May you live honestly, and with clarity in this messy world. May your lives spell 'blessing.' May you act justly and compassionately. My injustice trouble you. May friendship accompany you.  May you sometimes get things right. And may the peace of God, which surpasses all human knowledge and wisdom, go with you and remain with you from this day forth."
***
View photo galleries: Commencement Worship / Commencement Exercises
Honors for Stevie Wonder, John Lewis, John Kerry and others: Read about Yale Commencement
***
Student Prizes and Fellowships
The Bradford E. Ableson Prize for Ecclesiastical Leadership: Pauline Samuel
The Frederick Buechner Prize for Creative Nonfiction: Oana Marian
The Oliver Ellsworth Daggett Scholarship Prize: Anthony Coleman
The Abraham Johannes Malherbe Fellowship: Daniel Smith
The Jess H. and Hugo A. Norenberg Prize: Jennifer Peek
The Wolcott Calkins Prize: Kevin McKoy
The John A. Wade Prize: Andrew McQuery
The Julia A. Archibald High Scholarship Prize: Mark Daniel Shultz
Henry Hallam Tweedy Prize: Dax Crocker and Liesl Spitz
More information on these student prizes and fellowships is available here.