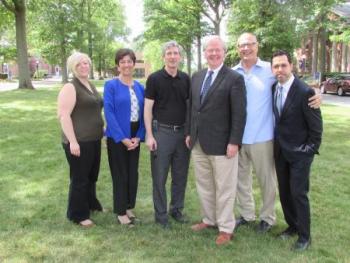 By Sarah B. Drummond, Dean of the Faculty & Vice President for Academic Affairs at Andover Newton Theological School, Visiting Professor of Ministerial Leadership at Yale Divinity School
Deeply rooted in Christian faith, and radically open to what God is doing now, Andover Newton educates inspiring leaders for locally-governed, historically-congregational faith communities.
Andover Newton Seminary (ANS) is the newest partner to YDS in supporting professional, pastoral formation. Incoming students who are interested in ministry in congregations will all find resources at Andover Newton Seminary at YDS.
ANS has a communal meal and Bible discussion in the refectory, followed by worship, every Thursday night at 6 p.m. when classes are in-session. This gathering, known as "Emmaus," mirrors the faith practices of the early Christian church and provides a sense of nested community within YDS. ANS's mission partnership with the Integrated Refugee and Immigration Service (IRIS) provides a connection between YDS students and those who have come to the United States as refugees.
ANS faculty include Professors Gregory Mobley, Mark Heim, Benjamin Valentin, and Sarah Drummond. Faculty affiliates include Professors Tisa Wenger, Willie Jennings, and Mary Moschella. ANS contributes to the YDS course catalogue not just classes that meet ordination requirements for the United Church of Christ and the American Baptist Churches (USA) – ANS's key partner denominations – but also courses on an array of disciplines that are taught in a particular way, with the local church very much in mind.
ANS is entering its second year on the Quad, and educational programs continue to emerge. Among them, students can find cooperative programs with churches, where students can begin their ministries before graduating in specially-trained teaching parishes. Students can participate in a course on interfaith pedagogy in Israel-Palestine during the winter recess, over new-years 2017-18. A full diploma program, where Yale will grant the degree and ANS would provide its professional ministry seal of approval, is under-construction toward a September, 2018 launch.
Interested in learning more? Please contact Dean Sarah Drummond, sarah.drummond@yale.edu; mark your calendars for an ANS lunch on Wednesday, August 23 (in Latourette); and attend Andover Newton's first Emmaus of the year at 6 on Thursday, August 24 in the YDS Quadrangle. To become a part of the ANS mailing list, please contact Administrator Kathleen Hamilton at kathleen.hamilton@yale.edu.