You are here
Ambassador James Joseph, 1963 B.D.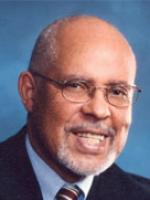 2013
Lux et Veritas
Ambassador James Joseph has been the epitome of tireless compassion during a lifetime of service in the church, academia, government, business, and philanthropy.  Since graduation from YDS, he has served as an ordained minister, an advisor and diplomat to four American presidents, a civil rights activist, a university chaplain, a professor and author, and a determined advocate and servant leader.  He served as under secretary of the U.S. Department of the Interior, a member of the Advisory Committee to the Agency for International Development, an incorporating director of the Points of Light Foundation, and a member of the Historically Black Colleges Board of Advisors before becoming U.S. Ambassador to South Africa. 
He was the first chairman of the Corporation for National Service that established AmeriCorps, the president/CEO of the Council on Foundations, and the chairman of the post-Hurricane Katrina Louisiana Disaster Recovery Foundation.  He is the founder of the United States-Southern Africa Center for Leadership and Public Values, a joint endeavor of Duke University and the University of Cape Town.  He is the recipient of 19 honorary degrees, and an endowed chair at Southern University is named in his honor.  In 2010 the United States Peace Corps paid tribute to him for his life-long contributions to voluntarism and civil society. 
He frequently speaks to academic, civic, and religious audiences and is the author of three books, The Charitable Impulse, Remaking America, and Leadership as a Way of Being.  A fourth book, "Private Virtue and the Search for Public Values," will be published by the Duke University Press in 2013. 
Ambassador Joseph is married to the former Mary Braxton, and they have two children and two grandchildren.