You are here
Arthur B. Keys Jr., 1973 M.Div.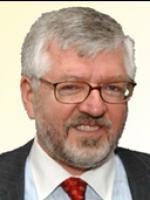 2005
William Sloane Coffin '56 Award for Peace and Justice
Arthur B. Keys Jr. is founder, president and chief executive officer of International Relief and Development (IRD), an Arlington, VA-based non-governmental organization committed to improving the living conditions and lives of the world's most vulnerable populations.
As IRD president, Keys has been directly involved in management of an aggregate of approximately $ 322 million of development assistance with major grants from the United States Agency for International Development, United States Department of Agriculture, the United States Department of State, and private and faith-based donors. IRD has programs in Afghanistan, Armenia, Azerbaijan, Georgia, Indonesia, Sri Lanka, Cambodia, Ukraine, Serbia, Iraq, Jordan, Cameroon, Chad, Mozambique, and Montenegro under the sectors of relief, civil society, infrastructure, food security, economic development and health. IRD has 900 staff worldwide.
In his prior work as president of Keys and Associates, Inc. (KAI), Keys raised over $150 million in grants and in-kind contributions for NGOs in international development. He lived and worked in the former Yugoslavia under the auspices of the World Council of Churches (WCC) Urban-Rural Mission Program in the early 1980s. He speaks Serbo-Croatian and is the author of numerous articles dealing with public policy and the Balkans. His research work on refugees from the war in Slovenia, Croatia, Macedonia, and Bosnia-Herzegovina is included in the 1992 War and Humanitarian Assistance Project of Brown University.
He earned a B.A. from Bethany College and a D.Min. from Emory University. He is married and the father of three children.