You are here
Bradford E. Ableson*, 1985 M.Div.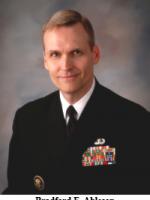 2008
Lux et Veritas
Brad Ableson is considered by some of the highest-ranking members of the U.S. military as among the most gifted, visionary, and inspirational chaplains in the country.
Scheduled to retire from active duty in early 2009 after nearly 25 years in the Navy, Ableson was the primary architect behind one of the most significant shifts in the history of American military chaplaincy: transformation of the chaplaincy from an institution focused almost wholly on the pastoral needs of personnel to one that embraces senior chaplains as agents of reconciliation with religious leaders around the globe.
From early on in his career as a Navy chaplain, Ableson recognized the profound disconnect between Christians from the West and citizens in the Muslim world, and in the 1980s he emerged as an expert on preparing service members with knowledge and understanding that would make them respectful visitors in Muslim countries.
Ableson was the sole active-duty chaplain to publicly and forcefully rebut the United States's decision against signing the 1997 Ottawa Treaty banning antipersonnel mines.  While serving as President Clinton's chaplain at Camp David, Ableson wrote his doctoral dissertation on the subject Fields of Blood: A Theological Critique of American Landmine Policy in Light of the 1997 Ottawa Process.
Ableson also receives high marks for his work toward equality issues in the military.  He was the primary mover behind a series of Navy-wide heritage celebrations of ethnic, cultural and gender diversity that continue to be observed throughout the fleet. Additionally, he was the point person in defending the Navy against a religious discrimination lawsuit that critics viewed as aimed at giving litigants disproportionate influence in the Navy and Marine Corps.
He earned a B.A. in government from Oklahoma's University of Science & Arts, followed by an MTS from the Boston University School of Theology.  After earning his M.Div. from YDS, which awarded him the Mersick Prize for public speaking, he received a D.Min. from Columbia Theological Seminary in Decatur, GA.