You are here
Evalyn M. Wakhusama, 2001, M.Div., 2002 S.T.M.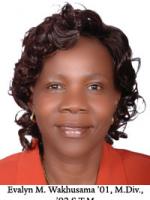 2011
Lux et Veritas
The Lux et Veritas award is given to someone who has demonstrated excellence and distinction in applying the compassion of Christ to the diverse needs of the human condition through the wider church, institutional ministries, ecumenical organizations, not-for-profit organizations, government, or industry.
Evalyn M. Wakhusama is the founder/executive director of the Women's Initiative in Knowledge and Survival (WIKS), a Kenyan NGO particularly concerned with helping disadvantaged women, as well as disadvantaged and vulnerable children of both genders. Founded upon Wakhusama's return to Kenya after graduating from YDS, WIKS initially began by helping to provide lunch for destitute public school students and to find tuition assistance for outstanding women scholars who might not otherwise be able to complete their educations. The biggest WIKS project to date by far is the Nambale Magnet School, founded in 2009 in Nambale, Western Province, Kenya. This school seeks to educate children orphaned or made extremely vulnerable by the AIDS crisis—taking extremely disadvantaged students at the beginning of primary school and mixing them with tuition-paying students to overcome some of the class barriers endemic to Kenyan society. Currently in its third year of operation with 127 students, it is supported by donors in the U.S. and Kenya, including many churches and individuals associated with YDS. As a YDS student, Wakhusama did an internship at Christ Episcopal Church in Bethany, CT.  She is ordained in the Anglican Church of Kenya and is pastor of St. John's Anglican Church at the Kenya Agricultural Research Institute.