You are here
John Chane, 1972 M.Div.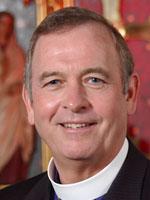 2012
Lux et Veritas
John Bryson Chane was consecrated the eighth bishop of the Episcopal Diocese of Washington on June 1, 2002. As bishop he served 91 congregations, 21 church related schools and 45,000 members in the District of Columbia and four counties in Maryland.  Before retirement in November 2011, he served as president and CEO of the Protestant Episcopal Cathedral Foundation, overseeing the operations of Washington National Cathedral and its three schools. He also served as the cathedral's interim dean from 2003-2005.
Chane was named by Washingtonian Magazine as one of the 150 most prominent leaders in the District of Columbia and one of the 50 most influential leaders in the Anglican Communion by the London Telegraph. His interfaith work has taken him all over the Middle East and to Iran five times in the last seven years. He has had extensive meetings with former Iranian President Khatami, current President Ahmadinejad, and Iranian parliamentarians Ali and Mohammad Javad Larijani and is one of the very few from the West to have ever spent significant time with Iran's Supreme Leader, Sayed Ali Hosseini Khameni.
Recognized for his work in Human Rights, he was appointed by the U.S. Department of State as a delegate to the OSCE Conference (Organization for Security Cooperation in Europe) that met in the Republic of Kazakhstan. He was tasked with presenting Secretary of State Clinton's and President Obama's strong support of LGBT rights and protections within OSCE member countries. Currently Chane serves the Washington National Cathedral as senior advisor on interfaith relations and assists the Brookings Institution of Washington in format development for the annual U.S. Islamic World Forum held in Doha, Qatar.