You are here
Nai-Wang Kwok, 1966 B.D.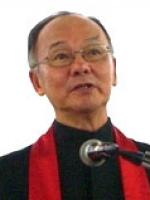 2010
Lux et Veritas
The School's Lux et Veritas alumni award is given each year to someone who has demonstrated excellence and distinction in applying the compassion of Christ in their work. In 2010, it goes to Nai-Wang Kwok '66 B.D., past head of the Hong Kong Christian Council and the founder and director of the Hong Kong Christian Institute, a center for education and advocacy on social issues. Kwok, a prolific author, is a minister of the Hong Kong Council of the Church of Christ in China.
---
Nai-Wang Kwok '66 B.D. has dedicated over 40 years of active ministry to the transformation of the Hong Kong church. Since his Yale graduation and ordination in the Presbyterian Church, he devoted his life to changing the way Hong Kong Christians understand their faith and the way the Hong Kong churches carry out their mission. He challenged the church to become a genuine community of faith that serves the world rather than a religious institution concerned only about eternal salvation and church growth. In the unique setting that is Hong Kong, Kwok's ministry spanned the decades that saw the city itself transformed economically, socially, and politically. Kwok was determined that the church should not be silent during these critical times and always stand with the people. As pastor-in-charge of Shum Oi Church, located in a Kowloon slum area, he boldly reached out to residents living in massive public housing projects surrounding the newly-built church. He opened the doors to the community and established innovative multi-generational training programs for Christian discipleship. As General Secretary of the Hong Kong Christian Council, one of the city's largest ecumenical organizations, he expanded the scope of its mission to tackle pressing social and political concerns with the united voice of the church and strengthened ties with the World Council of Churches and the Christian Conference of Asia. He founded and directed the Hong Kong Christian Institute, a center for education and advocacy on social concern issues and spoke out on human rights, democracy, and justice as Hong Kong prepared to reunite with China. He has written or edited over 20 books and is one of the most popular lecturers at two of Hong Kong's leading theological schools.