You are here
Preston Noah Williams, 1954 S.T.M.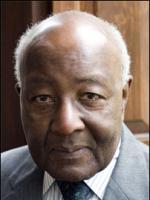 2006
Distinction in Theological Education
Preston N. Williams, a renowned scholar who served as Houghton Professor of Theology and Ethics at Harvard Divinity School for more than three decades, has spent his entire ministry on college and university campuses. After earning his S.T.M. at Yale Divinity School in 1954, he became a chaplain and instructor in religion at three historically black colleges: Knoxville College, North Carolina College at Durham, (North Carolina Central University) and Lincoln University.
From 1956-61 Williams was assistant chaplain at Pennsylvania State University, followed by an appointment as professor at Boston University School of Theology and, finally, as Houghton Professor at Harvard Divinity School from 1971-2002. In 1974-75, he served as acting dean of the Divinity School and then, in 1975-77, was acting and founding director of the W.E.B. Du Bois Institute for African American Research. Since 1995 he has served as director of the Summer Leadership Institute at Harvard, a continuing education program for faith-based community and economic development practitioners.
Harvard has bestowed upon him the Harvard Foundation Medal for Interracial and Race Relations (1994) and the W. E. B. Du Bois Medal (2000). In addition, Harvard established the Preston N. Williams Black Alumni/ae Award in his honor.
Williams has been president of both the American Academy of Religion (1975 - 76) and the Society for the Study of Christian Ethics (1974-75). The author of numerous articles and books, his areas of study and research are ethics and African American religion. Williams is an editor-at-large for Christian Century magazine and has lectured and taught in India, Japan, Korea, England, Canada, the Caribbean, and Africa.
A Phi Beta Kappa graduate of Washington and Jefferson College, A.B. '47, A.M. '48, he earned his B.D. at Johnson C. Smith University. In 1967 he received a Ph.D. from Harvard and in 1993 was awarded the doctor of humane letters degree from Tuskegee University.
An ordained United Presbyterian minister, he is married to Constance W. Williams. They live in Belmont, MA and have two grown sons.